Heartfelt Message from Hon. PM Shri Narendra Modi for Pramukh Swami Maharaj Centenary Celebrations
30 Nov. 2022, Wednesday, Delhi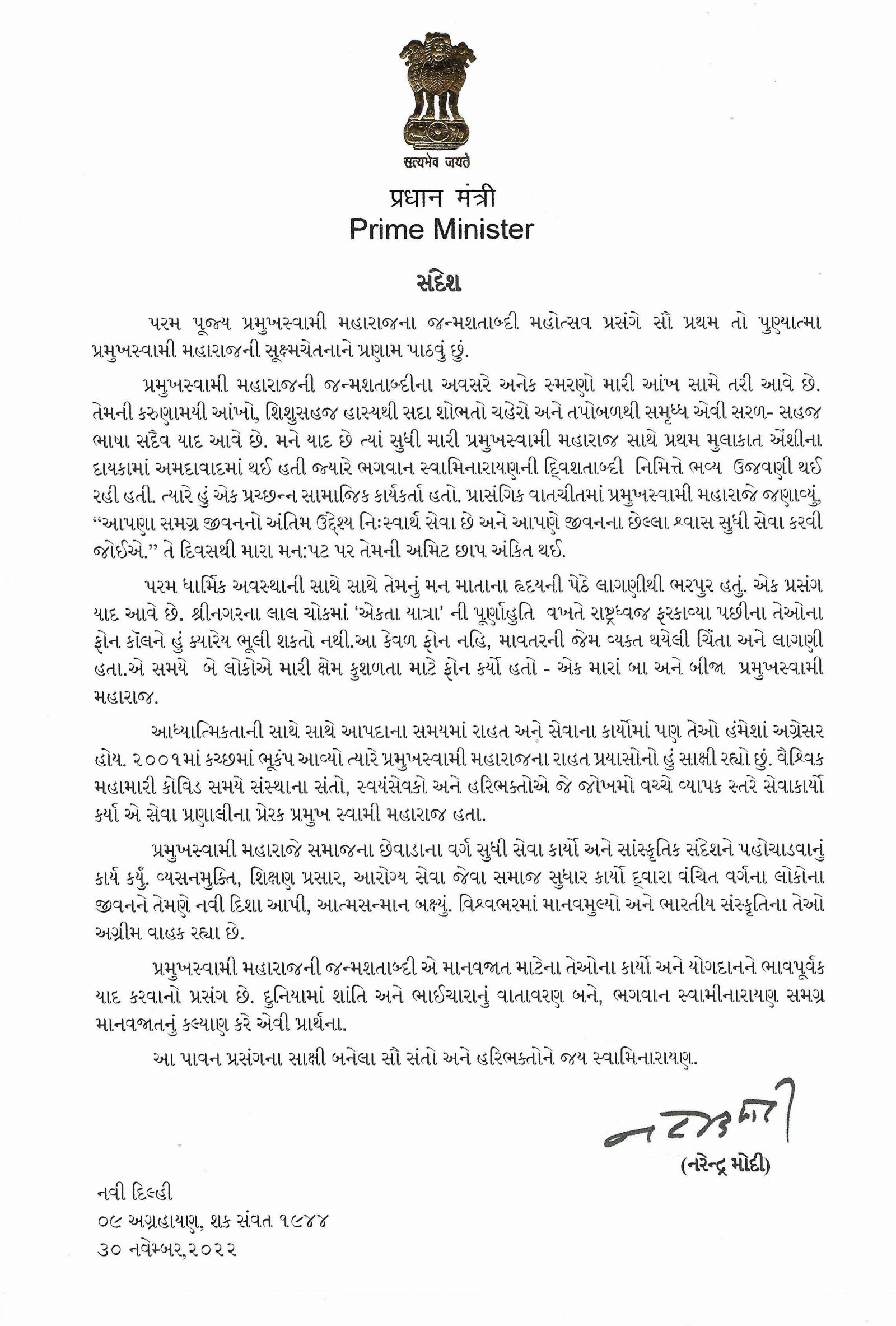 First of all, on this occasion of the birth centenary of His Holiness Pramukh Swami Maharaj, I would like to pay my respects to his divine soul.
On this occasion of Pramukh Swami Maharaj's centenary celebrations, so many sweet memories come before my eyes. I forever remember his compassion-filled eyes, his face that beamed with child-like joy and his simple spontaneous language enriched with the power of spiritual austerities. As far as I can recall, my first meeting with Pramukh Swami Maharaj happened in the 1980s in Ahmedabad when the bicentenary celebrations of Bhagwan Swaminarayan were being held on a grand scale. At the time, I was merely an unknown social worker. During our conversation on that occasion, Pramukh Swami Maharaj remarked, "Selfless service is the ultimate objective of our entire life; we should engage in service until our last breath." Since that day, his image was enshrined in my mind.
Despite reaching the pinnacle of spirituality, his mind was as compassionate as that of a mother's heart. One incident comes to mind. I am never able to forget his phone call after I hoisted the Indian flag at Srinagar's Lal Chowk at the conclusion of the 'Ekta Yatra'. That was no ordinary phone call; it was the expression of a mother-like concern and care. At that time, two people had called to inquire about my well-being – one was my mother, the other was Pramukh Swami Maharaj.
Along with religious activities, he would always be at the forefront of relief work and service at the time of calamity. I have been witness to Pramukh Swami Maharaj's relief efforts at the time of the 2001 Kutch earthquake. Pramukh Swami Maharaj was the inspirer of the work in which the organisation's swamis, volunteers and devotees conducted service activities on such a large scale, while putting their own lives at risk during the Covid global pandemic.
Pramukh Swami Maharaj took his values-based message and his social services to all, including those classes often neglected. Through social service activities such as de-addiction drives, education provision and healthcare services, he provided self-respect and a new direction to the lives of even the most deprived people. He was and remains the torchbearer of human values and Indian culture throughout the world.
Pramukh Swami Maharaj's birth centenary is an occasion to humbly remember his service and contributions to the human race. My prayers that may peace and harmony prevail throughout the world. My prayers for Bhagwan Swaminarayan to shower blessings to all.
Jay Swaminarayan to all swamis and devotees who are part of this auspicious occasion.
Narendra Modi