When I look into his eyes, they are filled with integrity. I saw in his eyes that he is a man who has not come ahead by eclipsing others. He has come forward by always placing others before him.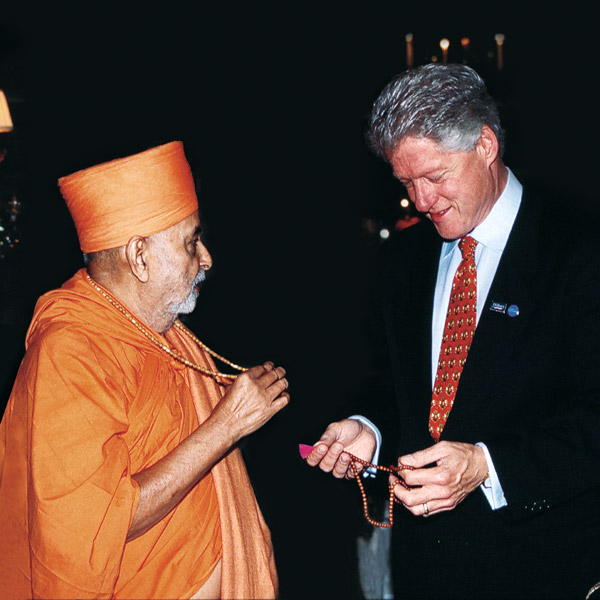 President Bill Clinton
Former President, United States of America
Ancient India was known for its sadhus, sages and sadgurus. Out of all the sadhus in India, Pramukh Swami Maharaj is different. There is no doubt about his work. It rises above the rest. This is not specific to India; it is known all over the world. He is the walking and talking form of India's spirituality and morality.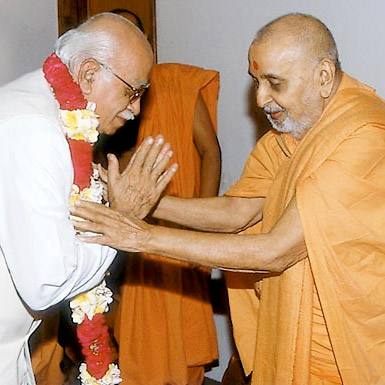 Lal Krishna Advani
Former Deputy Prime Minister of India
Pramukh Swami Maharaj is always considerate, simple and humble. He leads a multinational organization, yet is always relaxed. He is as light as a flower. He is able to do so because he has surrendered himself to Bhagwan Swaminarayan. He continues to serve society with the aim to please God. He thinks nothing of himself. He is just a means. God works through him.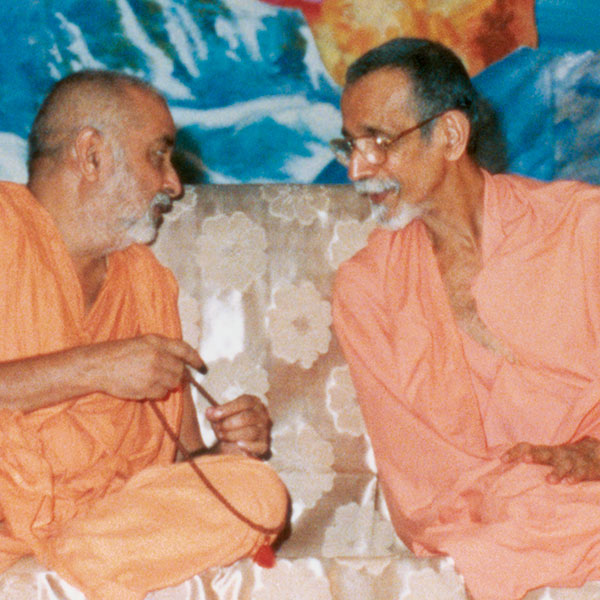 Pujya Swami Shri Chidananand Saraswatiji
I consider myself blessed to have closely interacted with Pujya Pramukh Swami Maharaj for years. He has deeply inspired me.

Shri Narendra Modi
Prime Minister, Republic of India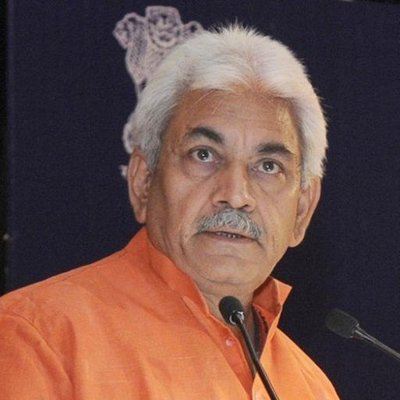 Shri Manoj Sinha
Lieutenant Governor of Jammu & Kashmir
Pujya Pramukh Swami Ji's life and message, emphasizing harmonious co-existence, compassion, self-less service, truth, simplicity and equality of all human beings can help the world to lead a happier, meaningful and peaceful life. pic.twitter.com/svDywc2KYH

— Office of LG J&K (@OfficeOfLGJandK) December 16, 2022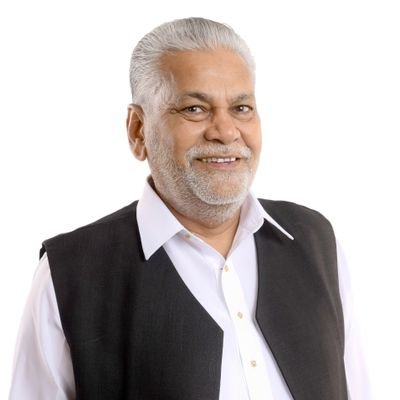 Shri Parshottam Rupala
Union Cabinet Minister of Fisheries, Animal Husbandry and Dairying - Govt. of India
"બીજાના ભલામાં જ આપણું ભલું છે"

સન્યાસી પરંપરાને પુનઃ વ્યાખ્યાયિત અને પુનઃ જીવિત કરવામાં બહુમૂલ્ય યોગદાન પ્રદાન કરનાર મહાન આધ્યાત્મિક સંત પ.પૂ. શ્રી પ્રમુખ સ્વામી મહારાજજી ની અમદાવાદના આંગણે આયોજિત જન્મશતાબ્દી મહોત્સવમાં ભક્તિભાવ સાથે હાજરી આપવાનું સૌભાગ્ય પ્રાપ્ત થયું. pic.twitter.com/eKu5WiOIgU

— Parshottam Rupala (@PRupala) December 17, 2022
ભવ્યતા અને દિવ્યતાના સુંદર સંયોજન સાથે વિશ્વ વંદનીય સંત પ. પૂ. શ્રી પ્રમુખ સ્વામીજી મહારાજ સાહેબના શતાબ્દી મહોત્સવ નિમિત્તે નિર્મિત "પ્રમુખ નગર" ખાતેની મુલાકાત અદ્ભુત, અવિસ્મરણીય અને ઔલોકિક રહી. pic.twitter.com/xdKbyoHCFI

— Parshottam Rupala (@PRupala) December 18, 2022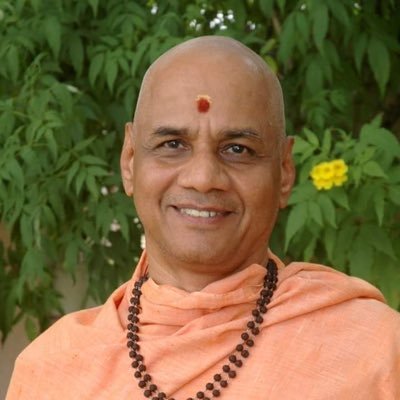 Swami Govinda Dev Giri
TreasurerTrustee: Shri Ram Janambhumi Tirth Kshetra Trust & Founder- Geeta Pariwar, Maharshi VedVyas Pratisthan
Feel fortunate to have attended the Pramukh Swami Shatabdi Mahotsav today ! The Godly life of the great Guru & the grand Divine Celebration both Unique ! pic.twitter.com/FLmm02vCKf

— Swami Govinda Dev Giri (@GovindaDevGiri) December 18, 2022
A Tribute to Pramukh Swami Maharaj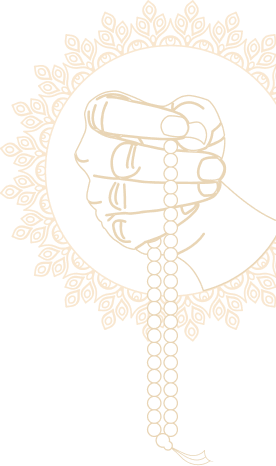 Shatabdi Mah
tsav
– A Tribute to
Pramukh Swami Maharaj
His Holiness Pramukh Swami Maharaj (1921-2016) was the fifth spiritual successor of Bhagwan Swaminarayan and the inspirer of millions. He dedicated his life to selflessly serving others for the greater good of humanity, travelling across the world as an ambassador of love, peace, harmony, righteousness and faith. Pramukh Swami Maharaj was loved and respected as one of the great spiritual leaders of our time, who taught and embodied the timeless, universal wisdom: "In the joy of others lies our own."
Connect with us and get latest
updates of the Mahotsav
The month-long 'Pramukh Swami Maharaj Centenary Festival' is being hosted on a gigantic 600-acre site called 'Pramukh Swami Maharaj Nagar' in western Ahmedabad, Gujarat. The site has been transformed into a cultural wonderland, with something for people of all ages and backgrounds to enjoy and learn.
15 December 2022 to 14 January 2023
Daily Timings

Monday to Saturday

2:00 PM to 9:00 PM

Sunday

9:00 AM to 10:00 PM

Exhibitions

Monday to Saturday

2:00 PM to 9:00 PM

Sunday

9:00 AM to 10:00 PM

Light & Sound Show

Every Day Four Shows
6:30 PM, 7:30 PM, 8:30 PM, 9:30 PM
Pramukh Swami Maharaj Nagar
Near Ognaj Circle, S. P. Ring Road, Ahmedabad, Gujarat.
About BAPS
Bochasanwasi Shri Akshar Purushottam Swaminarayan Sanstha (BAPS) is a socio-spiritual Hindu organization with its roots in the Vedas. It was revealed by Bhagwan Swaminarayan (1781-1830) in the late 18th century and established in 1907 by Shastriji Maharaj (1865-1951). Founded on the pillars of practical spirituality, BAPS reaches out far and wide to address the spiritual, moral and social challenges and issues we face in our world. Its strength lies in the purity of its nature and purpose.