Youth Day: Celebrating the Power of Youth
3 Jan. 2023, Tuesday, Ahmedabad, India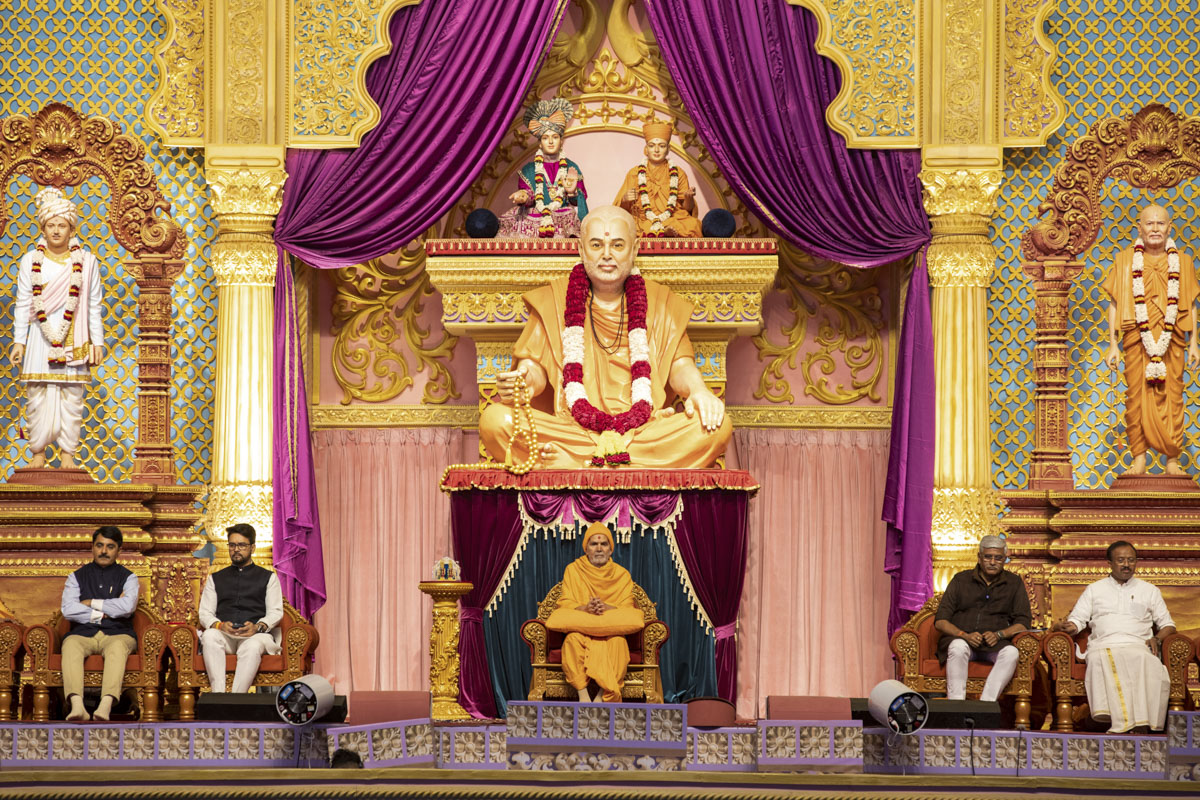 Before an audience of tens of thousands gathered to commemorate 'Youth Day: Celebrating the Power of Youth' at Pramukh Swami Maharaj Nagar on 3 January 2023, the BAPS Youth Wing presented an engaging programme of inspirational dramas, devotional songs, videos and speeches that paid tribute to Pramukh Swami Maharaj's selfless love and tireless efforts for the moral, spiritual, social and academic development of hundreds of thousands of youths around the world.
His Holiness Mahant Swami Maharaj and dignitaries also paid tribute to Pramukh Swami Maharaj's visionary leadership in channelling the power of hundreds of thousands of youths worldwide towards socially constructive and spiritually uplifting activities.
Since Yogiji Maharaj formally established BAPS youth activities in 1952, the love and personal efforts of our gurus have inspired hundreds of thousands of youths to live moral and spiritual lives. Today, this immense youth energy is visible in the great force of volunteers who are enthusiastically serving in the various aspects of Pramukh Swami Maharaj Nagar.
Evening Assembly
The evening assembly began at 4.45pm, in which youths presented various activities undertaken by them worldwide through videos, dramas and speeches. They also shared personal testimonies of how Pramukh Swami Maharaj had patiently moulded their lives providing guidance, solace and divine love at critical junctures.
Vivekmunidas Swami of BAPS spoke about Pramukh Swami Maharaj's contribution to global youth development. He said, "Pramukh Swami Maharaj inspired youths from across India and the world to serve selflessly, not only in times of crisis and natural disaster but also for improving all aspects of society. Hundreds of thousands of youths have enthusiastically participated in constructive initiatives, such as youth conventions, talent development programmes, academic seminars, grand festivals, and other social initiatives.
"Pramukh Swami Maharaj's vision of creating a holistic and well-rounded young generation was given a further boost through the BAPS Youth Development Centres (Yuva Talim Kendra) that provide a months-long course of holistic development. Today, Mahant Swami Maharaj's inspiration of youths can be seen in the selfless service and dynamism of the 80,000 volunteers at Pramukh Swami Maharaj Nagar."
Speaking about Pramukh Swami Maharaj's inspiration of youths, scriptural orator Jignesh Dada said, "Many would flock to celebrate a person's life in their presence, but when I witness hundreds of thousands of people flocking here daily to celebrate Pramukh Swami Maharaj's pious life, it is conclusive proof that his divine consciousness is present here. We should applaud all the swamis, who like far-sighted sages of ancient India, have created this divine, blissful place that inspires us to strive to improve ourselves. If we implement just one lesson from this festival, our life will be transformed. Youths who are addiction-free and striving to help others have the power to change the entire world."
Head of BAPS Youth Activities, Yagnapriyadas Swami, said, "Children and youths yearn for love, and Pramukh Swami Maharaj has gifted pure, divine love to them. He fulfilled all their wishes, offered comfort, and showered immense love upon youths. Pramukh Swami Maharaj not only recognized and validated their affection and feelings, but he also forgave youths for their mistakes and guided them on the right path. As a result of this affection, youths have confidently navigated through difficulties, adopted religious observances, and cultivated values like integrity. Today, his love has inspired countless highly educated and professionally qualified youths serving in this Nagar."
A video of Pramukh Swami Maharaj addressing youths was shown in which he said, "Typically, youths crave parties and are averse to spiritual assemblies, but you have all come here inspired by Yogiji Maharaj, who had declared, 'Youths are my heart.' Keeping youths at such an important place as his heart, we can see the immense love and compassion that Yogiji Maharaj has showered upon youths. As Yogiji Maharaj's heart, youths must do good and refrain from bad habits and activities so that his heart is well protected. If we do what Yogiji Maharaj likes, he will be pleased with us."
Managing Director of Torrent Power Jinalbhai Mehta said, "Pramukh Swami Maharaj was a divine person who inspired countless cultural, social and spiritual initiatives, providing comfort and care to millions. My family and I had often received his blessings, including in times of personal calamity. Pramukh Swami Maharaj has transformed the lives of spiritual seekers, leaders and global personalities by traversing tirelessly to innumerable cities, villages and countries. He has performed home visits inspiring over 4 million people to lead an addiction-free life. Today, I am overwhelmed by visiting this festival, inspired by the vision of His Holiness Mahant Swami Maharaj. Pramukh Swami Maharaj Nagar is truly a spectacle beyond compare. Pramukh Swami Maharaj touched the lives of countless souls with the light of faith and devotion."
Member of Parliament Lok Sabha and President of Bhartiya Jana Yuva Morcha Tejasvi Surya said, "We are celebrating the centenary of a great soul like Pramukh Swami Maharaj because he has achieved more in one lifetime than what we can dream of achieving in a hundred lifetimes. Thus, as young Indians, we have come here to draw inspiration from his divine life and resolve to walk the path he has shown us. The Upanishads tell us that immortality is obtained not through meaningless action, public acclaim or amassed wealth, but only through sacrifice. The embodiment of such sacrifice was Pramukh Swami Maharaj. This is why our entire nation is celebrating Pramukh Swami Maharaj's hundredth anniversary today.
"Pramukh Swami Maharaj and his dedicated volunteers have created a campus that is so clean, green and serene, it appears miraculous. Nowhere can you find a single piece of litter, nor do you see constant cleaning. But there is a miraculous atmosphere of responsibility that Pramukh Swami Maharaj and his volunteers have created. BAPS has established hundreds of schools, colleges and hospitals guided by the Upanishadic principles that service is our highest duty and service of humanity assists in liberation. These have always been our civilization's highest guiding principles, which we see in action at Pramukh Swami Maharaj Nagar. The amazing managerial, leadership and service skills learned here will lead us to a better nation for tomorrow. BAPS represents the universal spirit of Sanatan Dharma, so it will be an eternal and guiding force for all time to come.
"At Pramukh Swami Maharaj Nagar we see service and science, renunciation and technology, purity and modernity that is a microcosm of a new India that is ambitious, a new India that can organize massive projects at scale, and a new India that can be a leader of the world. I am from South India where our ancestors had created massive temples of great ambition. Due to invasions and colonization, for more than a thousand years, we lost the ability to dream big and imagine and execute things in a grand way. But when I visited Akshardham in New Delhi, I realized that BAPS Swaminarayan Sanstha is rekindling this very innate Indian spirit of thinking grand, thinking audacious, thinking in an aspirational fashion, and organizing and executing it to perfection. This is what one sees in the BAPS temples in India, the US and the world over.
"This is a place where the youths should come to learn devotion to the nation and devotion to God, where they should come to learn self-realization and the upliftment of our nation, how to lead a life with the strength of character, courage of conviction and leadership that can transform ourselves and the nation. This is what young India needs today.
"The theme of today's programme is youth. Youth is not an age; it is an attitude. I believe that Pramukh Swami Maharaj is this modern age's greatest youth icon because the values he has established are timeless and universal. Many times, young people feel that religious organizations are only for the elderly. However, from organizations like BAPS, we learn lessons about how to lead a meaningful and purpose-driven life. These are not lessons to learn when we turn 75, but when we are bubbling with youthful energy at 15 or 16. That is when we must learn the art of living and equip ourselves to face the challenges of the world. Today around the nation and around the world, BAPS is doing this very necessary activity of human-making and nation-building through the language of love. BAPS works through the language of love and selfless sacrifice, encapsulating the millennia-old values of Sanatan Dharma.
"Prime Minister Narendra Modi has said that the next 25 years must be the golden age of India. India needs capable leaders from the panchayat to parliament, from science to industry, from corporate to municipality. India needs young capable men and women who will be able to lead this nation to glory. BAPS is an organization through which we can be inspired and motivated to lead this great nation. I thank BAPS for giving me the opportunity of seeking God's blessings here to return recharged and full of energy to serve India with every ounce of energy to make our country and civilization the greatest ever."
Dr. Sambit Patra, National Spokesperson of Bharatiya Janata Party, said, "I have not come prepared because I was not aware that I would be asked to speak. Nevertheless, I would like to begin by firstly bowing to the soil of Gujarat, because there must surely be something special about it for having has produced two of the greatest personalities of the century – Pramukh Swami Maharaj and Honourable Prime Minister Narendra Modi.
"I first bow to the holy feet of Pramukh Swami Maharaj. I was not very familiar with the Swaminarayan Sampraday, but when I saw photos and videos of Pramukh Swami Maharaj on TV, I was intrigued by his eyes, his aura, his divine voice. His face has been wonderfully depicted in the bubble wrap portrait here made from 800,000 bubbles by 150 women. What an awe-inspiring devotional offering! Even upon seeing the divine eyes and tilak in the giant sculpted image of Pramukh Swami Maharaj, you will rejoice in divinity.
"I want to bow to the volunteers. The volunteer driving me around was a graduate from IIT. Other volunteers I was introduced to were people with their own successful businesses, and yet they were serving water to the visitors. I cannot help but ask why everything here is so clean and efficient. I realised it is because the volunteers serving here expect no worldly rewards or remuneration, but only the spiritual blessings of their guru Pramukh Swami Maharaj.
"I bow to the love for the guru here. I saw it within Pramukh Swami Maharaj for his guru Yogiji Maharaj as he worked only to fulfil his guru's vision. I also see it now in Mahant Swami Maharaj for his guru Pramukh Swami Maharaj in the magnificent creation of this grand Nagar. Where there is such divine, selfless love, even the impossible can become possible.
"Today, as we celebrate Youth Day, it reminds me of the boundless energy of youths. The way that the Swaminarayan Sampradaya and in particular Pramukh Swami Maharaj has positively channelized that energy is unparalleled."
Gujarat High Court Senior Advocate Devang Nanavati shared, "I have come here to pay my tribute to my guru Pramukh Swami Maharaj. Whenever I saw him, I was immersed in his eyes. Whenever I was with him, I felt as if I was with God.
"Pramukh Swami Maharaj was a guru to millions, but what touched me deeply was his humility and simplicity. I have personally experienced his care. It was more than my own family could ever provide. He once presented me with a rosary, which I still keep with me."
Muraleedharan, Union Minister of State for External Affairs & Parliamentary Affairs, added, "I had the opportunity to participate in Pramukh Swami Maharaj's Amrut Mahotsav in Mumbai in 1995, and 25 years later, I am attending his Centennial Celebrations. I was deeply touched today by the Bal Nagari and particularly by the 11-year-old boy from the UK who explained to me how Pramukh Swami Maharaj's teachings and love inspired the values of culture and spirituality in him and his friends. I have personally experienced over the years how BAPS's children's activities provide for the development of religion, spirituality, health and well-being amongst children globally.
"It is easy to preach but difficult to practice. Pramukh Swami Maharaj did not only preach, but he practised. I saw this when 22,000 Indian students stranded in Ukraine were provided food, shelter and support by BAPS without expecting anything in return. The love for humanity and compassion that has been inspired through Pramukh Swami Maharaj has been the guiding light for all the volunteers.
"This generation lacks guiding lights. The teachings of Pramukh Swami Maharaj are the guiding lights for all of humanity. We are celebrating Youth Day today and what better example can there be for youth than an institution like BAPS, which not only preaches but practises, where words and deeds match. The teachings of Pramukh Swami Maharaj will be the guiding light for generations to come and the deeds of the devotees and volunteers of BAPS will be the guiding light for the world that is searching for guidance."
Shankar Chaudhary, Speaker of the Gujarat Legislative Assembly, shared, "As soon as one enters the Nagar, one experiences divinity, beauty and love. We can see at play here not just devotion, but devotion combined with science and management. I believe everyone should come to BAPS to learn about management.
"Pramukh Swami Maharaj worked constantly to help people around the world remain connected with their spiritual and cultural roots. It has been because of Pramukh Swami Maharaj's tireless travels, love and vision that our cultural identity has been preserved and can flourish."
Minister of Information and Broadcasting Anurag Thakur said, "Pramukh Swami Maharaj is being revered the world over because his exemplary work reached everyone around the world. He did not just preach, but practised everything to the letter. His lived his life solely for others as devotion to God. Only then could such a festival on 600 acres be possible.
"I urge everyone to visit Pramukh Swami Maharaj Nagar, especially the Bal Nagari, where children and families can learn so many important values and skills. For example, the 'Sea of Survarna' story is beautifully presented by young girls who teach us how hard and prayers can lead to success. In fact, all six exhibitions are worth watching as they teach so many valuable life lessons.
"Under the guidance and leadership of Pramukh Swami Maharaj, BAPS has always been at the forefront during natural calamities and helping people to overcome their sorrows. Today, under the leadership of Mahant Swami Maharaj, BAPS continues to grow worldwide. Because of BAPS's focus on spirituality, ethical living and the spirit of volunteerism, it has raised respect for India among people around the world."
Gajendra Singh Shekhawat, Government of India Minister of Jal Shakti, added, "I have personally witnessed Pramukh Swami Maharaj Nagar coming up when I visited Ahmedabad a few months ago. At the time, I was curious as to what would lie inside. After seeing it completed today, I was awestruck upon entering the ornately carved Sant Dwar welcome gate. I am left speechless by the beauty and grandeur of everything within Pramukh Swami Maharaj Nagar. Even though these celebrations will last only for a month, the beauty, divinity and inspiration of this creation will last a lifetime. I bow to the humility, divinity and saintliness of Mahant Swami Maharaj that has made it possible."
In his blessings to the assembly, His Holiness Mahant Swami Maharaj said, "Yogiji Maharaj used to say, 'The youth are my heart.' The heart is such a vital organ, and Yogiji Maharaj gave that place to the youth. He felt that youths should be ideals of service. They should not just be healthy in body, but cultivate the spirit of service. They should serve everyone without distinction. This is the duty of a youth.
"Youths should strive to be ideal in all aspects of life. In every activity, they should keep religion and ethics at the forefront. A lot can be achieved if one has good character. Our actions should be such that they reflect positively upon God and our guru. People should be inspired not just by our intelligence or talents, but by our character.
"No matter what obstacles we face, we must resolve to study diligently. We must also firmly resolve to worship God. With firm resolution, we will certainly be able to accomplish these two things.
"The youths who presented today did a fine job. These youths are not just good performers, but they are steadfast in their observance of ethical living. We congratulate all the youths as well as the swamis and volunteers who have guided them, without which their energies would be wasted."