Women's Day 1: Celebrating Women Empowerment
5 Jan. 2023, Thursday, Ahmedabad, India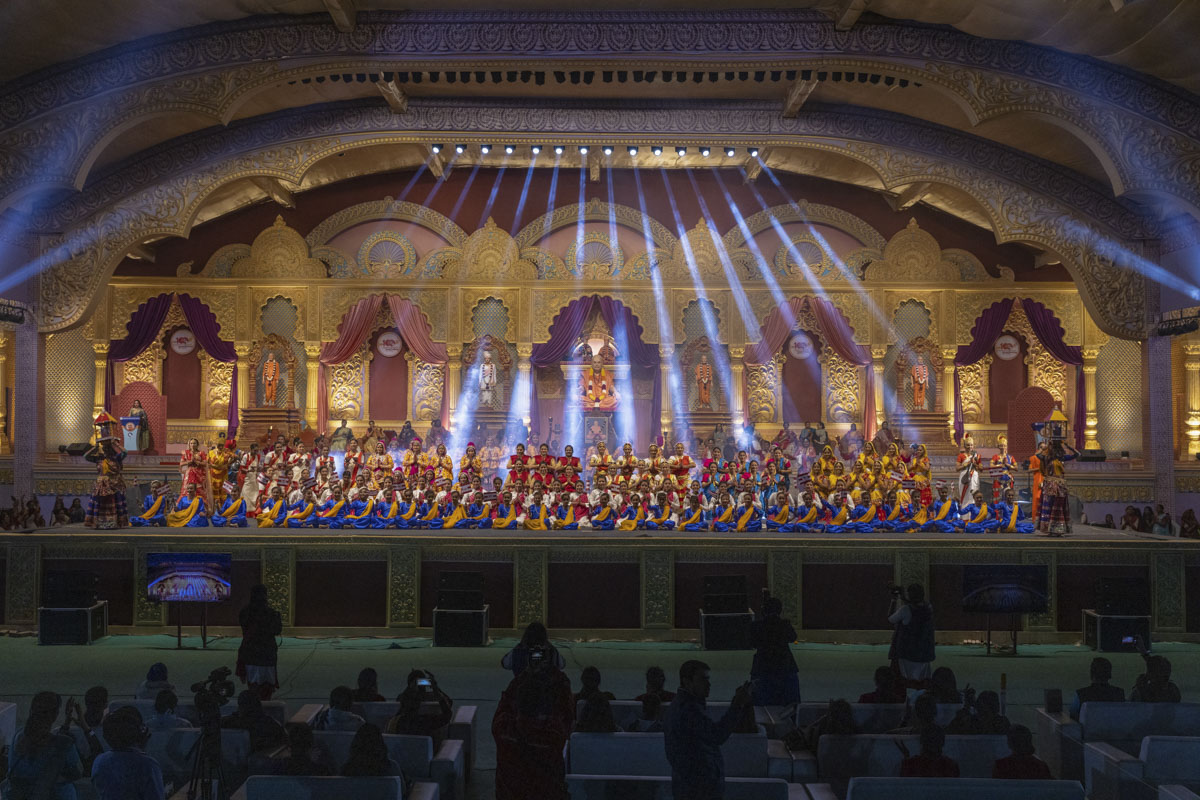 Hundreds of women from BAPS centres around the world presented an inspirational programme titled "Women's Day: Celebrating Women's Empowerment" before an audience of tens of thousands at Pramukh Swami Maharaj Nagar on 5 January 2023. Through devotional songs, dramas, dances, videos and speeches by women dignitaries of various fields, they paid tribute to Pramukh Swami Maharaj's immense efforts to foster the holistic empowerment and development of millions of girls and women worldwide.
When 19th-century women in Gujarat struggled with social, political and economic disempowerment, Bhagwan Swaminarayan's works inspired the holistic upliftment and spiritual development of countless women, providing them with a public platform for overall progress. Pramukh Swami Maharaj continued this work and expanded it globally. An ardent champion of women's education, he inspired the construction of large girls' schools in Karamsad and Randesan, Gujarat, where thousands of girls avail of the best educational resources tailored to cultural and spiritual development. Additionally, through thousands of global centres for girls, young women and women, over 60 young women's skill-development conventions and over 100 talent development platforms, BAPS has nurtured the development of strong, independent women who are keystones in their families and successful in their careers.
Through Pramukh Swami Maharaj's inspiration, the monthly 'Premvati' women's magazine has provided a global platform for women's voices on social and spiritual development for more than 50 years. The innovative BAPS WILL (Women's Ideals for Learning and Living) programme has been helping women of all ages through lectures, group discussions and seminars on childcare, management, healthcare, academics, finances, and many other issues. Moreover, the BAPS Women's Wing has actively channelled women's creative energies for dowry relief, de-addiction, environmental conservation, festivals, and a variety of social and cultural services.
Glimpses of all this can be seen in various aspects of Pramukh Swami Maharaj Nagar. At the Women's Empowerment Pavilion, seminars, dialogues and art forums are organised daily. In the Bal Nagari, 270 girls present a mesmerising musical show titled the 'Sea of Suvarna' based on Pramukh Swami Maharaj's message that prayer and hard work lead to success. The 25 'Premvati Food Courts' on the festival grounds are wholly managed and run by 2,200 women volunteers who serve hundreds of thousands daily. Tens of Thousands of women volunteers have played an integral role in the many aspects of the creation and management of Pramukh Swami Maharaj Nagar.
Evening Assembly
The Women's Day evening assembly began at 5.15pm with BAPS women from Ahmedabad, Mumbai and the UK singing devotional prayers to the accompaniment of Indian and western instruments. Thereafter, 31 girls performed a classical dance to Vedic hymns expressing the glory of the enlightened guru followed by women performing a medley of dances from different regions of India. BAPS women then presented a drama, "The 7th of December," recounting true stories of Pramukh Swami Maharaj's holistic and profound impact on the lives of women. He saved marriages, transformed hatred to love, and provided divine experiences and counsel. Women of all castes, classes, ages and professional backgrounds found their lives transformed through their spiritual association with Pramukh Swami Maharaj.
Several distinguished guests also paid homage to Pramukh Swami Maharaj's work of women's empowerment:
Anandiben Patel, Honourable Governor of Uttar Pradesh and Former Chief Minister of Gujarat said, "This is an excellent event for all women. 33,000 women and girls have volunteered in the making of this festival! Only Pramukh Swami Maharaj recognised the true potential and power of women, and he took steps to inspire them to cultivate values and virtues, service and devotion.
"Pramukh Swami Maharaj was humility personified. Though global leaders flocked to meet him, he would travel to the homes of labourers, tribals and the poorest in society. Pramukh Swami Maharaj teaches us to care for, listen to, and help everyone, whether they are employees or family members. I have been personally touched by Pramukh Swami Maharaj's divine love. As we love our daughters, we should also ensure all girls from 9 to 14 receive the HPV vaccine to prevent cervical cancer. Moreover, I request the ladies to take the drama enacted here across all of India to educate women everywhere on these profound messages about education, values, and virtues.
"I was astounded to observe the children managing the magnificent Bal Nagari. The children here possess the strength to do wonders. We should all recognise our children's immense potential and give them attention and guidance to further encourage them as our nation's future rests on their shoulders."
Honourable Minister of State in the Ministry of Textiles and Ministry of Railways of India Darshana Jardosh, said, "I am overawed by the grandeur of Pramukh Swami Maharaj Nagar. As the daughter of a photographer, the beauty of every nook and cranny of this place is imprinted in my mind. The feeling of 'Vasudhaiva Kutumbakam' (the whole world is one family) that one experiences here shall be a partner in our collective creation of a vibrant India. The exhibitions here inspire one to imbibe the noble values from Pramukh Swami Maharaj's life.
"When I see the active contribution of the female volunteers in so much of Pramukh Swami Maharaj Nagar, I am further convinced that Pramukh Swami Maharaj was a torchbearer of women's empowerment. A woman takes equal care of her maternal as well as her matrimonial home. Similarly, in Pramukh Swami Maharaj Nagar, women volunteers are taking care of everyone. From the gardens and cleanliness to the food stalls and lighting, every important aspect of this place has benefitted from the contributions of the female volunteers. With their minds, pure sentiments and dedication, women from India and abroad are contributing to their communities, their families, and the Nagar, where the great work of inspiring the next generation is being accomplished. I am happy that the Railways Ministry has made its own small contribution to memorialising Pramukh Swami Maharaj by renaming a train from Ahmedabad to New Delhi, the Akshardham Express."
Honourable Minister of State for External Affairs and Culture of India Meenakshi Lekhi said, "Pramukh Swami Maharaj was a guru who inspired devotion and social service. Pramukh Swami Maharaj Nagar provides us a vision of what society should be like.
"As I went around the Nagar, I was drawn to the messages in the films and exhibitions. Pramukh Swami Maharaj taught that devotion with hard work is the path to success, and he did this so well that, today, Indians all over the world are so successful. This message of prayer and hard work was beautifully presented in the 'Sea of Suvarna' show performed by hundreds of young girls.
"Indians are hardworking people who also believe in the strength of spirituality, and hence their motivation to serve society. No matter what part of the world Indians travel to, they carry these values with them and become valuable members of their respective communities. This inspiration comes from organisations like BAPS who help individuals retain and reinforce these ancient Hindu universal values. Pramukh Swami Maharaj guided that, no matter what we do with our lives, we should contribute to our communities. We should do everything with the spirit of serving society. Pramukh Swami Maharaj did this himself without distinction. He could meet Prince Charles in a palace and also visit a young boy's home in a village."
Professor and Chair of the Anthropology Department at Adelphi University, USA, Dr. Hanna Hea-Sun Kim said, "Thirty years ago, as a student, I attended the Yogi Shatabdi Celebrations in Gandhinagar. Today, as a professor of anthropology, I am still a student of BAPS.
"This is an extraordinary, overwhelmingly beautiful place. The women's and children's contributions to the Nagar are inspired by the love of Pramukh Swami Maharaj. With love, he taught all of us the message throughout the Bal Nagari that prayer and hard work leads to success.  While success is never easy, we can always ask for help. It could be from a trusted friend or your Guru. But don't be afraid to ask for help. Success is not about being rich, but about knowing who you are and what is your goal."
Her Excellency Pastor Dr. Dorcas Rigathi, Second Lady of Kenya, shared, "Empowerment only comes from knowing God and one's purpose. You have discovered yourselves, and that is why you have gathered together here so that you can celebrate the life of a man of God who championed the life of women. Pramukh Swami Maharaj is a champion of women's development.
"I have seen women from India and Kenya. I believe that India and Kenya share similar cultural and religious lifestyles. A woman is a symbol of power when she has faith, serves the world, and sacrifices for her family.  When a woman understands her purpose and is attentive to the spiritual path, the whole family thrives.
"Nothing loving can enter this earth without a woman. Therefore, if we desire to see change in the world, we need to understand that women are central and critical to everything. If women are left behind, the world will never experience peace. Furthermore, if we want to see change in the world, we must also change the way we bring up our men. They must be taught to respect women, not to abuse or misuse them. The mentoring of a boy is done by a woman. To transform the world, we must become the transforming agent.
"Today, as I went around this beautiful, inspiring place, I realised that you are celebrating the life of a great man of God who emanated God's light, who was not only humble but who cared for everyone – children, women, and the addicted. He lived a life of sacrifice and service."
Judicial Member of the Lokpal Committee of India, Former Chief Justice of Manipur High Court and former Justice of Gujarat High Court, Honourable Justice Abhilasha Kumari said, "Pramukh Swami Maharaj was the epitome of saintliness, love, compassion, holiness, magnanimity, and empathy for all human beings – indeed for all living beings. Such a person does not come upon this earth very often, but when he does, he leaves an indelible mark in the hearts and minds of people through the transformations he brings about in people's lives. His legacy will last for generations to come, indeed forever.
"I had the good fortune of having the darshan of Pramukh Swami Maharaj several times. I can say from my own experience that any person who has his darshan even once will be drawn into his holy spirit and engulfed into his aura. This month-long celebration is a beautiful and befitting tribute to Pramukh Swami Maharaj and his teachings to better each individual and elevate every soul to fulfil life's purpose and reach the culmination of one's spiritual journey. The foundations are laid in childhood, and thus Pramukh Swami Maharaj emphasised the inculcation of values in children.
"From my two days at the Nagar, I am amazed, astounded, and awestruck at what must have gone into making the Nagar what it is today – a marvel of art and technology with shows that are meaningful and impart knowledge to all. This celebration reflects the ideals cherished by Pramukh Swami Maharaj, and it has a takeaway for each person who visits.
"We must not forget the inspiration which has made it possible. His Holiness Mahant Swami Maharaj has overseen every aspect of the festival preparations that have been planned by the sadhus, who are invisible and silent catalysts that have guided this entire programme. The volunteers have executed the plans that have been meticulously laid down. The discipline, hygiene, politeness, courtesy, and feeling of welcome that we get here are exemplary. I bow down at the feet of Pramukh Swami Maharaj and hope that his compassion will always flow upon this earth and touch the hearts of everyone, that we might all become better human beings."
Secretary of the Auroville Foundation Dr. Jayanti S. Ravi (IAS) added, "Pramukh Swami Maharaj was the living embodiment of pure divinity.
"Today, I saw little girls and women in this Nagar as volunteers. When I saw the girls from London who prepared a portrait of Pramukh Swami Maharaj using coloured bubbles, I was touched by their patience, hard work, teamwork and attention to detail as an offering to their guru. If this sort of devotion can be spread everywhere, it can transform the world.
"When I completed my PhD thesis on eGovernance, I had it offered to Pramukh Swami Maharaj. I felt so blessed that he sanctified it with flower petals and marked it with red vermillion. I have still kept those dried flowers because these blessings and memories have made a big difference in my life. Even for my latest book, 'Sanity in Sanitation', which has a foreword by Prime Minister Narendrabhai Modi, I sought the blessings of Mahant Swami Maharaj. He wrote: 'Bhagwan Swaminarayan taught that, along with physical hygiene, moral purity is equally important.' This was another wonderful opportunity for me.
"I mentioned this morning in the conference that for so many volunteers to serve together without clashes means that the power of God is working through them. Anyone who employs these volunteers will definitely benefit, too. The impact of this Nagar is being felt across the world. Pramukh Swami Maharaj's every hour, minute and second was spent in the service of society and prayer. I hope that everyone is inspired by his life of humility, service and faith."
Director of BAPS Vidyamandir, Randesan and Overseer of BAPS Women's Activities Dr. Neetaben Shah expressed her thanks to the dignitaries, the young and energetic cultural programme team, the volunteers, and Pramukh Swami Maharaj for providing this opportunity to all.
Other dignitaries present on stage included:
Ranjanben Bhatt, MP Vadodara
Sunaina Tomar (IAS), Additional Chief Secretary, Social Justice & Empowerment Department Government of Gujarat
Payalben Kukrani, MLA Gujarat
Kanchanben Radadiya, MLA Gujarat
Darshana Vaghela, MLA Gujarat
Irene Achieng Oloo, Deputy Ambassador of Kenya to India
Gitaben J. Patel, Deputy Mayor, Ahmedabad Municipal Corporation