Vicharan Day: Celebrating Pramukh Swami Maharaj's Spiritual Travels
27 Dec. 2022, Tuesday, Ahmedabad, India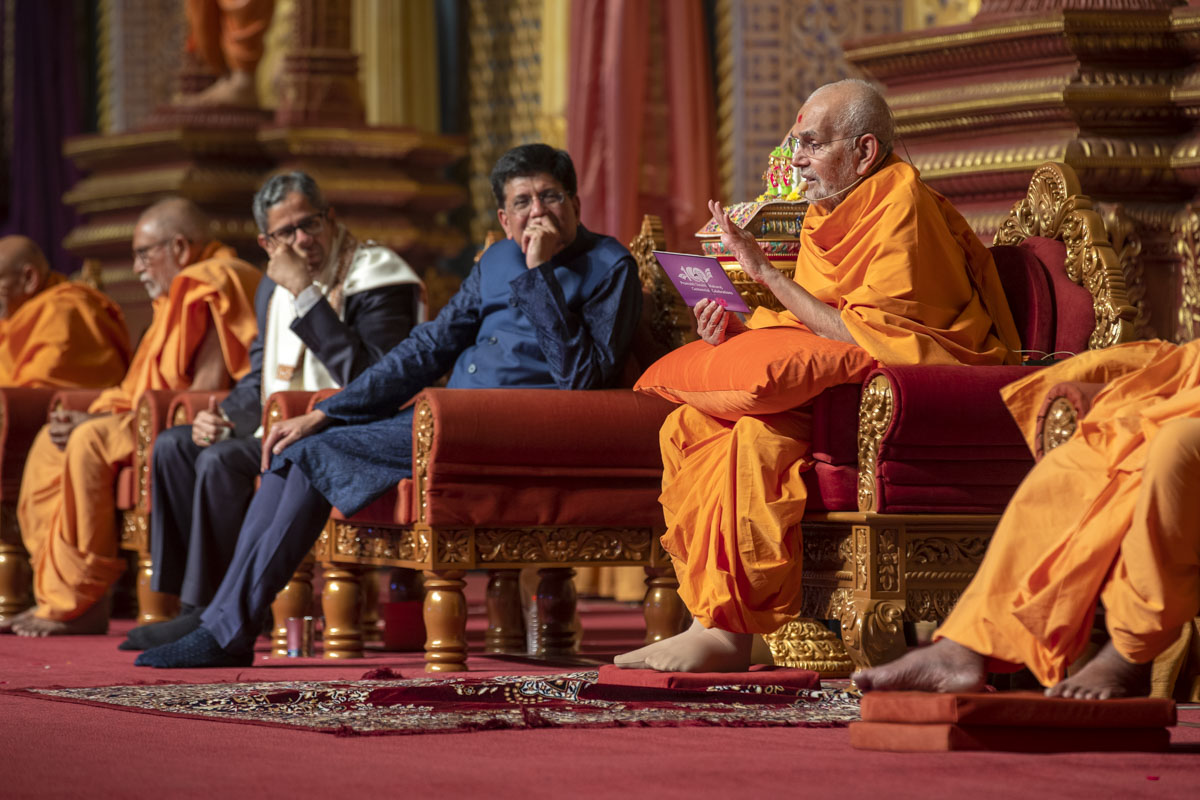 Dignitaries and Baba Ramadevji pay tribute to Pramukh Swami Maharaj's tireless spiritual travels in uplifting society
In an assembly of tens of thousands at Pramukh Swami Maharaj Nagar on 27 December, national leaders and dignitaries joined His Holiness Mahant Swami Maharaj to pay tribute to Pramukh Swami Maharaj's incessant travels over 45 years to ignite spirituality in people's lives around the world. Pramukh Swami personified the ancient scriptural message, 'A sadhu is someone who travels for the benefit of society.'
Pramukh Swami Maharaj travelled tirelessly to 51 countries and 17,000 villages, towns and cities, visited 250,000 homes, and personally counselled over 800,000 people. Pramukh Swami Maharaj's travels were beyond comprehension. For example, in 1975, he visited 645 villages; in 1976, he covered 728 villages; in 1977, he reached out to 663 villages!
Even a heart attack in 1983 and bypass surgery in 1998 did not deter Pramukh Swami Maharaj from continuing his relentless travels for the benefit of society.
A personal meeting with a person from a tribal community was as important to him as his appointments with world dignitaries. Establishing a meaningful and direct connection with every individual and inspiring them to live a pure and virtuous life was a priority for Pramukh Swami Maharaj.
Pramukh Swami Maharaj's spiritual travels were like that of the gushing River Ganges, constantly and selflessly flowing to purify and liberate all who came in touch with him. Overlooking the constraints of time, facilities, adversities and even his physical health, Pramukh Swami Maharaj happily travelled for decades on end without a break. Through his travels, he dissolved the sorrows of thousands, consoling and rejuvenating them with spiritual love and wisdom.
Evening Assembly
The occasion of 'Vicharan Day: Celebrating Pramukh Swami Maharaj's Spiritual Travels' at Pramukh Swami Maharaj Nagar started with a devotional symphony at 4.45pm.
Adarshjivandas Swami, the biographer of Pramukh Swami Maharaj, narrated episodes from the life of Pramukh Swami Maharaj on the faith he fostered in society through his travels. He mentioned, "Even through the most difficult of times, his unwavering faith in God and gurus ensured that all his projects saw success. For example, securing the land for the Akshardham mandir in New Delhi took 32 years of constant efforts by Pramukh Swami Maharaj, but his faith in the words of his guru never wavered."
Viveksagardas Swami, a senior BAPS swami who has witnessed Pramukh Swami Maharaj's unprecedented spiritual travels for over four decades, shared his experiences, describing the epic and liberating impact of the travels. "Pramukh Swami Maharaj had taken an oath before guru Shastriji Maharaj that he would foster faith in God and guru without care for his body, and he upheld this oath for all 94 years of his life. His travels were always for the benefit of others. He moved incessantly from tribal huts to foreign lands, putting immense strain on his body. To please devotees and satisfy their wishes, he would endure great difficulties. His visits to people's homes would continue late into the night. He would travel in rikshaws, tractors and old jeeps without a thought of his own comfort, with the singular thought that our gurus have endured such hardships.
"In addition to reaching every heart during his travels, Pramukh Swami Maharaj's heart remained forever centred on God. Wherever he went, he kept Thakorji with him, serving him with care. Amidst all of his travels, which alone could have taken up all his time, he oversaw 162 humanitarian activities, created more than 1,200 mandirs, initiated more than 1,000 sadhus, organized many large-scale festivals, and read and replied to over 700,000 letters from people seeking guidance."
A video presentation visually depicted Pramukh Swami Maharaj's unceasing travels.
Many dignitaries joined His Holiness Mahant Swami Maharaj to pay tribute to Pramukh Swami Maharaj's divine and selfless life.
R.S. Sodhi, Managing Director of Amul, said, "Dr. Verghese Kurien had great reverence for Pramukh Swami Maharaj, and had often said, 'What Pramukh Swami Maharaj did for society is so immense that my work appears negligible.' Of the many facets of Pramukh Swami Maharaj's leadership, I have been most impressed by his ability to connect with everyone, especially today's youth. He made the impossible possible – whether it be in the form of building temples or doing relief work.  He transformed lives. I have learned that he enabled swamis of BAPS to become experts in fields of architecture, Sanskrit and many more without any formal education or training. He helped people live addiction-free lives. Pramukh Swami Maharaj was calm and stable no matter the situation. Where any leader would have been destabilized by the horrific Akshardham terrorist attack, he kept society calm through his own equanimity."
Meenesh Shah, Chairman of the National Dairy Development Board, said, "BAPS, Amul and the National Dairy Development Board work for the social and financial upliftment of ordinary people, villagers and farmers. We have sustained the friendship that Dr Kurien and Pramukh Swami Maharaj had. Today, we were part of a workshop in Pramukh Swami Maharaj Nagar in which 300 scientists and 700 farmers came together to apply modern technology in agriculture to benefit all the farmers of the nation."
Ajay Umat, Editor-in-Chief of the Shayona Times Group, said, "President APJ Abdul Kalam called Pramukh Swami Maharaj his ultimate teacher. Pramukh Swami Maharaj brought about the perfect union of science and spirituality. He was the spiritual leader of the world because he never believed in denigrating others; he never looked at anybody's faults or spoke about the same. Promoting and maintaining peace was his primary goal and this is evident from the manner in which he calmed people during the Akshardham terrorist attack. Today, his method is known as the 'Akshardham Response'."
Swami Ramdevji Maharaj, Yogacharya of the Patanjali Yog Peeth, said, "We are witness to a revolution in the form of this unforgettable Pramukh Swami Maharaj Centenary Celebration. I have seen three Kumbh Melas, but this festival is a Mahakumbh! This 600-acre site is the pride and embodiment of Hinduism. This festival is the perfect example of how an effective and inspiring event can be organized. There is no professional mind at work here; it is the divine power of Pramukh Swami Maharaj.
"I had taken Pramukh Swami Maharaj's blessings thirty years ago in Surat, when I was a nobody. Today, when I am known globally, I still yearn for the blessings of Pramukh Swami Maharaj. All those who surrendered to Pramukh Swami Maharaj, rich or poor, educated or illiterate, found their life attaining great heights. Pramukh Swami Maharaj is not just the pride of BAPS or the Swaminarayan Sampradaya, but of the entire Hindu faith.
"I experienced profound peace in the presence of Pramukh Swami Maharaj's divinity, and whenever I meet Mahant Swami Maharaj, I feel like I am meeting Pramukh Swami Maharaj."
Praful Patel, Former Union Minister of India, said, "Pramukh Swami Maharaj was not a mere Hindu swami; he was a form of God manifest on earth for all. He nurtured Hinduism not only in India, but throughout the world through BAPS mandirs. Today, when I see this extraordinary campus with 80,000 volunteers serving selflessly, I am convinced that the divinity of Pramukh Swami Maharaj is at work. Pramukh Swami Maharaj has made this organization such that it will continue to prosper until the end of time."
Honourable Vajubhai Vala, Former Governor of Karnataka, said, "Pramukh Swami Maharaj embodied the qualities of Brahma as the creator, Vishnu as the sustainer and Mahesh as the destroyer of sins and vices. Pramukh Swami Maharaj had an innocent laugh and loving compassionate eyes which I cannot forget. Pramukh Swami Maharaj has lit 1,100 lamps in the form of swamis that inspire thousands of others."
Balkrishna Shukla, MLA and Chief Whip of BJP Gujarat, said, "I am confident that the main inspiration for India's celebrations of 75 years of independence will come from here. BAPS is the best school to learn management. Even Prime Minster Narendra Modi often says that if you want to learn management, go to BAPS for six months. This festival is a testament to Pramukh Swami Maharaj's and Mahant Swami Maharaj's inspiration."
Justice N. V. Ramana, former Chief Justice of the Supreme Court of India, said, "Pramukh Swami Maharaj was a true visionary whose driving force can be found in his maxim, 'In the Joy of others lies our own'. His selfless service and all-accompanying love touched many lives and transformed local communities. We must take inspiration from the work of Pramukh Swami Maharaj in how to live harmoniously with each other and ensure the welfare and happiness of all in society. Through his calm and forgiving response to the Akshardham terrorist attack, he set an example of peace across the nation."
Piyush Goyal, Union Minister of Business and Commerce, shared, "As soon as I arrived at this nagar, I saw the great sculpted image of Pramukh Swami Maharaj radiating divine light and immediately felt that he was watching over all of us. It is my greatest fortune that I have been in his close company many times. I am also blessed to have visited the Neasden Mandir in London several times. All the BAPS mandirs built around the world have been inspired by Pramukh Swami Maharaj. Devotees have created these mandirs with intense devotion and faith. The BAPS mandir in Abu Dhabi will be historic and beyond our imagination. I could not contain my excitement upon seeing the allotment letter for land given in the UAE.
"Pramukh Swami Maharaj inspired millions to serve selflessly. He combined devotion towards God and country, and gave a new ray of hope for India. I clearly remember the relief work after the Bhuj earthquake when Pramukh Swami Maharaj rebuilt homes, schools and hospitals. That reformation and restoration is a chapter I will never forget. He truly brought happiness to people's lives, exemplified by his teaching 'In the joy of others lies our own'.
In his blessings, His Holiness Mahant Swami Maharaj said, "Pramukh Swami Maharaj often said that as swamis travel through society, people's spirituality is nourished and devotees are pleased. It is said that flowing rivers and traveling swamis benefit society. Pramukh Swami Maharaj's travels for the benefit of society were unprecedented and unparalleled. He never stood still. Even when appearing to rest, his thoughts remained constantly focused on elevating devotees and society.
"Once, in the blazing summer heat, I was walking with Pramukh Swami Maharaj through the dusty lanes of the village of Bamangam. As he struggled to climb up a hill, I thought, 'Why is he putting himself through so much strain when he can delegate such tasks to others?' Pramukh Swami Maharaj immediately turned to me and said, 'Our gurus Shastriji Maharaj and Yogiji Maharaj have climbed these hills countless times to visit the people.' From this, I realized that Pramukh Swami Maharaj's focus premained firmly on his gurus, who were the inspiration for his unrelenting travels.
"While his travels were matchless in their scope and difficulties, his presence remained forever loving, compassionate and gentle, granting peace to millions. The mere mention of his name granted peace to millions of hearts. He never saw any distinctions of high or low. He remained ever-focused on attaining the spiritual outcomes that he had set as his goals. It is impossible for us to fathom the vastness of the divine sentiments he had for society."