The Role of Saints in the Empowerment of Scheduled Tribes
22 Dec. 2022, Thursday, Ahmedabad, India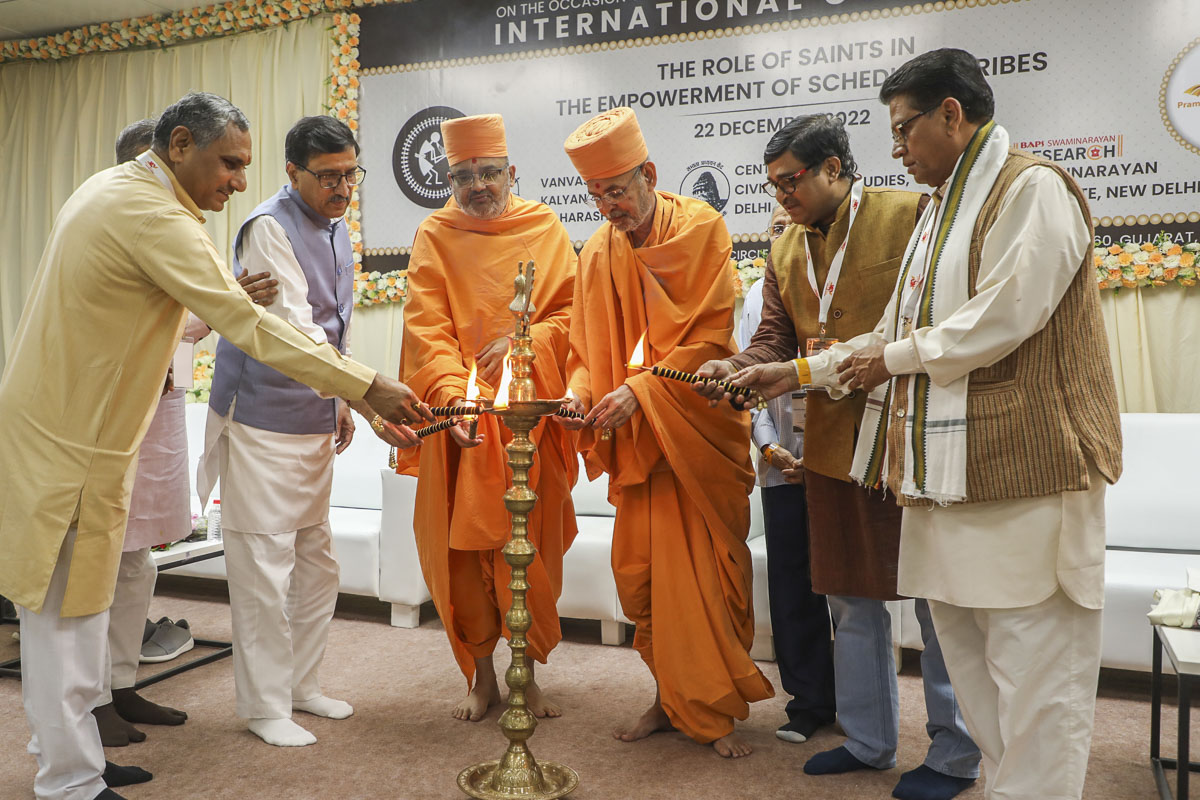 An international academic conference on the inclusive and sustainable development of Scheduled Tribe communities was held on December 22, 2022, at the Pramukh Swami Maharaj Nagar in Ahmedabad. International scholars and intellectuals participated to discuss the role of saints and religious figures to better understand and address the challenges facing the Adivasi (Scheduled Tribe) communities.
Papers were presented on the role of religious traditions initiated by India's saints and sages who have endeavored to understand the challenges, conflicts, and problems faced by Scheduled Tribe communities. Titled "The Role of Saints in the Empowerment of Scheduled Tribes," the conference was organized by Vanvasi Kalyan Ashram, Center for Civilisational Studies, Delhi, and BAPS Swaminarayan Research Institute, New Delhi.
Presenters at the conference explored how different spiritual personalities and contemporary organizations, including BAPS, Ramkrishna Mission, Chinmaya Mission, and others, continue to actively contribute toward empowering tribal communities in India. The conference focused on the current challenges impeding the social betterment of the scheduled tribes. It also discussed the impact and means of providing resources and infrastructural support for healthcare, education, de-addiction support, vocational assistance, and access to innovative technologies while preserving local cultures and identities.
The Inaugural Session
Pujya Aksharcharandas Swami inaugurated the conference by performing the deep pragatya in the presence of Mahamahopadhyay Bhadreshdas Swami, Aksharvatsaldas Swami, and other swamis. Shri Bhagwandas Patel, a renowned folklorist on tribal traditions; Shri Ravi Shankar, the Director of the Center for Civilisational Studies, Delhi; Shri Ramchandra Kharadi, the National President of Vanvasi Kalyan Ashram; Shri Atul Jog, National Organizing Secretary, Vanvasi Kalyan Ashram; Shri Bhagwan Sahay, Urban Minister of Vanvasi Kalyan Ashram; and Shri Harsh Chouhan, the Chairperson of the National Commission for Scheduled Tribes, joined in the deep pragatya ceremony.
Shri Ravi Shankar welcomed the dignitaries on stage and the over 100 delegates in the audience with his opening remarks. In his keynote address, Shri Bhagwandas Patel, a world-renowned expert on Adivasi traditions and an author of several volumes on Adivasi rituals and mythologies, expressed his humble tribute to Pramukh Swami Maharaj in heralding a new era for Adivasi communities. Citing examples from Bhil poetry and narratives, he noted how Adivasis share a profound relationship with the divine in their own unique way. He elaborated that Adivasis prioritize the welfare of others above their own which is "an ethical value embodied in the life and work of Pramukh Swami Maharaj."
In his inaugural address, Shri Harsh Chouhan emphasized that traditional methods of perceiving class and caste-based societies are unsuitable models for understanding scheduled tribes. He stressed the need to develop new criteria through constructive forums like this conference. He recommended preserving the collective memory and oral traditions of Adivasi communities. Shri Harsh Chouhan drew attention to the importance of recognizing the achievements of the Adivasi and fostering a sense of pride within the community. He also discussed the spiritual nature of these communities and their unique devotional practices. He concluded by identifying scheduled castes as assets, not liabilities, and applauded BAPS Swamis' continued efforts to raise public awareness and enhance respect for tribal communities.
Shri Ramchandra Kharadi followed by calling attention to Pramukh Swami Maharaj's personal involvement in tribal affairs as a model for advancing Adivasi development. He mentioned the widespread impact that Swamiji's instructions for ghar sabhas had on promoting self-worth, family unity, and community development. Shri Ramchandra Kharadi also added that the contribution of BAPS Swamis towards tribal empowerment has the potential to redefine our understanding of education.
Mahamahopadhyay Bhadreshdas Swami concluded the session by stating that Pramukh Swami Maharaj's simplicity and empathy developed lasting emotional and spiritual connections with individuals from Adivasi communities. He also drew attention to a vernacular version of Geeta recited by Adivasis and noted how the text's profound message is conveyed in a simple manner.
The Plenary and Paper Presentation Sessions
In this session, Gyannayandas Swami highlighted the contribution of Pramukh Swami Maharaj in not only redefining the prevalent understanding of tribal empowerment but also implementing it through value-based education, de-addiction, self-worth, and fulfillment initiatives. Thereafter, the conference organizers provided a platform to Shri Reshma Parghi, an Adivasi Swaminarayan devotee from Himmatnagar. He recalled an incident where Pramukh Swami Maharaj personally endeavored to provide fresh water to his village. Dr. Anandvardhan then described the lineage of rishis from Rishi Agastya to Pramukh Swami Maharaj and elaborated on their contributions to tribal communities. Shri Bhagwan Sahay concluded the plenary session by expressing his views on the presentations.
Dr. Manoj Pandya, an Associate Professor at Shri Govind Guru Government College in Banswara, Rajasthan, chaired the Paper Presentation Session that followed. During this session, Shri Rajiv Ranjan highlighted Ramakrishna Ashrama's implementation of a practical approach toward tribal welfare in the remote areas of Chhattisgarh. Thereafter, Shri Hitabhilash Mohanty, a lawyer by profession, emphasized the importance of non-western perspectives on understanding the Adivasi communities, specifically re-examining forest laws that impact several Adivasi communities on issues of collective land holding.
The Concluding Session
Shri Atul Jog, Shri Bhagwan Sahay, Shri Ramchandra Kharadi, Shri Kubersinh Dindor, Shri Bhagwandas Patel, Dr. Jyotindra Dave, and Shri Ravi Shankar addressed the conference attendees during the concluding session. Shri Atul Jog re-emphasized the importance of simple living and identified it as a virtue shared among Swamis and those of the Adivasi community. He then appreciated the conference's organizers and concluded by stating, "We should focus our efforts on providing practical assistance to Adivasi communities." Shri Ravi Shankar, thereafter, observed, "In India, saints visit villages and go into the forest to transform and realize themselves." Dr. Kuberbhai Dindor, a Minister for the Tribal Development of the Gujarat State, highlighted the noteworthy contributions of saints like Pramukh Swami Maharaj. He emphasized their efforts to promote unity, equality, and universal human values that extend to the tribal communities of Gujarat and beyond. Dr. Jyotindra Dave concluded the conference by expressing his gratitude to the organizers, dignitaries, and volunteers who helped make the conference possible.