Shaping the Future by Value Based Management
23 Dec. 2022, Friday, Ahmedabad, India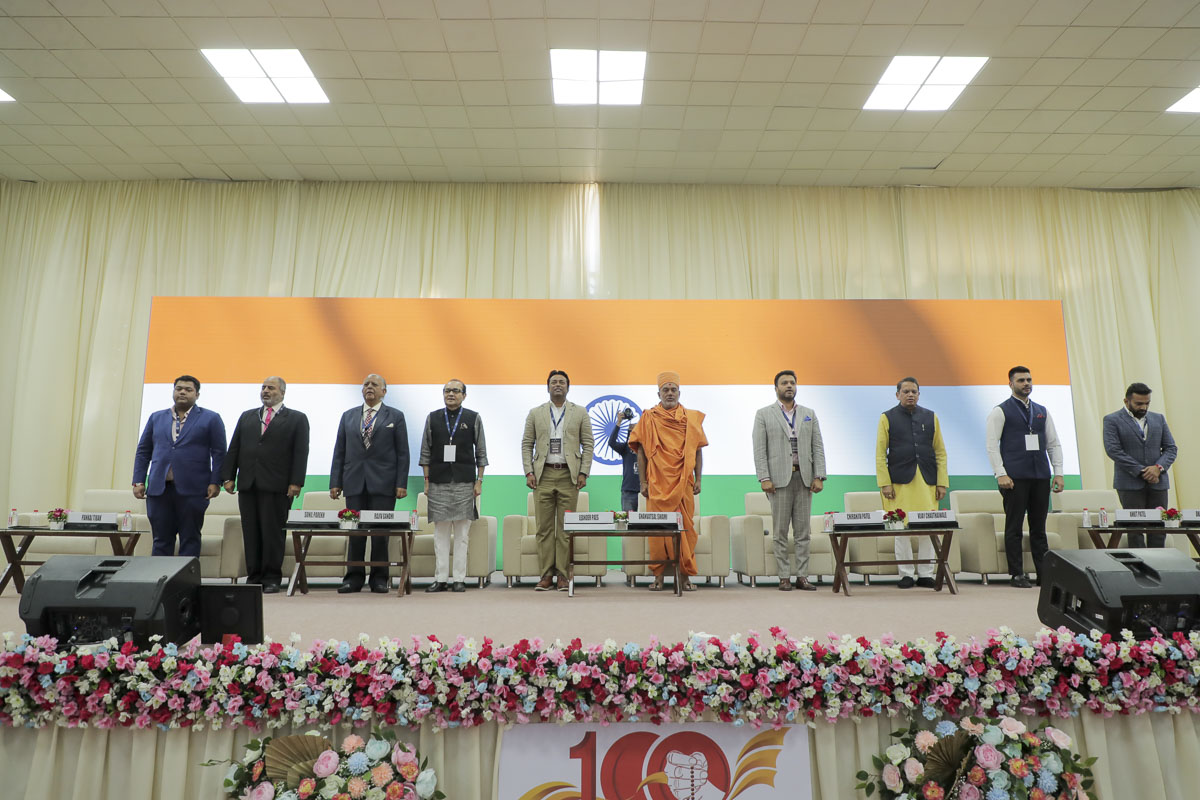 A one-day conference was organized on 23 December for entrepreneurs and industry leaders as part of the centenary birth celebrations of His Holiness Pramukh Swami Maharaj in Ahmedabad, in partnership with the Federation of Indian Chambers of Commerce and Industry (FICCI), Entrepreneurs Organization, Gujarat (EO) and the Azadi Ka Amrit Mahotsav government initiative.
Titled 'Shaping the Future by Value-Based Management', the conference was led by a panel of high-calibre speakers, including Rajiv Gandhi (Co-Chairman, FICCI Gujarat State Council and CEO and Managing Director, Hester Biosciences Ltd.), Chiranjiv Patel (Global Committee Member, EO), Vijay Chauthaiwale (In-Charge, Department. of Foreign Affairs, BJP), Ganpat Patel (Patron in Chief and President, Ganpat University), and Leander Paes (renowned professional tennis player).
In his inspiring inaugural address, Brahmaviharidas Swami, a senior swami of BAPS Swaminarayan Sanstha (BAPS), said, "God has gifted each one of us with the potential and ability to do something different, but because we continue to live on borrowed narratives, we do not fulfil our potential. The essential objective of this type of conference is to change the way we think and thereby transform the way you live. As you go around Pramukh Swami Maharaj Nagar, I hope you will listen with your heart and be inspired by the selfless life, work and wisdom of Pramukh Swami Maharaj and the 80,000 volunteers who helped create this festival with the inspiration of Mahant Swami Maharaj. Then, no one will be able to stop you from achieving what you want."
In his welcome remarks, Rajiv Gandhi, Co-Chairman of FICCI Gujarat and CEO and Managing Director of Hester Biosciences Ltd., shared his insights on how value-based management addresses issues regarding employees and other stakeholders of an organization and can lead to the progress of an organization.
Thereafter, in his welcome address, Chiranjiv Patel, Global Committee Member of Entrepreneurs Organization for Gujarat, remarked, "80,000 volunteers have worked wholeheartedly to create 'Pramukh Swami Maharaj Nagar', while persisting through harsh weather conditions and hence, made the impossible possible. One can learn value-based management from Pramukh Swami Maharaj."
Recollecting an incident of his childhood when he accompanied his father and a family friend to meet Pramukh Swami Maharaj, he said, "My father's friend, who was one of the biggest entrepreneurs of a restaurant chain in Ahmedabad, apprised Pramukh Swami Maharaj for 15 minutes regarding the progress of his organization. However, Pramukh Swami Maharaj only replied, 'Don't forget to treat your employees with compassion and kindness.' We can learn the greatest virtues of humanity and kindness from the greatest saint Pramukh Swami Maharaj."
Vijay Chauthaiwale, In-Charge of the Department of Foreign Affairs for the BJP, shared his insights on value-based management as found in Hindu scriptures. Speaking about maintaining a balance in mental and spiritual health, he said, "Spiritual leadership is necessary for the transformation and success of an organization."
Ganpat Patel, Patron in Chief and President of Ganpat University, said, "Upon seeing the vast dedicated volunteer force, I realized Pramukh Swami Maharaj has created value-based management through love. The management of Pramukh Swami Maharaj Nagar is so efficient because of the volunteers focus on what is right, rather than who is right."
Thereafter, an interesting question and answer session was held in the presence of several eminent speakers. One of the questions asked was whether an attitude of volunteerism as seen in BAPS can be developed in private industries where people are motivated only by money. Leander Paes, renowned professional tennis player, replied, "In times when tech-savvy people are losing a sense of communication, the BAPS volunteers who have dedicated themselves to create the grandeur of this place are exemplary of passion and unity within the community."
Chiranjiv Patel also appreciated the volunteerism of BAPS and noted, "All the volunteers in this place are serving with an intention to contribute selflessly. This is the legacy of Pramukh Swami Maharaj." He further added that such attitude in the industry may be possible if we can learn even 1% of Pramukh Swami Maharaj's lessons on value-based management. He highlighted two such volunteers of BAPS, namely Anish Patel (Managing Director of Aims Oxygen) and Paresh Rughani (international motivational speaker) and invited them to share their insights.
The final session concluded with an insightful talk by renowned spiritual motivational speaker of BAPS Gyanvatsaldas Swami. He said, "Pramukh Swami through his value-based management made BAPS one of the largest NGOs in the world, performing 162 different activities selflessly. To become a value-based person, we should believe from our core that we cannot do anything wrong in our lives. If spirituality is added to progress, it leads to success."
All the delegates were given a guided tour of 'Pramukh Swami Maharaj Nagar' where they learned about Pramukh Swami Maharaj's inspiring life and worldwide contributions for humanity through the various attractions and exhibitions.
This event was the sixth in a series of 14 such conferences for professionals of various fields, including accountants, lawyers, industrialists, technocrats and entrepreneurs. It is a testament to the progressive mindset of Pramukh Swami Maharaj, whose work and teachings touched people from all walks of life, to ensure the holistic success and happiness of everyone in society.
Pramukh Swami Maharaj was an exemplary spiritual leader who personified his universal teaching, "In the joy of others lies our own." The culmination of his centenary anniversary is being celebrated through a month-long festival on a 600-acre site off the SP Ring Road in Ahmedabad made possible by the selfless service of more than 80,000 volunteers inspired by His Holiness Mahant Swami Maharaj, the spiritual successor of Pramukh Swami Maharaj.