Shaikshik Sangh: National Conference
2 Jan. 2023, Monday, Ahmedabad, India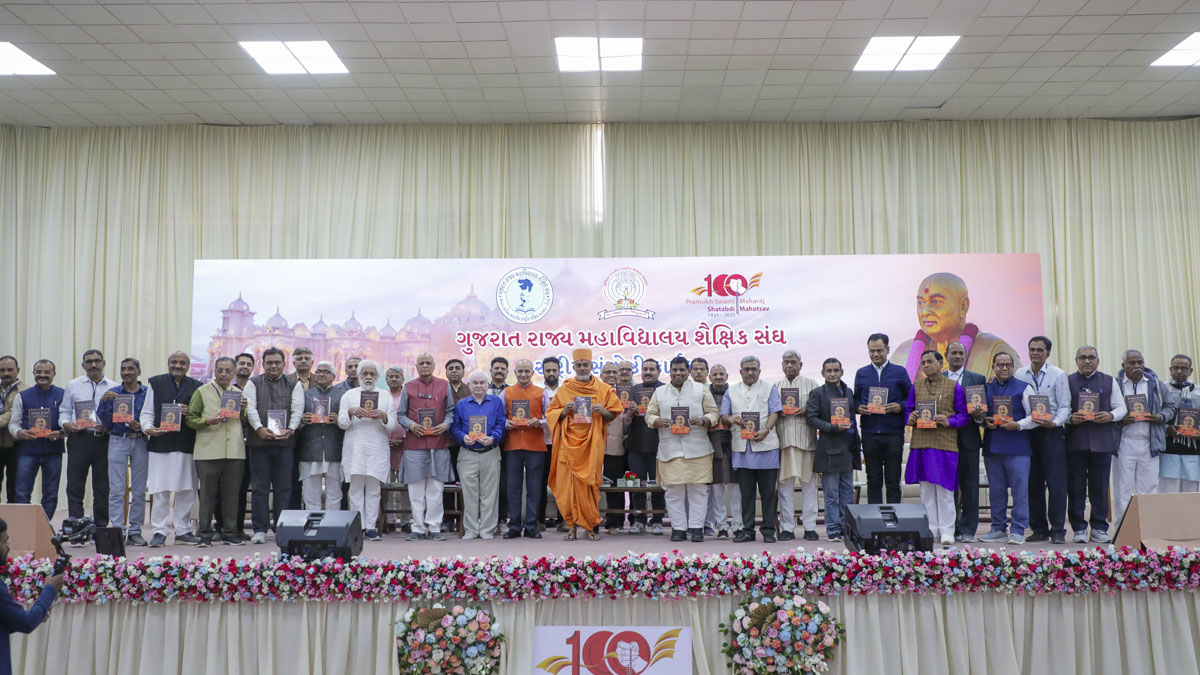 A special one-day national conference was organized today for vice-chancellors, principals and educationalists at Pramukh Swami Maharaj Nagar in Ahmedabad in partnership with the Gujarat Rajya Mahavidyalaya Shaikshik Sangh and Akhil Bharatiya Rashtriya Shaikshik Mahasangh.
Titled 'Spirituality in Education', the conference was led by a panel of high-calibre speakers, namely Rohit Desai (President, Gujarat Rajya Mahavidyalaya Shaikshik Sangh), Professor J.P. Singhal (President, Akhil Bharatiya Rashtriya Shaikshik Mahasangh), Shri Bhikhubhai Patel (Chairman, Charutar Vidyamandal), Shri J.J. Vora (VC HNGU), Professor A.C. Brahmbhatt (PhD Programme Coordinator, PDEU Gandhinagar), Professor Dr. Chandkiran Saluja, Dr. Jayantibhai Bhadesia (RSS Gujarat), Praful Pansheriya (Minister of State, Parliamentary Affairs (Primary, Secondary and Adult Education, Higher Education)), Professor Navin Sheth (Vice Chancellor, GTU), Professor Ramashankar Dubey (Vice Chancellor, CUG), Professor Bhagwati Prakash Sharma, and Rushikesh Patel (Minister of Health & Family Welfare, Higher & Technical Education, Law & Justice, Govt. of Gujarat).
In his welcome address, Rohit Desai, President of Gujarat Rajya Mahavidyalaya Shaikshik Sangh, said, "I pray before God that may we take positive energy from this holy Pramukh Swami Maharaj Nagar. Though we impart quality education to students in our educational institutions, Pramukh Swami Maharaj has imparted value-based education by working for the welfare of society through initiatives such as de-addiction campaigns, disaster relief work and women empowerment programmes. We should strive to unite and impart education that will benefit society and our nation."
In his inspiring inaugural address, Brahmaviharidas Swami, a senior swami of BAPS Swaminarayan Sanstha (BAPS), said, "Through education, an individual becomes civilized. When you add spirituality, an individual becomes divinized. Today, we all gathered to witness 'a clean, green and a serene festival' in a dust-free 'Pramukh Swami Maharaj Nagar' where 1 crore paved bricks are laid by the volunteers, which in itself is a symbol of devotion.
"Dr. APJ Abdul Kalam, who was the most loved President of India, said to Pramukh Swami Maharaj that he wished to be remembered among the masses for being a good teacher rather than a president or scientist. Dr. Kalam's wish was to take his last breath before students. Dr. Kalam referred to Pramukh Swami Maharaj as a 'world-revered teacher.' This reveals that the teaching profession is valued by two of the greatest leaders of our times, Dr. APJ Abdul Kalam and Pramukh Swami Maharaj."
Subsequently J.P. Singhal, President of Akhil Bharatiya Rashtriya Shaikshik Mahasangh, added "We are fortunate to be a part of this conference with the blessings of Pramukh Swami Maharaj. Education without spirituality is futile. We should strengthen our cultural roots by incorporating universal lessons from our scriptures into our education system."
Thereafter, Praful Pansheriya, Minister of State for Parliamentary Affairs (Primary, Secondary and Adult Education, Higher Education), shared, "Teachers are in a position to create students who can achieve professional excellence while also instilling within them civilizational values. It is the lack of spiritual education that is leading to increasing suicide rates among highly educated people. A spiritual-based education shall enable youths to have the wisdom to make positive decisions.
"Pramukh Swami Maharaj did not pursue a formal higher education, but through his spirituality, humility and pure conduct, he led an organization like BAPS and inculcated these values in the swamis and devotees. We need to learn from Pramukh Swami Maharaj to renounce arrogance and focus on the betterment of students. Teachers should enable such an education wherein students achieve stability and not succumb to negative influences."
J.J. Vora, Vice Chancellor of Hemchandracharya North Gujarat University, thereafter said, "I appreciate the devotion and dedication of the 80,000 volunteers of different professions who have come together to create this magnanimous Pramukh Swami Maharaj Nagar. Such synchronization of unity, creativity and hard work is only possible due to divine intervention." He further discussed the smooth implementation of the National Education Policy 2020 (NEP 2020).
Bhikhubhai Patel, Chairman of Charutar Vidyamandal, Vidyanagar, said, "The city of Vidyanagar is fortunate to have been blessed by Shastriji Maharaj, who was the guru of Pramukh Swami Maharaj, to be a hub of some of the most eminent educational institutes of India. In 1964, Yogiji Maharaj established Akshar Purushottam Chhatralaya (APC), an educational hostel facility for students that has resulted in providing the country with character-based and value-driven youths. Out of the 1,200 swamis in BAPS, 135 are from APC. Pramukh Swami Maharaj had performed the ground-breaking and inauguration ceremony of several institutions in Vidyanagar. It is a matter of pride for us that the present spiritual leader of BAPS Mahant Swami Maharaj was an alma mater of our institute."
In his keynote address, Professor Dr. Chandkiran Saluja elaborated upon the need for spirituality in the education system in reference to NEP 2020. He said, "The objective of NEP 2020 is to provide holistic development for students. The ancient Hindu scriptures provide lessons on how inculcating spirituality in education can positively transform a person's life. On reading the literature of the Swaminarayan tradition, I realised how lessons by the swamis are strengthening the cultural roots of people and are also enabling them to work for the betterment of society."
Dr. Jayantibhai Bhadesia of RSS Gujarat explained the importance of value-based education for preserving a cultural ethos. He said, "Swami Vivekanand gave great importance to saints and teachers. He advocated instilling spiritual values in education as an essential ingredient to develop an ideal human." He further narrated his first-hand experiences on how the Indian diaspora in the United States provides extra classes on Hindu culture to instil value-based learning in children.
Professor A.C. Brahmbhatt, PhD Programme Coordinator at Pandit Deendayal Energy University in Gandhinagar, said, "On 30 June 2001, in his first meeting with Pramukh Swami Maharaj, Dr. APJ Abdul Kalam had asked for advice on how to achieve Vision 2020 where he had identified five important areas to transform India. These were Education & Healthcare, Agriculture, Information & Communication, Infrastructure, and Critical Technology. Pramukh Swami Maharaj guided that a sixth area needed to be added – faith in God and developing people through spirituality." He further explained how NEP 2020 is focussed on balancing the logical and creative aspects of a student's mind.
Professor Ramashankar Dubey, Vice Chancellor of Central University of Gujarat, explained, "The true essence of education lies in the holistic development of the student. Spirituality has been central to Indian culture since ancient times. Universities like Takshashila and Nalanda were centres of holistic development for students. Hindu scriptures teach us the eternal presence of the soul in our bodies and God in each particle of the universe. If we keep our soul pure with the thought that the god is the all-doer, we will progress. A true holistic knowledge starts from our home. One should strive to become a global citizen with roots in our cultural knowledge."
Professor Navin Sheth, Vice Chancellor of Gujarat Technological University, said, "We are privileged to be a part of the centennial birth celebrations of Pramukh Swami Maharaj while we are also celebrating Azadi Ka Amrit Mahotsav."
Professor Bhagwati Prasad Sharma shared insights on the importance of spiritual-based education for the development of India. He further shared incidents of the scientific temperament espoused by the ancient Hindu Scriptures and advocated a need to inculcate those lessons in the educational curriculum.
Thereafter, Gnanvatsaldas Swami of BAPS delivered an inspiring talk. He said, "Pramukh Swami Maharaj advocated, 'Education without values destroys, while education with values protects us.' An illiterate person without values may steal a minuscule amount, but a learned person without values may embezzle lakhs and crores. The creation of modern weapons to destroy humanity is a result of an education without values. Value-based education will result in teachers being revered and students respecting parents, serving others with compassion and kindness. Pramukh Swami Maharaj used to say, 'The heart of education is the education of the heart.' A true teacher is one who inspires his or her students to achieve the impossible.
"Drawing inspiration from Pramukh Swami Maharaj's value-driven life, more than 80,000 volunteers have created Pramukh Swami Maharaj Nagar and hundreds of thousands of people are visiting Pramukh Swami Maharaj Nagar daily. A teacher should read beyond his or her expertise and strive to give five minutes of positive guidance from inspirational characters to inspire their students towards character development."
The final session concluded with the inauguration of a new publication, In Love, At Ease: Everyday Spirituality with Pramukh Swami written by Yogi Trivedi of Columbia University, New York, USA. In his remarks, he shared, "Pramukh Swami Maharaj inspired me to become a professor by saying, 'educate your mind before sharing your knowledge, keep an open mind wherever you go, and never stop being a student.' Pramukh Swami Maharaj saw divinity in his surroundings and saw God in everyone. He loved and served everyone beyond the existing conventions of caste, creed, race and ethnicity."
All the delegates were then given a guided tour of 'Pramukh Swami Maharaj Nagar' where they learned about Pramukh Swami Maharaj's inspiring life and worldwide contributions to humanity through the various attractions and exhibitions.
Today's event is the ninth in a series of fourteen such conferences for professionals of various fields, including doctors, lawyers, industrialists, technocrats and entrepreneurs. It is a testament to the progressive mindset of Pramukh Swami Maharaj, whose work and teachings touched people from all walks of life, to ensure the holistic success and happiness of everyone in society.