Sant Kirtan Aradhana
13 Jan. 2023, Friday, Ahmedabad, India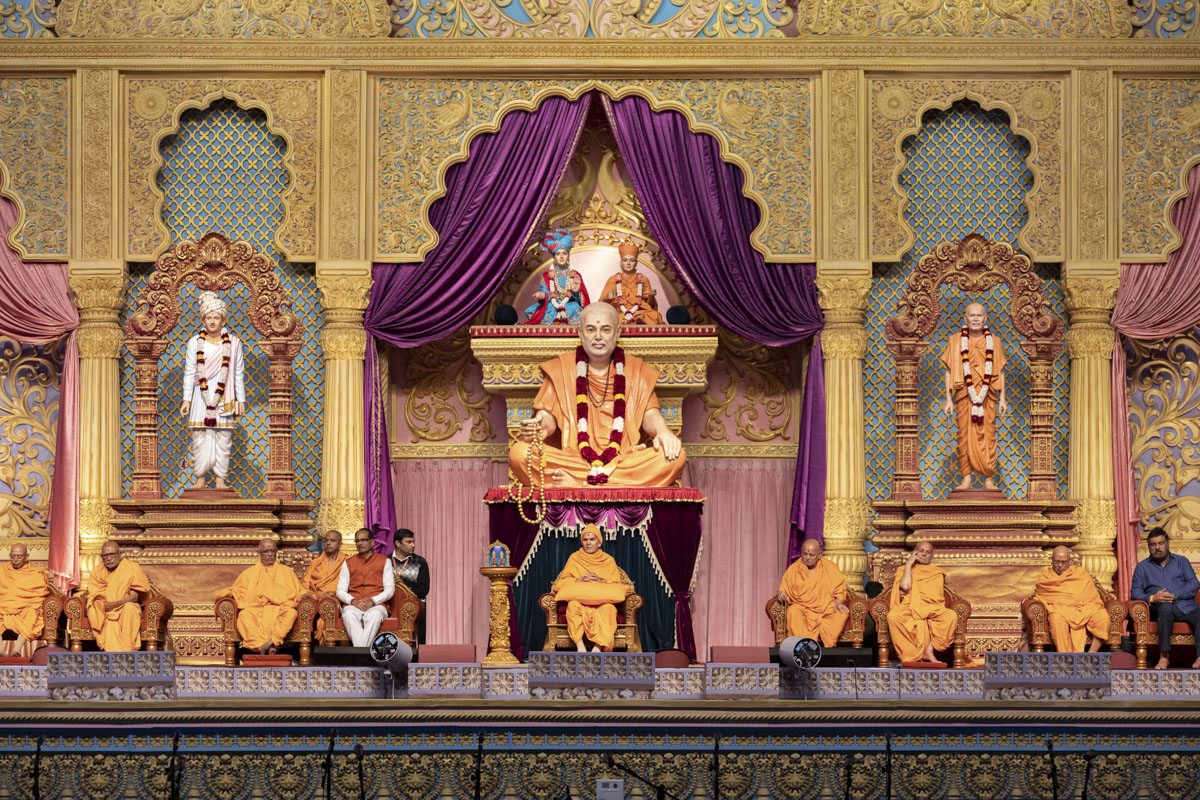 BAPS swamis from around the world together with musical luminaries such as Manhar Uhdas performed a series of devotional hymns celebrating Pramukh Swami Maharaj's divine life and work before a mesmerised audience of tens of thousands at Pramukh Swami Maharaj Nagar on 13 January 2023. The beautiful performance began at 4.30pm in the open-air theatre, 'Narayan Sabha Gruh'.
His Holiness Mahant Swami Maharaj was also joined by various dignitaries who paid homage to Pramukh Swami Maharaj's life of pristine devotion to God and work of selfless service to humanity.
Honourable Chief Minister of Madhya Pradesh Shivraj Singh Chouhan said, "I bow at the holy feet of Mahant Swami Maharaj, who guides devotees to their spiritual liberation. I am awestruck by the extraordinary beauty, magnificence and serenity of this 600-acre Pramukh Swami Maharaj Nagar. A large number of Police officers would have to be deployed to maintain law and order if a political function was organised at this scale. However, when I see the discipline in this complex, I feel the presence of Pramukh Swami Maharaj.
"I feel that Pramukh Swami Maharaj incarnated on Earth to establish Dharma, as it has been espoused in the Bhagavad Gita. I was fortunate to have been blessed by Pramukh Swami Maharaj once. He had a spiritual aura.
"Hindu scriptures reveal three paths to God-realization – the path of knowledge, the path of devotion, and the path of action. Shankaracharya, Maharshi Arvind and Swami Vivekanand were followers of the path of knowledge. Those who follow the path of devotion have a personal relationship with God. Like Meera and Hanuman, those who follow the path of devotion see value only in God and nothing else. The path of action is to religiously uphold one's duty through which one can attain God. Pramukh Swami Maharaj was a perfect amalgamation of the paths of knowledge, devotion and action. 24 hours a day, he served the people. I bow to his feet and seek inspiration from him."
Vivek Bhatt, Channel Head and Editor in Chief of Gujarat First, said, "Our staff is dedicated to broadcasting this festival and Mahant Swami Maharaj's puja every morning. In fact, we have more staff present for the morning Puja Darshan than needed because they want to be there for Darshan.
"When I was first blessed by Pramukh Swami Maharaj 12 years ago, I felt that God was present in him. He awakened and strengthened my faith in God and our spiritual and cultural heritage, and inspired us to spread this positive knowledge through our media house.
"Even our staff deputed to the festival ground changed for the better. Our reporters have given up their addictions, and they are now inspired to think about how to use the media to promote positive values.
"Because of its scope, this festival was a huge challenge for us. However, for the first time in my career, I did not experience the slightest of stress. I believe that this is only because we were blessed by Mahant Swami Maharaj. Only BAPS can organize and run an event of this scale and we are grateful for the opportunity to cover this."
Kamlesh Gandhi, Chairman and Managing Director of MAS Financial Services, said, "The magnitude of the Pramukh Swami Maharaj Centenary Celebrations cannot be expressed in words. The volunteerism, sense of fraternity and discipline of the volunteers is extraordinary. So many people have been inspired to make their lives better after seeing the exhibitions here depicting the life of Pramukh Swami Maharaj.
"This festival can be a case study for many management students. Apart from management lessons, one can feel that this festival is being carried out with divine intervention. I learned that anything can be achieved with hard work and prayer. I again express my gratitude for giving me an opportunity to witness this festival as it has inspired me to make my life better."
Amish Devgan, Managing Editor of News18 India, said, "Over the past 30 days, I have developed immense respect for the BAPS volunteers who have managed the flow of millions of visitors so efficiently without any chaos. My generation believes in the importance of staying connected to our culture. Years ago, Swami Vivekanand represented Hinduism, and today, this is being done by BAPS.
"If one wants to see ideal management, skills and growth, one should see this festival of inspiration on YouTube. The creation of this 600-acre festival ground is incredible, wonderful and unimaginable for any ordinary person.
"Of the millions of people who have visited this Nagar, tens of thousands have given up addictions, which is very important in today's world. Ten years from now, all of us will see the impact of this. You all are essentially the role models in your respective fields. Irrespective of your professions, you have come here to serve. This inspiration comes from your Guru who has inspired so many.
"I went to the BAPS mandir under construction in Abu Dhabi and was amazed to learn that in the desert sands underneath the mandir was a massive bedrock that will anchor the mandir foundations. This is an example of divine providence that one sees in the work of BAPS.
"BAPS mandirs are found all over the world, which is an aspect of our culture that spreads its positive vibrations to inspire people around the world."
Devendra Bhatnagar, State Editor of Divya Bhaskar Gujarat, shared, "Today, with this festival, we have been graced with a 'cultural Maha Kumbh' in Ahmedabad. To sum it up in one word, it is 'impossible'. It seems impossible to have so much discipline while so many thousands of people are walking around the festival grounds. The life-transformations that have occurred here need to be publicised. I pledge that Divya Bhaskar will do this. It is no small feat that people are able to give up their addictions by coming here, but it is because faith and spirituality are manifest here. This is a matter of experience, so I request others to share their stories of life-transformations for us to publicise so that they may serve as examples of this festival's positive impact."
In his concluding blessings to the assembly, His Holiness Mahant Swami Maharaj said, "This is the 30th day of Pramukh Swami Maharaj's Centenary Celebrations. Everyone had so much enthusiasm and joy to celebrate this festival that the 30 days flew by. Over the last month, swamis and dignitaries from around the world visited and unceasingly shared with us the divine virtues of Pramukh Swami Maharaj. Hearing all of this, everyone realized that Pramukh Swami Maharaj had reached all corners of the world and found a place in the hearts of everyone, great and small. Everyone who visited the celebrations realized this.
"Pramukh Swami Maharaj has made everyone happy. No one can say that Pramukh Swami Maharaj did not please me. He mixed with us so much that we were unable to understand his true greatness. In the time of Yogiji Maharaj and afterwards, we have seen that his life was absolutely pure, accommodating, natural and simple, without an iota of conceit or pretence. To uphold all of these virtues and do such work so naturally is very difficult.
"Pramukh Swami Maharaj's Centenary Celebrations have truly been celebrated in a grand way. Everyone is convinced of this. Everyone who visits leaves delighted. May Bhagwan Swaminarayan and Gunatitanand Swami grant happiness and liberation to all who have visited this festival. Pramukh Swami Maharaj's maxim was 'In the joy of others lies our own.' His life was such that we could not fully understand its greatness, and yet great things happened. When we look back, we would realize what great work has been accomplished. This was Pramukh Swami Maharaj's life. We all experienced it, relished it, and through it, we traversed our miseries to become blissful."