Sanskrit universities and institutions honor HH Pramukh Swami Maharaj by bestowing the Sanatan Dharma Jyoti Award
31 Dec. 2022, Saturday, Ahmedabad, India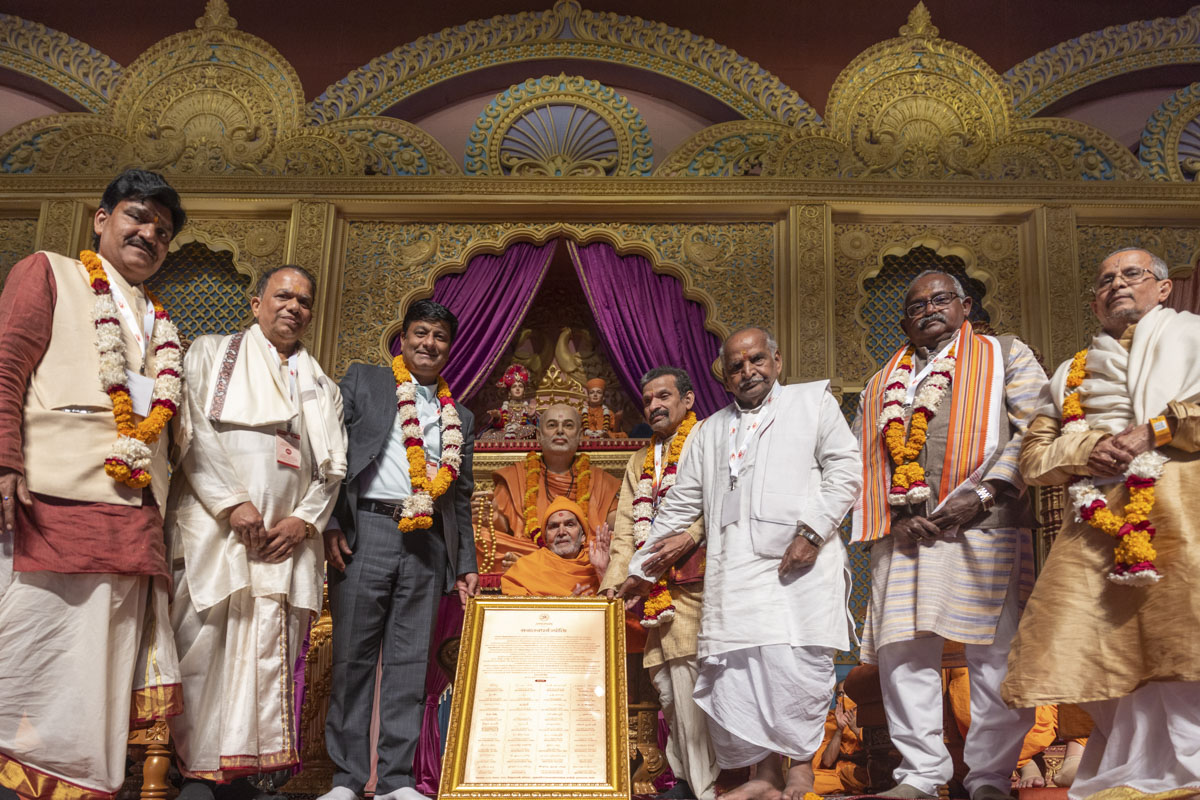 On 31 December 2022, eminent scholars on various aspects of Vedic studies including Sankhya, Yoga, Nyaya, Vyakaran, and Vedanta and vice chancellors of more than 30 Sanskrit universities and academic institutions gathered from all over India to commemorate the remarkable work of His Holiness Pramukh Swami Maharaj. In the divine presence of Param Pujya Mahant Swami Maharaj, scholars, vice chancellors, and dignitaries joyously offered tributes to Pramukh Swami Maharaj for his unprecedented and everlasting contributions to Vedic Sanatan Dharma.
His Holiness Pramukh Swami Maharaj was the personification of Vedic Sanatan Dharma. Throughout his life, he continuously spread the eternal principles of Sanatan Dharma throughout the world by building majestic mandirs such as Akshardham; initiating sadhus dedicated to helping society; inspiring the creation of Sanskrit commentaries that verify the Vedic authenticity of the novel Akshar-Purushottam Darshan; establishing research institutes that preserve and promote the study of the Sanskrit language and Vedic texts; initiating children and youth activities; orchestrating massive relief efforts in times of crisis; building hospitals and medical centers in order to ensure the holistic well-being of society; and travelling tirelessly throughout villages inspiring people to adapt a better lifestyle.
Recognizing these works and Pramukh Swami Maharaj's significant role in enriching the culture and tradition of Sanatan Dharma, vice chancellors and other representatives of 36 prestigious universities and institutions offered individual accolades expressing their profound admiration. Along with these accolades, the Sanatan Dharma Jyoti Award was also unanimously bestowed to Pramukh Swami Maharaj. Intricately engraved in a copper plate, the award was endorsed by signatures of the vice chancellors and representatives of all 36 universities and institutions. As the award was given to Mahant Swami Maharaj, all the stage guests immediately arose from their seats expressing their deep respect and uncontainable joy while the audience erupted in applause. Witnessing such a historic moment, each person's heart was filled with pride and delight.
Offered on the occasion of the Pramukh Swami Maharaj Centenary Celebration, this momentous tribute is truly a testament to Pramukh Swami Maharaj's selfless service and absolute dedication.