Pramukh Swami Maharaj's efforts for women's empowerment
12 Jan. 2023, Thursday, Ahmedabad, India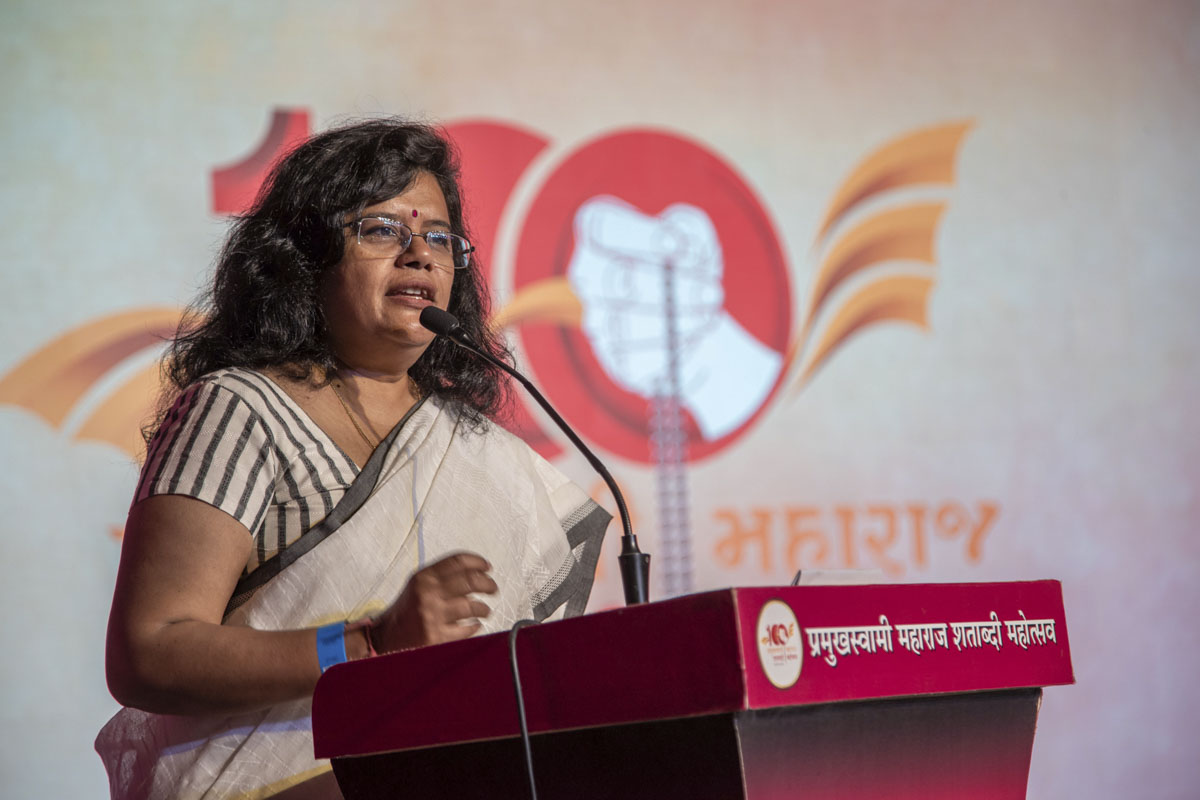 On 12 January 2023, women dignitaries in the Women's Empowerment Hall lauded Pramukh Swami Maharaj's efforts in supporting women's empowerment through his water conservation efforts, his encouragement of women leadership and his modeling of spiritual virtues.
Ms. Truptiben Jain, Director, Naireeta Services, Ahmedabad, addressed the issue of rising water scarcity, saying, "Many cities in India and around the world are running out of drinking water. Some cities are flooded in the monsoon but suffer from drought in the summer because of inefficient water management. Years ago, Pramukh Swami Maharaj took steps to address the water crisis by installing more than 5,000 handpumps in the Saurashtra region of Gujarat, planting lakhs of trees, constructing check dams, etc. He worked tirelessly to conserve water, making it available for people and taking care of the environment. He was foresighted. I have learned a lot about Pramukh Swami Maharaj's work and I still feel that it is the tip of the iceberg.
"Importantly, Pramukh Swami Maharaj saw the connection between water management and women's empowerment, working tirelessly for both causes. We see the outcome of this in BAPS's environmentally friendly management of Pramukh Swami Maharaj Nagar along with the primacy of women in the Nagar's smooth functioning.
"My organization works to recharge groundwater in 12 Indian states, helping over 150,000 farmers. BAPS's work inspires me to go beyond what I am doing. I have learned the true meaning of scaling up from Pramukh Swami Maharaj, as he felt the entire world was his family. I offer my sincerest reverence to him for the extensive work he has done. The 80,000 volunteers belonging to different professions and socio-economic classes coming together to selflessly serve here overwhelms me. I would like to become a part of BAPS to be able to serve on a larger scale."
Dr Sandhya Purecha, Bharatanatyam Guru, Sanskrit Scholar and Chairperson of Sangeet Natak Akademi of the Ministry of Culture, Government of India, said, "Women are the cultivators of not only the home and society, but also the nation and the entire world. The Pramukh Swami Maharaj centenary celebrations delighted me because I see the prominence women have in BAPS. I am overwhelmed by seeing what Bhagwan Swaminarayan and Pramukh Swami Maharaj have done for the empowerment of women."
Speaking about India's G20 summit presidency, she said "As we know, India currently holds the G20 summit presidency. I am honoured to be the chairperson of the W20, an official G20 engagement group that ensures the G20 mainstreams gender considerations and translates them into policy commitments from leaders. Themes such as women's self-sufficiency and women's empowerment shown in Pramukh Swami Maharaj Nagar's Women Empowerment Exhibition Hall are similar to the themes that will be discussed in the W20 meetings. As a tribute to Pramukh Swami Maharaj for his tireless efforts in empowering women, I would like to offer a self-written verse, 'Women create the world, sustain it as well as protect it, women are the roots of the world.'
Dr. Jagdish Kaur, Regional Adviser for Tobacco Free Initiative at the World Health Organization's Regional Office for South East Asia, New Delhi, said, "This has been an amazing experience. It is unfathomable how this celebration has been organized and managed by thousands of volunteers over the period of one month. I can see the deep commitment, compassion and hard work that has gone into this festival, which is possible only with the blessing of Pramukh Swami Maharaj."
Ms. Seema Mohile, Former MLA (Akota) and Former Deputy Mayor of Vadodara said, "The blessings of Pramukh Swami Maharaj mean a lot to people. Pramukh Swami Maharaj's Centenary Celebrations are amazing. May these values spread all over India and may his blessings always be with the people of our country."
Ms. Bhakti Dave, BAPS Women's Wing, spoke about 'Pramukh Swami Maharaj's elevated spiritual state (Brahmic State)'. She expressed, "Life is a constant struggle and is full of uncertainty. Everyone experiences waves of success and failure as well as honour and dishonour. In the midst of all of this, only a person with a steady mind can proceed peacefully. Such a person is described as possessing Sthitapragna (a sage of steady wisdom) and has achieved the Brahmic spiritual state."
She continued, "5,000 years ago, Krishna Bhagwan in the Bhagwat Gita, emphasized the 9 prerequisites for achieving the Brahmic State. These characteristics are not encapsulated only in the pages of this Hindu scripture; we had a living and breathing example amongst us. He was Brahmaswarup Pramukh Swami Maharaj."
She highlighted each individual characteristic for obtaining the Brahmic State and how Pramukh Swami Maharaj embodied all of them. She concluded her speech and said, "Today, Pramukh Swami Maharaj is residing in Mahant Swami Maharaj. He too embodies all these 9 characteristics. Let us all pledge to imbibe all these 9 qualities in our lives as well."