Pramukh Swami Maharaj 100th Janma Jayanti Celebrations
11-12 December 2021, UK & Europe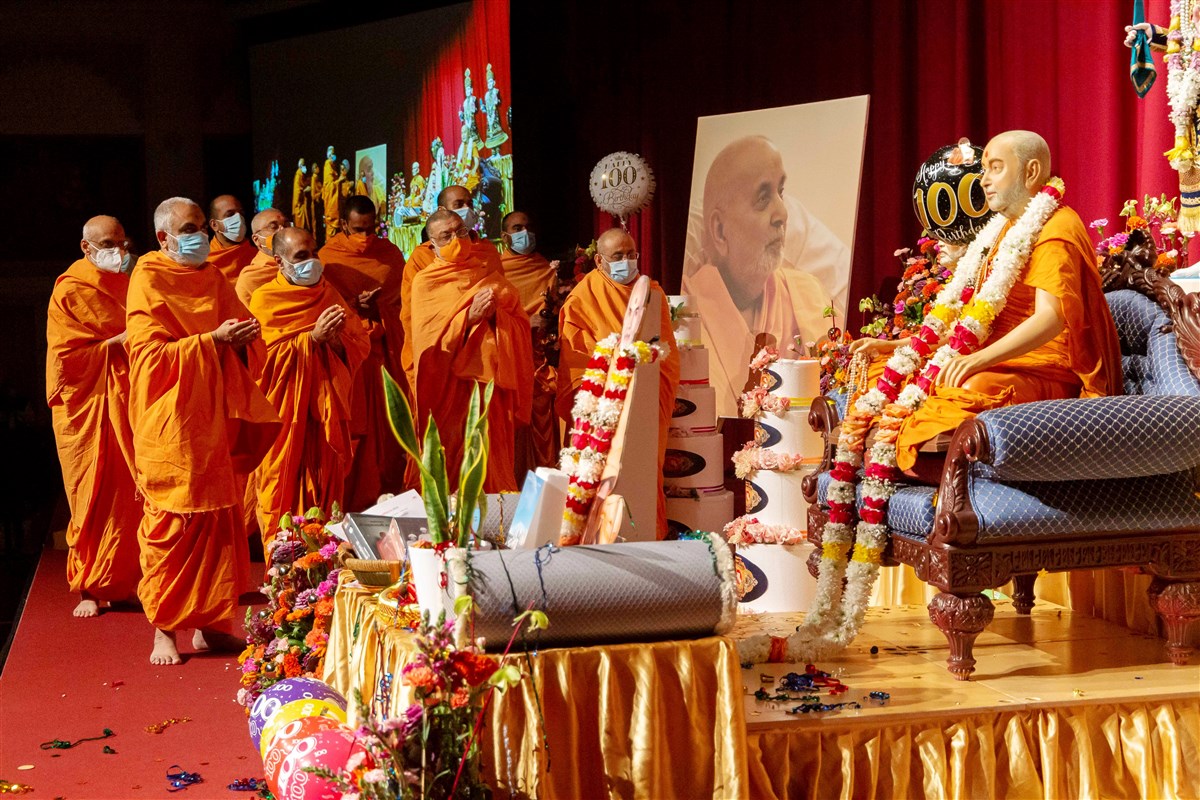 Brahmaswarup Pramukh Swami Maharaj was an inspiration to millions worldwide. Personifying his motto, "In the joy of others lies our own", he dedicated his entire life to serving and inspiring others for the greater good of humanity. Throughout his life, his selfless compassion and humble prayers uplifted countless people and led thousands on the path of spirituality. As the Guru, Pramukh Swami Maharaj visited the UK 18 times between 1974 and 2007.
Pramukh Swami Maharaj's 100th janma jayanti was celebrated with a series of devotional offerings and enlightening programmes on Saturday 11 December and Sunday 12 December 2021 at BAPS Shri Swaminarayan Mandir, London.
Devotees and well-wishers visited the Mandir throughout the weekend to offer their prayers and respects. A special annakut (devotional offering of food) of 100 sweet and savoury items was displayed inside the shrines of the Mandir to mark Pramukh Swami Maharaj's centennial birth anniversary.
An enlightening programme of videos, narrations by swamis and cultural performances was held at the Mandir and streamed via a live webcast to commemorate this momentous occasion. It served as the national celebration for all mandirs and centres in the UK as well as in Europe.
The programme began by welcoming Pramukh Swami Maharaj on a decorative palanquin flanked by youths who performed a traditional welcome dance.
Swamis discussed a collection of Pramukh Swami Maharaj's virtues, including his love, dedication and singular devotion to his gurus. Their discourses were supported with enlightening examples. Devotees who have been recipients of Pramukh Swami Maharaj's selfless love and sacrifice also shared some of their personal testimonies. The programme was interspersed with excerpts and accompanying photographs from the 'Upkar Geet' – a bhajan describing the unconditional love that Pramukh Swami Maharaj showered upon humanity.
To celebrate Pramukh Swami Maharaj's 100th birth anniversary, a series of uplifting projects were launched during the assembly. The projects will comprise a year-long programme of inspirational initiatives and will include ways in which individuals can grow in their personal spirituality and strengthen their bond with Pramukh Swami Maharaj while sharing his profound messages with others. The activities will also include outreach programmes to serve the wider community across the UK and in Europe. Devotees offered their personal pledges to become immersed in these activities during 2022.
Swamis conducted the mantra-pushpanjali thereafter by offering flower petals to the murti of Pramukh Swami Maharaj. The vibrant programme concluded with swamis and devotees joining together to hail these year-long celebrations that were officially launched by Mahant Swami Maharaj in Chansad, Gujarat – the birthplace of Pramukh Swami Maharaj – on 11 December 2021