Pacific Rangvu Chhe: BAPS Asia-Pacific Day
11 Jan. 2023, Wednesday, Ahmedabad, India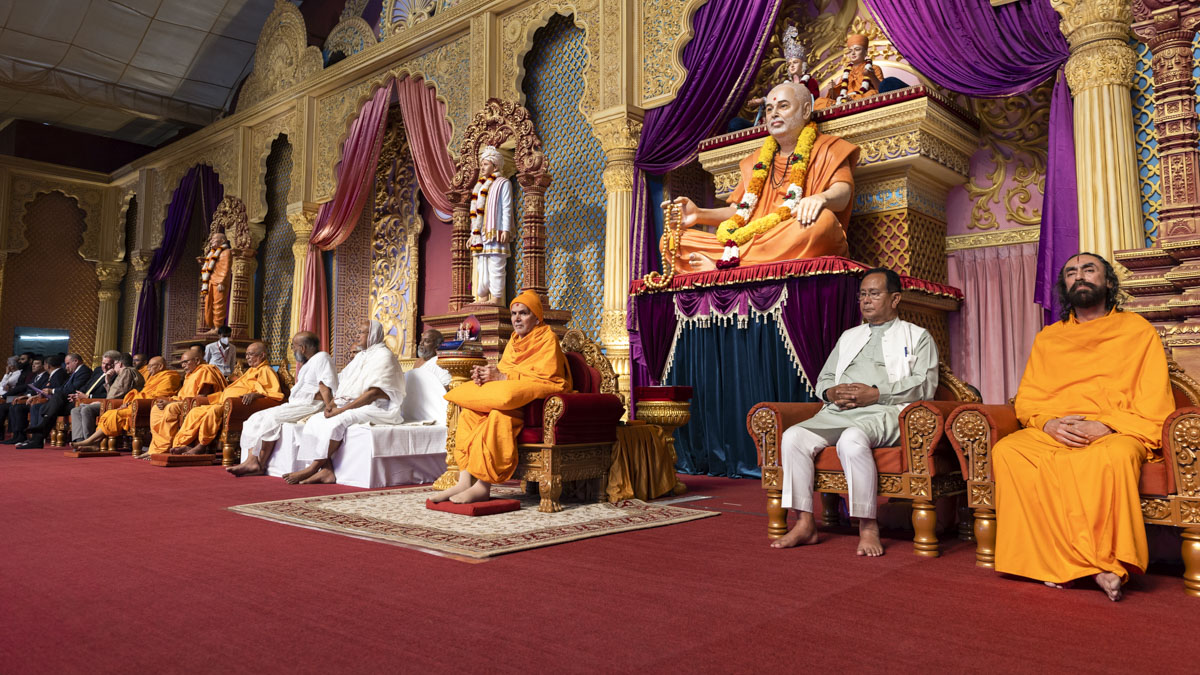 Australian Prime Minister, Sri Lankan President, Israeli President, eight ambassadors and other dignitaries from around the world paid tribute to Pramukh Swami Maharaj's work of fostering Hindu spirituality and culture in the Asia-Pacific region
On 11 January 2023, BAPS devotees from various countries in the Asia-Pacific region presented a creative programme titled 'Pacific Rangvu Chhe: BAPS Asia-Pacific Day' to tens of thousands assembled in Pramukh Swami Maharaj Nagar. Following the special programme, His Holiness Mahant Swami Maharaj and dignitaries from around the world paid tribute to Pramukh Swami Maharaj and his work of inspiring spirituality, temples and humanitarian service in the Asia-Pacific region and around the world.
Pramukh Swami Maharaj inspired an array of humanitarian activities and fostered the spiritual and cultural heritage of thousands through 18 BAPS mandirs in the Asia-Pacific region. Pramukh Swami Maharaj visited the region for the first time in 1984 and again in 1996 when he installed the sacred images (murtis) of God and gurus in a small home declaring that, from this small beginning, BAPS activities would foster cultural and spiritual values throughout the region. Mahant Swami Maharaj visited the region in 1997, 2003, 2015 and 2018, nurturing spirituality and moral living in thousands of people through his insightful discourses and by meeting devotees and well-wishers individually. With the blessings of Mahant Swami Maharaj, the construction of a traditional stone BAPS Swaminarayan Hindu mandir is underway in Sydney, Australia.
Evening Assembly
The inspiring programme commenced at 4.45 pm with devotees from the Asia-Pacific region singing devotional hymns. Following this, various dramas, videos, dances and speeches depicted Pramukh Swami Maharaj's tireless efforts in travelling, constructing mandirs, and serving and transforming the lives of thousands of devotees and volunteers around the Asia-Pacific region.
Various swamis travelling in the Asia-Pacific region shared their experiences of how Pramukh Swami Maharaj and Mahant Swami Maharaj have inspired spiritual values amongst devotees in the region. Gunchintandas Swami spoke about the spiritual understanding they instilled in devotees, describing how a devotee suffering from terminal cancer had overcome the fear of death. Priyachintandas Swami described their efforts to inculcate moral and spiritual values like honesty, self-discipline, perseverance, spiritual wisdom, and faith among children and youths in Asia-Pacific region. Aarshpurushdas Swami provided examples of how they inspired values like compassion, love, brotherhood, and service within the devotees of the region. Paramchintandas Swami, the lead swami of the Asia-Pacific region, described how devotees practised spiritual values and inspired them in others.
Mahant Swami Maharaj said, "We congratulate all the centres that came together to present a beautiful program on the occasion of Asia-Pacific Day. Pramukh Swami Maharaj had travelled to this region three times and blessed the devotees. I also have many warm memories of my visits to the region.
"When we speak of painting the region with spirituality, it means to make efforts, endure hardships, and persevere through difficulties, which is what the devotees and swamis have done. This will be accomplished most rapidly if we maintain unity, fraternity and affection. While this may appear to be child's play, when you go to its roots, there is immense depth there. Moreover, our faith, staunchness in religious observances, and humility will nurture spirituality. Our faith will inspire faith, our religious observances will be respected by all, and our humility will strengthen the bonds of friendship with all. In this way, the countries of the Asia-Pacific region will be painted with spirituality. May all the devotees of this region progress in all aspects of their life."
Several esteemed dignitaries were also present to pay tribute to Pramukh Swami Maharaj's life of selfless service.
Jain Leader His Holiness Vijay Abhaysurishwar Ji Maharaj said, "Bhagwan Swaminarayan wrote the Shikshapatri which taught nonviolence and many other qualities on how to live life. Bhagwan Mahavir taught the same. If everyone follows the Shikshapatri it will ensure the complete following of the law. The real offering to Pramukh Swami Maharaj is to follow his teachings."
Jain Leader His Holiness Acharya Chandrajit Suriji Maharaj said, "The intolerant and spirituality-averse live animalistic lives despite being human, but Swamis are the guiding light of humanity. We wish to confer the title 'Saint of the Century' to Pramukh Swami Maharaj. Pramukh Swami Maharaj had a divine aura. He was not just confined to a single denomination, but he was the spiritual leader of the whole of spirituality."
H.E. Mr.  Ardak Kakimzhanov, Ambassador of Kazakhstan to India said, "Pramukh Swami Maharaj, the creator of the beautiful Akshardham temple in New Delhi, was deeply committed to interfaith harmony and this is reflected in BAPS's work today. Kazakhstan is committed to this as well and BAPS volunteers help take this forward. These wonderful celebrations allow people around the world to experience Pramukh Swami Maharaj's messages of peace and unity."
H.E. Mr. Ganbold Dambajav, Ambassador of Mongolia to India said, "Pramukh Swami Maharaj the teachings and values that he experienced during his visit to Akshardham in New Delhi in 2019.
"Mongolia and India's long-standing ties date back 6000 years. Our history tells us that Mongolian monks and scholars used to come to India to study at Nalanda. Upon their return, they would take water from the holy Ganga River and pour it into a valley in the eastern part of Mongolia, which Mongolians revere as a sacred place.
"Mongolia and India share many similarities.  Mongolians refer to each other as spiritual neighbours, and we have great respect for service to others as did Pramukh Swami Maharaj. We also share the values of respect for parents, respect for teachers, and respect for knowledge. I have the deepest admiration upon seeing the selflessness and devotion of the volunteers here."
H.E. Naor Gilon, Ambassador of Israel to India said, "My visit to Akshardham in New Delhi was a very spiritual moment for me. You feel togetherness regardless of nationality and religion. We invariably take Israeli high officials to visit Akshardham, so they can take some of the spirituality and togetherness with them back to Israel."
Then, H.E. Naor Gilon shared a message from the Honourable President of Israel Isaac Herzog to the assembly, "Pramukh Swami Maharaj inspired millions from around the world from all walks of life, including in Israel. We fondly remember his visit to our country in 1999, where he met with many religious dignitaries and political leaders including the Chief Rabbi of Israel and Prime Minister Shimon Peres. During his visit, Pramukh Swami Maharaj demonstrated his profound respect for other faiths and belief systems, offering prayers both at the Church of Nativity and at the Western Wall. His historic visit highlighted the commonality between our respective Hindu and Jewish traditions creating a legacy of tolerance and brotherhood. As you commemorate these centennial celebrations it is my sincere hope that this demonstration of peace and righteousness resonates throughout India and the global community. During this time of tension and uncertainty, Pramukh Swami Maharaj's profound example of interfaith harmony and understanding remains a source of inspiration for us all."
High Commissioner David Pine of New Zealand said, "His Holiness Pramukh Swami Maharaj made his first visit to New Zealand in 1996 and took great interest in our country for the rest of his life. That interest is certainly reciprocated. His centenary has been celebrated all over New Zealand, including in our Parliament. We have a wonderful, vibrant delegation of over 500 devotees who have made the long trip here from New Zealand.
"The period that Pramukh Swami Maharaj took an interest in New Zealand was to see a rapid migration and expansion from India. Hindus from all over the world including India, Sri Lanka, Malaysia, South Africa and Fiji have made their homes in our country. Hindus are thriving in New Zealand, as it is now the second-most widely practised religion, with temples in all our major cities. We are looking forward to the next BAPS temple in Wellington.
"As I went around the Nagar, I appreciated the universal lessons about the importance of hard work and prayer, which are believed by people of all faiths in all parts of the world. New Zealand is blessed with a kind and generous Indian community which includes the active support of the BAPS community following in the footsteps that Pramukh Swami Maharaj laid down more than a quarter of a century ago. Today's event is itself a testament to the energy and commitment of the BAPS community, involving the efforts of some 80,000 volunteers."
Hon. Jason Wood MP, Shadow Minister of Multicultural Affairs, Community Safety & Migrant Services of Australia, said, "I thank Mahant Swami Maharaj for his invaluable leadership and guidance for the millions of devotees in India, Australia and across the world. What you have done is truly inspirational.
"Pramukh Swami Maharaj is loved by his devotees and by everyone for his striking humility, noble service, saintliness and selfless desire to help everyone. He created more than 1,100 BAPS mandirs across the world, which have become hallmarks of preserving culture and performing amazing social service.
"Pramukh Swami Maharaj lived and preached the message of 'In the joy of others lies our own.' True to his teachings, BAPS Australia has always been at the forefront of serving the community during difficult times. During the Covid-19 pandemic, you served many hundreds of thousands all across Australia with food packs, groceries and essential services. I cannot thank you enough on behalf of the Australian community. International students and parents in India would be very happy to know that their children were looked after in Australia like their own by BAPS.
"India is the world's largest democracy and one of Australia's best friends. Our two nations are natural partners built on the same ideals of democracy and freedom. Today, with our trade agreement, our opportunities are boundless. An important pillar within our relationship is our Indian community in Australia, which has helped Australia become one of the most successful multicultural nations in the world and deepened its ties between our two nations. Australia is home to almost 800,000 people of Indian ancestry. The Indian Australian community has grown five-fold in the last 20 years, and we couldn't be prouder. It is now our second-largest cultural community. Indian Australians have contributed significantly to building our prosperity and harmonious society as you have succeeded in every field."
Rajkumar Ranjan Singh, Minister of State for External Affairs and Education of India, said, "There is no continent in the world where Pramukh Swami Maharaj's work and message have not been appreciated. The words that he spoke at the United Nations during the Millennium Peace Summit of Religious Leaders more than two decades ago still resonate today. But Pramukh Swami Maharaj chose to speak more through his actions and his services to humanity around the world.
"BAPS has been at the forefront of public service in various fields through its global network of more than 1,100 mandirs and 5,000 centres. Your work to foster education around the world through the setting up of schools and colleges, research centres and hostels is especially commendable. Your humanitarian relief work meets the timely needs of people in distress. You also address healthcare, environmental issues, and universal community-building. But what stands out the most are the initiatives for women's empowerment not only in India, but across the world. I wish BAPS the best so that you can continue to deliver your noble charitable efforts to make this world a better place for everyone."
H.E. Chang Jae-Bok, Ambassador of Korea to India, said "Pramukh Swami Maharaj was a great spiritual leader who dedicated his entire life to serving the cause of spirituality and humanity. His life, works and teachings have universal appeal transcending geographical boundaries. I hope that Pramukh Swami Maharaj's teachings are spread far and wide, and through this, the world emerges as one family, in the spirit of Vasudhaiva Kutmbakam, leading to peace and prosperity for all.
"2023 will be momentous for India and Korea as we celebrate 50 years of diplomatic ties between our two countries. Our two countries have made tremendous progress for the last 50 years. We have made a lot of progress in bilateral relations, as our relationship elevated to special strategic partners in 2015. We are working very hard to strengthen our bilateral relations in the years to come. As special strategic partners, Korea and India hold immense potential for further bilateral cooperation. Under the aegis of India's, 'Make in India' policy, Korea can serve as the best possible core partner country which can in turn lead to consolidation of relations between Korea and Gujarat."
H.E. Dr. Shankar Prasad Sharma, Ambassador of Nepal to India said, "Pramukh Swami Maharaj was truly a great leader. The unparalleled humanitarian relief work that he organised, including in Nepal during the devastating earthquake in 2015, and most recently with the donation of oxygen concentrators to support the country during the COVID pandemic is truly inspirational. His legacy of universal compassion, charity and interfaith cohesion has left a lasting impact on the world.
"Bhagwan Swaminarayan as Nilkanth had travelled to Nepal and performed austerities for several months in Muktinath, which is a sacred place for Hindus and Buddhists. So, Nepal and India are connected by religion, spiritualism, and people-to-people relations, but also through the life of Bhagwan Swaminarayan."
"I would conclude by commending the entire programme here, which provides life skills, education and spiritual teachings. The vision, planning and management are simply superb. This is an experience of a lifetime."
Craig Ondarchie, Former Shadow Minister of the Victoria State Government in Australia, shared, "The BAPS mandir in Melbourne is near my house in Mill Park. It had a vaccination centre during the Covid-19 pandemic, not just for BAPS devotees, but for the whole community.
"I have a deep love and affection for BAPS. My family and I have a special connection to you all, and especially to Mahant Swami Maharaj. On 10 February 2018, in Melbourne, I was blessed by Mahant Swami Maharaj when he said he wanted to come to my office. The next morning, Mahant Swami Maharaj came to my office and blessed it, praying for and blessing me and my family. He also blessed me for my work as a community servant. I will never ever forget this special connection with you, Mahant Swami Maharaj. Please come back to Australia. We need you. The Pacific needs you. The world needs you. We all need you. I need you.
"To my many friends at BAPS, both in Australia and across the world, and to the 80,000 volunteers in this Nagar – thank you for such a wonderful job you have done here. Thank you to everyone in BAPS for your kindness, your service to our communities, your love and friendship to all peoples."
Honourable Barry O'Farrell AO, Australian High Commissioner to India and Ambassador to Bhutan said, "Pramukh Swami Maharaj's legacy of service, community, humanity and was globally appreciated as evidenced by the presence of so many here globally. His legacy is admired across Australia. We thank Pramukh Swami Maharaj for the magnificent work that BAPS has been doing for the community across Australia. We look forward to the opening of the large temple and cultural complex in Western Sydney in the near future.
"Australia and India have been connected for thousands of years, geographically and demographically. We are Indian Ocean neighbours, close strategically and economically. We are both home to ancient living cultures. Modern Australia is a successful, multicultural, multifaith country. Our citizens come from more than 300 different ancestries, which is why our Foreign Minister says that when Australians look out to the world, we can see ourselves in it, and the world can see itself reflected in Australia. Australia is immensely proud of its growing Indian community.
Prime Minister of Australia Anthony Albanese said in a video message to the assembly, "On behalf of all Australians, I send my warmest wishes to His Holiness Mahant Swami Maharaj and the BAPS organisation for the 100th anniversary of the birth of His Holiness Pramukh Swami Maharaj. I pay tribute to his legacy. His message of serving those around us is something we can all strive for. As he said, 'In the joy of others lies our own.' This legacy lives on here in Australia. Today we are proud of the vibrant BAPS community here in Australia which through beautiful temples across our country enriches Australian society. I look forward to the completion of the large new BAPS temple in Sydney.
"Australia and India share a close bond of friendship and an important contributor to this burgeoning partnership is our thriving Indian Australian community which forms a living bridge between our two communities as a signal of the interconnectedness of our communities.  I was proud to hear that thousands of Australians are attending the centenary celebrations this year, and I wish BAPS every success for these celebrations."
H.E. Asoka Milinda Moragoda, Sri Lankan High Commissioner to India read out a special message to the assembly from the President of Sri Lanka Ranil Wickremesinghe, "I extend my warmest congratulations and sincere best wishes to everyone at BAPS on this auspicious occasion of Pramukh Swami Maharaj's centenary celebration. His Holiness Pramukh Swami Maharaj was one of the greatest spiritual leaders of our time who touched countless lives across India and the world. The words of Pramukh Swami Maharaj, 'In the joy of others lies our own' was applied in the life he lived and the legacy that he left behind.
"His Holiness Pramukh Swami Maharaj was able to mobilise thousands of volunteers to support the affected during times of crisis – from earthquakes to floods. We in Sri Lanka also benefited from his support during the Indian Ocean tsunami of 2004, for which our country will forever be grateful.
"I am certain that the life and legacy of Pramukh Swami Maharaj will continue to inspire generations to come."
Swami Mukundananda, Founder of Jagadguru Kripaluji Yog said, "The devotion and spirit to serve which Pramukh Swami Maharaj has instilled within all of you is his very form. Surrendering to a guru like Pramukh Swami Maharaj means you have embraced all the teachings of the Vedas. The role of the guru is to purify and elevate devotees to a spiritual state in which they are eligible for devotion of God. At a time when worldly influences are so predominant and spiritual encouragement is limited, Pramukh Swami Maharaj taught everyone to worship God and encourage others to do so."