Niagara Falls Illuminated to Commemorate Pramukh Swami Maharaj
7 Dec. 2022, Wednesday, Canada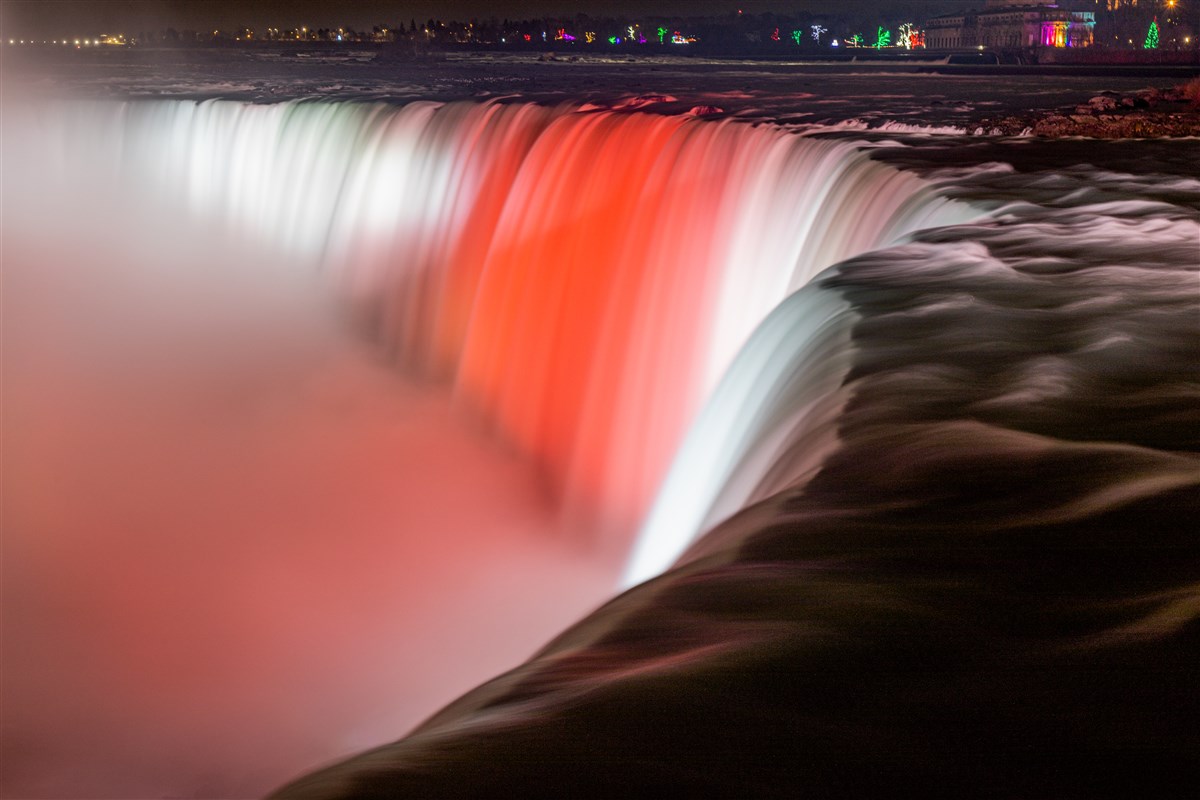 Niagara Falls, one of the largest and most powerful waterfalls, is a natural wonder of the world. It was here that His Holiness Pramukh Swami Maharaj entered Canada for his first official visit on July 27th, 1974. During his 13 visits to Canada thereafter, Pramukh Swami Maharaj truly left his mark, whether it was inaugurating the BAPS Shri Swaminarayan Mandir in Toronto or inspiring BAPS Charities Canada. His contributions were intended for and felt by all, and that's why Pramukh Swami Maharaj was honoured in the Canadian Parliament in 1988 and was presented with the Key to The City of Toronto in 2000.
Exactly 43 years later, on July 27, 2017, His Holiness Mahant Swami Maharaj conducted Pramukh Swami Maharaj's Asthipushpa Visarjan (holy ash dispersion ceremony) at the same location, Niagara Falls. A memorial tree was also planted in his honour by Mahant Swami Maharaj and the Niagara Parks Commission.
On December 7, 2022 the birth anniversary of Pramukh Swami Maharaj, the Niagara Parks Commission and Niagara Falls Illumination Board, paid tribute to his life, work and legacy with a special illumination of both the Canadian and US falls. Niagara Parks Officials and BAPS Swamis began the historic event of illuminating the falls in white and orange colours honoring Pramukh Swami Maharaj and white and red representing the BAPS Swaminarayan Sanstha.
Thereafter, BAPS Swamis and volunteers performed the Aarti ritual at the source of the lights and offered prayers for the wellbeing of those who visit the falls and for the peace and prosperity of all Canadians. These prayers were a continuation of the legacy begun by Pramukh Swami Maharaj who himself prayed for all each time he visited the Niagara Falls.
Hundreds of devotees and well-wishers gathered at the falls and thousands witnessed the historic moment via a live broadcast.
Like the flowing waters of Niagara Falls, Pramukh Swami Maharaj's relentless flow of love, compassion and respect for all touched countless people around the world. The illumination reminded all of how Pramukh Swami Maharaj's life, work and values lit the lives of millions with inspiration to live with a higher purpose.