My Mandir, My Home: Celebrating Mandirs
18 Dec. 2022, Sunday, Ahmedabad, India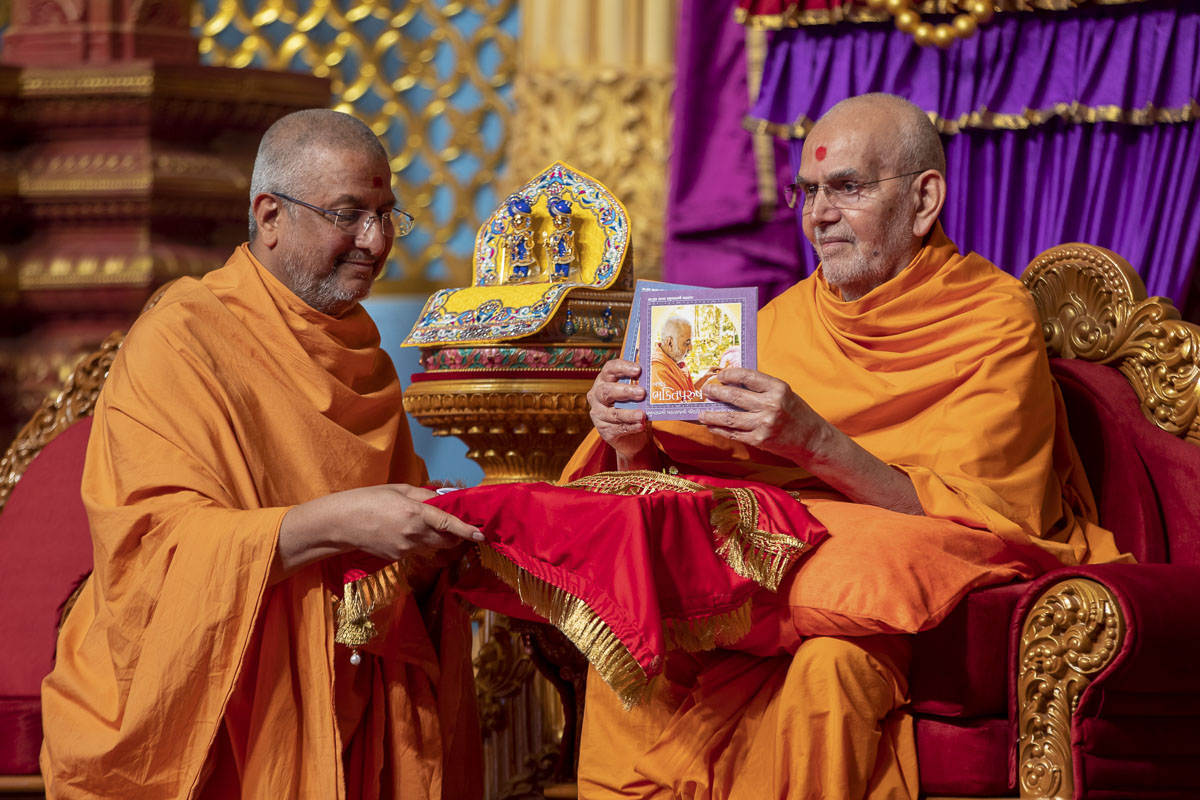 His Holiness Mahant Swami Maharaj along with other leading swamis and dignitaries celebrated Pramukh Swami Maharaj's establishment of 1,231 mandirs worldwide before an assembly of tens of thousands during the fourth evening programme of the Pramukh Swami Maharaj Centenary Celebrations in Ahmedabad on Sunday 18 December.
Dignitaries paid tribute to Pramukh Swami Maharaj's efforts to re-envision and rejuvenate the ancient mandir tradition in Hinduism that rekindled spirituality, preserved and propagated humanity's invaluable spiritual heritage, and served society and the world.
The programme celebrating mandirs was titled, "My Mandir, My Home." It commenced with over 150 children and youths from 19 countries presenting a devotional symphony using 33 different Indian instruments.
Highlighting Pramukh Swami Maharaj's universal sentiments supporting mandirs, BAPS scholar Adarshjivandas Swami said, "The 'Sant Dwar' portrays various holy sages and avatars of India because Pramukh Swami Pramukh Swami had immense reverence for holy people irrespective of age, organisation or religion. Moreover, Pramukh Swami Maharaj's respect was not only for people but also places of worship which he supported at all times."
Memories of Pramukh Swami Maharaj's work in mandir construction were rekindled through the kirtan, "Avo Nirakhiye Mandir". Beautiful dances celebrating mandirs were performed by BAPS youths from India and Africa.
Elaborating on the subject of 'The Unique Mandir Creator: Pramukh Swami Maharaj', BAPS scholar Aksharvatsaldas Swami said, "From when Pramukh Swami Maharaj became the guru of BAPS in 1971 until he passed away in 2016, he built 1,231 mandirs worldwide that transformed the lives of millions. Every mandir created by Pramukh Swami Maharaj around the world is like an embassy of Indian Hindu heritage. Pramukh Swami Maharaj's mandirs inspired youths towards spirituality and service. Thus, when thousands of students were stranded in the Russia-Ukraine War, volunteers from the BAPS mandirs in London and New Jersey began relief work for them immediately. During the COVID pandemic, BAPS mandirs played an essential role in relief work globally."
Dignitaries present at today's evening programme included:
Padmashri Dr. Ramakant Panda, Chief Consultant for cardio-thoracic surgery and Vice Chairman & Managing Director of the Asian Heart Institute
His Holiness Swami Govind Dev Giri ji Maharaj, Treasurer of the Shri Ram Janmbhoomi Teerth Kshetra Trust
Sachchidanand Joshi, Member Secretary and Executive & Academic Head of Indira Gandhi National Centre for the Arts (IGNCA), New Delhi
Shivakumar Sundaram, Chairman, Executive Committee of Bennett Coleman & Company (Times of India Group)
Yashwant Shukla, Charity Commissioner of the Government of Gujarat
Gagjibhai Sutariya, President of ​​Sardardham
Ratibhai Patel, President of the Vishv Umiya Foundation
Ratibhai Patel, President of the Vishv Umiya Foundation, said, "Pramukh Swami ignited the light of service around the world, directing the power of youth for the betterment of society. He was responsible for fostering greater harmony amongst humanity. BAPS temples have become centres of humanity and culture. BAPS's efforts to uplift society through the building of temples is truly praiseworthy.`
Dr. Ramakant Panda, Chief Consultant for cardio-thoracic surgery and Vice-Chairman & Managing Director of the Asian Heart Institute, said, "While I run the country's best heart hospital and have operated on more than 29,000 with world-leading outcomes, receiving Pramukh Swami Maharaj's blessings three times in my life have been the greatest moments of my life in which I felt a powerful, transformative divinity."
His Holiness Swami Govind Dev Giri Ji Maharaj, Treasurer of the Shri Ram Janmbhoomi Teerth Kshetra Trust, said, "The only place to develop a divine, vast and inclusive vision one has to come here. Pramukh Swami belongs to everybody and everyone believes Pramukh Swami is theirs. I am here to bow my head to that person who showered the whole world with love."
Shivakumar Sundaram, Chairman, Executive Committee of Bennett Coleman & Company (Times of India Group), said, "I bow to the selfless service and dedication of the volunteers here…The common thread in every activity of BAPS and Pramukh Swami Maharaj has been service to humanity. I have seen and felt today how he has touched and made a difference in the lives of so many people, personally and through mandirs."
In conclusion, His Holiness Mahant Swami Maharaj blessed the assembly. He said, "Pramukh Swami Maharaj would always say that a mandir is a place where the mind finds peace. Although great rishis have been overcome by their mind, the mandir grants the mind stability…So, do not see the mandir as just a pile of stones. While it appears to be made of stone, each stone is infused with a divine life-force. Pramukh Swami Maharaj has said that a mandir is a factory for making an ideal human."