Medico – Spiritual Conclave
18 Dec. 2022, Sunday, Ahmedabad, India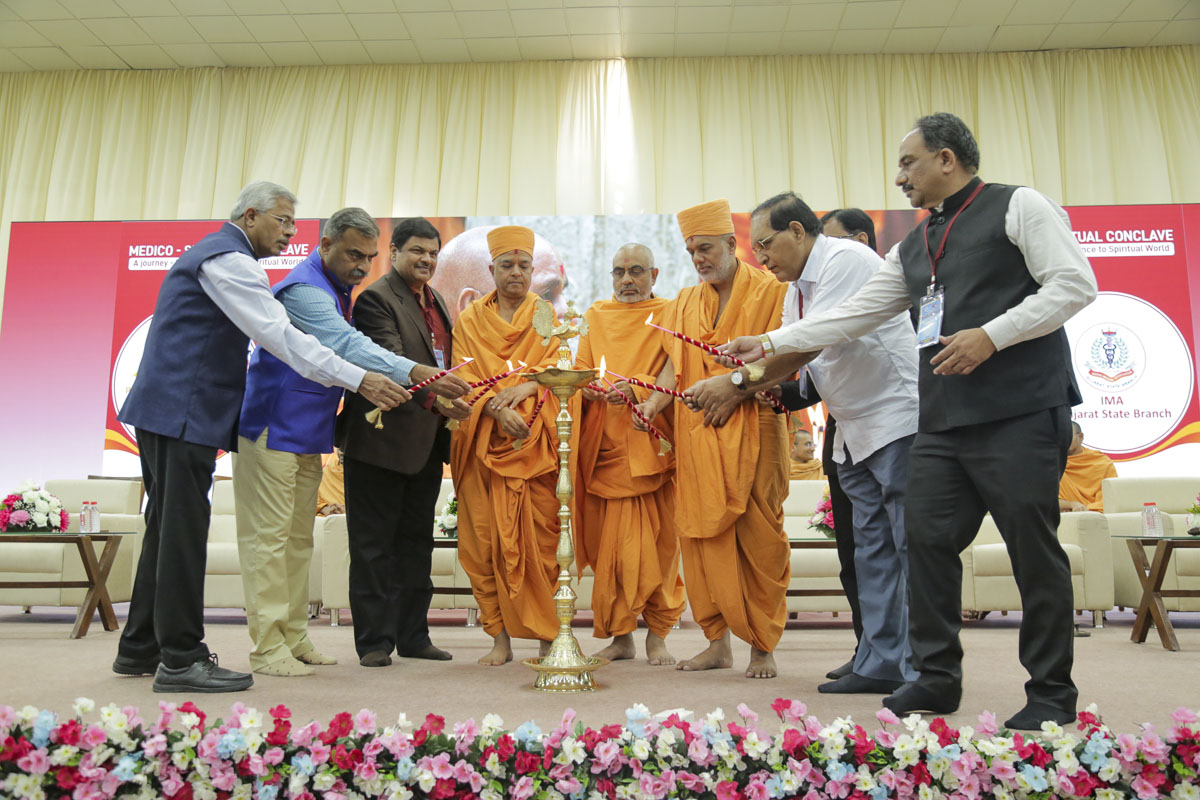 A medico-spiritual conclave was organized on December 18th for members of the Indian Medical Association (IMA) as a part of the centenary birth celebrations of His Holiness Pramukh Swami Maharaj in Ahmedabad, in partnership with the Indian Medical Association, Gujarat State Branch.
The conference theme was "A Journey: Medical Science to Spiritual World", led by a panel of high-calibre speakers, including:
Dr. Mahadev T. Desai (Internal Medicine, Ahmedabad)
Padmashri Dr. Tejas M. Patel (Cardiologist, Ahmedabad)
Dr. Chetan Bhatt (Gastroenterologist, Mumbai)
Dr. Sandeep G. Attawar (Thoracic Organ Transplant Surgeon, Ahmedabad)
Dr. Jitendra Patel (National Past President, IMA)
The conference also included a group of panellists: Dr. Abhijat Sheth, Dr. Hitesh Bhatt, Dr. Bhavesh Thakkar and Dr. Adit Desai.
In the welcome address, Dr. Mahavirsinh Jadeja, Chairman of IMA Gujarat, reminisced about the time when Pramukh Swami Maharaj had sanctified his residence in Bhavnagar some 30 years ago. He expressed how he felt blessed to be a part of this conference.
In the inauguration session, Pujya Gyanvatsaldas Swami delivered a motivational talk on 'Positivity in Adversity'. He said, "Positivity in adversity is not just a duty but a human endeavour." He added, "Even if you lose everything in life, what remains with you is positive thinking – and that has the power to change your life." Thereafter, Dr. Mahadev T. Desai spoke on vegetarianism as a healthy and holistic way of living. He said, "I am vegetarian only due to Pramukh Swami Maharaj. 40 years ago when I met Pramukh Swami Maharaj, he asked me to write an article on vegetarianism. I used to eat eggs, but not meat. I thought I should turn vegetarian, only then I will be able to write about this."
Throughout the sessions, many topics such as cardiovascular health, thoracic organ transplantation, fructose toxicity and metabolic syndrome, and the importance of a positive physician and patient relationship were covered.
Dr. Bharti Shiyal, a Member of Parliament in the Lok Sabha from Bhavnagar, and Dr. Payal Kulkarni, Member of the Legislative Assembly also graced the conference and was felicitated by the members of the IMA.
The final session concluded with an insightful talk by Pujya Brahmaviharidas Swami on Pramukh Swami Maharaj's life-motto, 'In the joy of others lies our own.' He commenced his talk by highlighting the widespread social problem of addiction. He said, "Pramukh Swami completely redefined the meaning of spirituality. He de-addicted 4 million people. His love transformed people. If you want to transform people, love them. Pramukh Swami Maharaj enveloped everything in love." He further urged the medical professionals, "Don't allow your profession to overpower your compassion. Believe in somebody higher than you." He concluded by saying, "Love is the most important force in this world. When you focus on the joy of others, joy will find you."
Dr. Mona Desai, Chair of the National Medical Institute shared her thoughts after the conference saying, "Attending the conference and listening to Pujya Gyanvatsal Swami and Pujya Brahmavihari Swami was a wonderful spiritual experience. The whole Nagar is 'out of this world'. To visit such a unique place is a unique and lifetime experience. It was a pleasure to know how women are actively involved here. Everything is beautiful and precisely made. Beautiful and amazing work."
All the delegates were given a guided tour of the Pramukh Swami Maharaj Nagar. They left the conference and Nagar inspired and impressed.