Leadership Symposium for Amusement Park Owners
10 Jan. 2023, Tuesday, Ahmedabad, India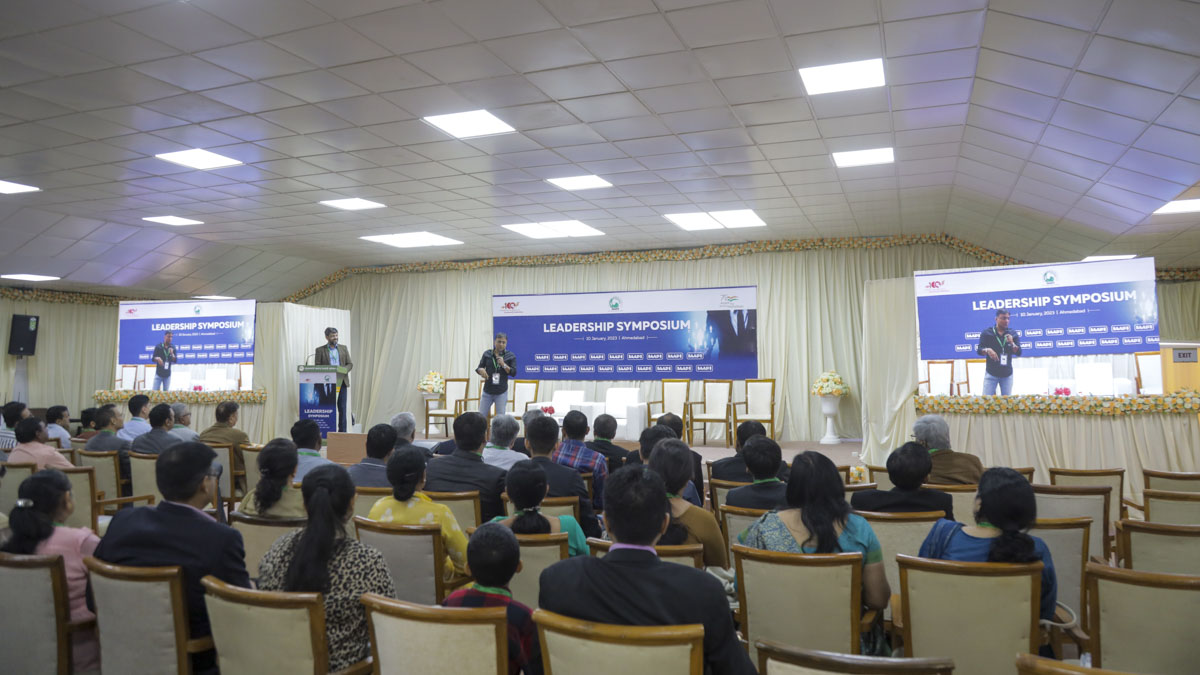 A special one-day 'Leadership Symposium' was organized for amusement park owners and operators as a part of the centenary birth celebrations of His Holiness Pramukh Swami Maharaj in Ahmedabad on 10 January 2023.
This symposium, organized in partnership with the Indian Association of Amusement Parks and Industries (IAAPI), was led by a panel of prominent speakers, namely Shrikant Goenka, (Director, IAAPI), Venkatesh Maheshwari (Entrepreneur, Gokyo Outdoor Apparel and Lifestyles) and Upasana A. Agarwal (Professor, National Institute of Industrial Engineering (NITIE)).
In his welcome address, Shrikant Goenka, (Director of IAAPI), elaborated upon the programme for the day. He said, "Many aspects of leadership and management can be learned from BAPS Swaminarayan Sanstha."
Venkatesh Maheshwari of Gokyo Outdoor Apparel and Lifestyles delivered an insightful talk on 'The Mountains are Calling and I Must Go'. In sharing his experiences, challenges and learnings from summitting Mount Everest in 2018 and from other treks, he said, "It was my childhood passion to climb Mount Everest. By climbing Everest, I was trying to achieve what only 10% of climbers managed before the age of 45. One should understand that there is no shortcut to success and learn to accept failures. One should strive to build strength and the power of determination. Adapting fast to changes is an indispensable quality for leaders to learn."
In his enriching session, Gnanvatsaldas Swami, a leading spiritual motivational speaker of BAPS, said, "The cultural wonderland of Pramukh Swami Maharaj Nagar is beyond human comprehension. It is the result of the selfless service of 80,000 volunteers hailing from different academic disciplines, cultures and backgrounds. These volunteers are the biggest strength of BAPS and have all been inspired by the pure life and exemplary spiritual leadership of Pramukh Swami Maharaj and Mahant Swami Maharaj. As a testament to the strength of Pramukh Swami Maharaj's purity and selflessness, around 300 farmers, who collectively own the 600 acres of land upon which Pramukh Swami Maharaj Nagar has been created, have happily donated their entire land for a year.
"What Pramukh Swami Maharaj has achieved is hard to quantify in just numbers. He assumed the spiritual leadership of BAPS in 1971 at the age of 49. Over the 45 years of his spiritual leadership, Pramukh Swami Maharaj travelled to more than 50 countries, sanctified 250,000 homes, replied to 750,000 letters, created 1300 societal institutions (temples, hospitals, schools, hostels, etc.), and initiated 1,100 sadhus. Pramukh Swami Maharaj mastered Human Relations by touching the lives of every person he met. He personally knew the names and faces of more than 25,000 people.
"Pramukh Swami Maharaj Nagar is a homage to the selfless leadership of Pramukh Swami Maharaj. This complex is a perfect example of management through faith in God and hard work."
Professor Upasana A. Agarwal of the National Institute of Industrial Engineering delivered a talk on 'The Role of Leadership in Building High-Performance Organizations.' She said, "I am glad that IIM-A is making a case study on Pramukh Swami Maharaj Nagar and that is one of the prime reasons for my presence here today. Pramukh Swami Maharaj Nagar has catered to the Sustainability Quotient by being equipped with things that are recyclable and reusable. The influence of a leader can be measured by how much impact he has had in people's lives. Through his spiritual leadership, Pramukh Swami Maharaj has transformed people positively and made a permanent impact in their lives. The essentials of effective leadership are measured through Intellectual Quotient (IQ), Emotional Quotient (EQ), Spiritual Quotient (SQ) and Physical Quotient (PQ). Effective leaders have high levels of EQ and empathy. They are optimistic yet realistic; they have an adaptability mindset. They indulge in efficient communication and have a knack for problem-solving skills."
In his inspiring concluding address titled 'From Nowhere to Now Here', Brahmaviharidas Swami, a senior swami of BAPS and project lead for the BAPS Hindu Mandir in Abu Dhabi, said, "The end goal as owners of amusement parks is to bring smiles onto people's faces. We always focus on the first experience we provide, but rarely emphasize what experience we are leaving people with in the end. We live in the age of promotion and marketing where we want to show more than what we are. However, adding honesty and spirituality in the marketing of the amusement industry will provide you with both growth and satisfaction. One should strive to provide quality in one's work but should also treat others with equality and empathy.
"Pramukh Swami Maharaj advised Dr. APJ Abdul Kalam to add 'Faith in God' as a 6th pillar for his vision of 2020. One should have a team of good people to achieve any goal. Without morality, there can never be good people, and for morality, faith in God is essential. Thus, adding spirituality to whatever you do will give you satisfaction.
"Pramukh Swami Maharaj Nagar is a cultural wonderland with spirituality as its central theme. Hundreds of thousands of visitors come to this magnificent complex every day without the aid of a giant media campaign. Pramukh Swami Maharaj Nagar is a reflection of the love 80,000 volunteers have for Pramukh Swami Maharaj."
In his vote of thanks, Rajen Shah, Managing Director of Arihant Industrial Corporation, appreciated the management and volunteerism of everyone at Pramukh Swami Maharaj Nagar. He said, "Pramukh Swami Maharaj Nagar is a university for amusement park owners."
Today's event marks the end of a series of 14 such conferences for professionals of various fields, including accountants, lawyers, industrialists, technocrats and entrepreneurs. It is a testament to the progressive mindset of Pramukh Swami Maharaj, whose work and teachings touched people from all walks of life, to ensure the holistic success and happiness of everyone in society.