Leader 2030 – Role of HR
4 Jan. 2023, Wednesday, Ahmedabad, India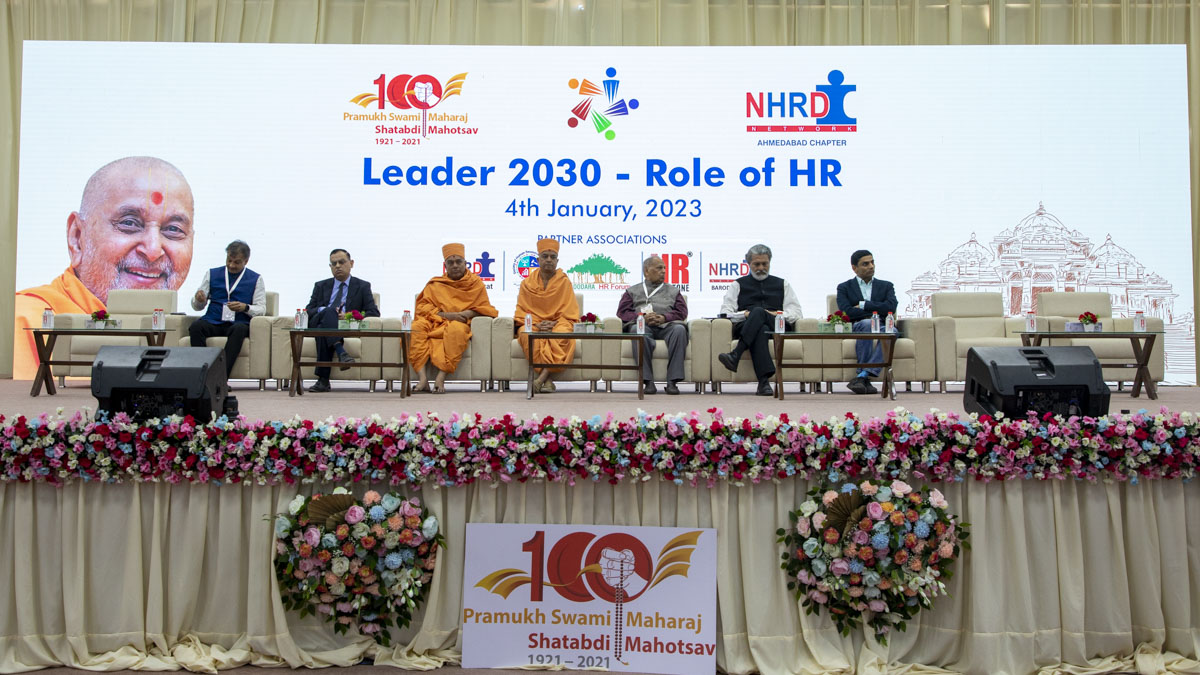 More than 1250 CEOs, Directors, Managing Directors, General Managers and HR Managers of around 600 companies from all over India gathered on 4 January 2023 for a special one-day conference at Pramukh Swami Maharaj Nagar in Ahmedabad.
Titled 'Leader 2030: Role of HR', the conference was organised by the National Human Resource Development Network, Ahmedabad Chapter (NHRDN-Ahmedabad) in partnership with BAPS Swaminarayan Sanstha (BAPS).
Some of the prominent speakers at the conference included Mayur Patel (President, NHRDN-Ahmedabad), Dr. T.V. Rao (Chairman of TVRLS, Ex-Professor IIM(A)), Ajay Bhatt, Rajeev Dubey (Chairman, Mahindra Insurance Brokers, Mahindra Steel Service Centre, Mahindra First Choice Wheels), Krish Shankar (EVP & Group HR Head, Infosys), Ms. Ratna Joshi (Customer Excellence Academy, Tata Motors), Sandeep Tyagi (Head-HR, Uflex Chemicals), Dr. Rajeshwari Narendran (Director, NTPC School of Business), and Rajesh Vaidya (CHRO & Sustainability Head, Silox India).
In his inspiring inaugural address, Brahmaviharidas Swami, a senior swami of BAPS, said, "Humans are proficient in creating as well as disobeying laws. The role of HR is challenging as they have to redress simple issues of people with complex minds. Pramukh Swami Maharaj selflessly catered to the minutest needs of everyone. Whether meeting political statesmen of the world or a devotee from a remote village of India, Pramukh Swami Maharaj treated everyone equally and respectfully. Pramukh Swami Maharaj worked not from top downwards but from bottom upwards.
"The role of HR is not about changing rules, but to make the employees happy. We often rebuke people when we are not in a good frame of mind and are then regretful. The Bhagavad Gita guides us on stabilising the mind. Pramukh Swami Maharaj used to say, 'If your spirit is stable, your heart is pure and you possess deep faith in your heart, there is nothing that you cannot accomplish.' The sheer volunteerism of BAPS is a result of Pramukh Swami Maharaj's unconditional care towards the devotees. BAPS has been at the forefront of selflessly serving society at times of natural calamities such as the 1979 Dam Disaster in Morbi, 1999 Cyclone in Odisha, 2001 Gujarat Earthquake, South Asian Tsunami in 2004-05, and even in evacuating refugees during the Russia-Ukraine war in 2022.
"Pramukh Swami Maharaj Nagar, which has been created by the dedication and devotion of 80,000 selfless volunteers, is an exemplar of the virtues espoused by Pramukh Swami Maharaj. The job of HR heads is not only about quantity or quality, but it is also to teach the company and the world to be kind and compassionate. Doing this will help solve many problems in life."
President of NHRDN-Ahmedabad Mayur Patel shared in his welcome address, "Pramukh Swami Maharaj emphasized the importance of serving together with cooperation and unity. These values are reflected in Pramukh Swami Maharaj Nagar where the volunteers serve with devotion, dedication and selflessness. Pramukh Swami Maharaj lived the motto 'In the joy of others lies our own.' This ethical and spiritual leadership combined with development can lead us to peace and prosperity."
Subsequently, Dr. T.V. Rao, Chairman of TVRLS and former professor at IIM(A), delivered a lecture on 'Building Leadership Capital in Everyone: Role of HR', in which he said, "The 600 acres where the magnanimous Pramukh Swami Maharaj Nagar has been created exhibits a beautiful ambience and is smoothly managed. Such an enriching conference at this complex holds historical value. Having started to read Transcendence: My Spiritual Experiences with Pramukh Swami by Dr. APJ Abdul Kalam, I have been left awe-inspired by Pramukh Swami Maharaj's life. I have learnt that one needs to sanctify oneself in order to sanctify society. Pramukh Swami Maharaj advised Dr. Kalam to add 'faith in God' as a 6th pillar of his vision of 2020. I advocate adding spirituality in the role of HR. 80% of a company's worth is measured in the form of intangible aspects. Dr. Kalam often consulted Pramukh Swami Maharaj for his life decisions. At the end of his term as president, Pramukh Swami Maharaj asked him to serve society. Everyone present in this conference should definitely read Transcendence and take inspiration from  Pramukh Swami Maharaj's life and teachings. It will help us to be kind to people and focus on solving their problems.
"HR is not merely a job; it is a divine calling to serve fellow humans. Pramukh Swami Maharaj has continued the spirit of selfless service that Bhagwan Swaminarayan started more than two centuries ago. If BAPS can smoothly accommodate and serve lakhs of visitors at Pramukh Swami Maharaj Nagar for 30 days continuously, it is possible for every HR professional to treat every person as divine."
Ajay Bhatt shared his insights on the challenges and opportunities for the leaders of 2030 and beyond. He elaborated upon how a shifting economy, resource scarcity, technology outbreak and changing demographics will impact society in the future. He further spoke on how HR professionals can address such challenges on a micro level by also integrating spirituality into corporate and global practices.
Thereafter, Rajeev Dubey, Chairman of Mahindra Insurance Brokers, Mahindra Steel Service Centre, and Mahindra First Choice Wheels, spoke on 'Creating Tomorrow's Leaders: The 3 Plus 5'. He said, "One should never stay away from the path of truth, prayer and service, but should interact with the communities, especially the ones at the bottom of the pyramid and create products and services to cater to their needs. As leaders, it is crucial from both modern and philosophical points of view to interact with the community and learn how to influence without authority."
Mr. Krish Shankar (EVP & Group HR Head, Infosys), spoke on 'Reinventing HR for tomorrow' and said "Creating a spirit of volunteerism that Brahmaviharidas Swami highlighted in his enriching talk is the essence of HR. The biggest problem in the present world is psychological health. The duty of HR is to harness talent, culture and reputation among its stakeholders. To achieve this we need to be architects of creating an inclusive organisation. We need to learn the spirit of inclusiveness from BAPS. HR should be re-invented through 6 key shifts i.e. constant learning, opportunities to reinvent careers, inclusivity, harnessing culture, entrepreneurial contracts, using technology to assist people."
Sandeep Tyagi, Head-HR of Uflex Chemicals spoke on 'Digital Transformation through Growth Mindset.' He said, "Intelligence can be developed through a 'growth mindset'. Such a person embraces challenges and is persistent during setbacks. The best thing we can do for the world is to make the best of ourselves and shift from Intelligence Quotient to Emotional Quotient. We should strive to achieve awareness in our life and be resilient during tough times."
An interesting panel discussion followed on 'How would leaders of 2030 be different from today?' It was conducted by Dr. Rajeshwari Narendran, Director of NTPC School of Business, Rajesh Vaidya, CHRO & Sustainability Head of Silox India, and Ms. Ratna Joshi of Customer Excellence Academy, Tata Motors and moderated by Gautam Gothi, Leadership Facilitator at Brahma HR Consultants. The panellists spoke on the qualities required by future leaders and shared insights on various subjects such as the values of sustainability and universal inclusiveness in ancient Hindu scriptures, how to foster inclusivity, and ensuring the mental well-being of people. When asked who were the role models of the panellists, Rajesh Vaidya shared, "His Holiness Pramukh Swami Maharaj is the perfect role model."
Thereafter, Gnanvatsaldas Swami, a leading spiritual motivational speaker of BAPS, led an inspiring session on the topic of 'A Humane Approach with Humans'. He shares, "BAPS is a non-government organisation (NGOs) having consultative status at the United Nations Economic and Social Council. Any NGO survives and thrives on Human Resources. A Harvard study says that 90% of your business depends on people relationships. Developing good human relations is an essential facet of life and an art that everyone needs to master. Every human deserves to be treated with dignity. These values are not only espoused in BAPS; they were practised by Pramukh Swami Maharaj, which inspired others to also imbibe them. Yogiji Maharaj addressed even a postman with respect. We should develop empathy not only for our organization's employees, but also for our family members and surroundings. Pramukh Swami Maharaj personally guided and has touched more than 4 million people. World-renowned tennis player Leander Paes, upon seeing the 30-ft tall statue of Pramukh Swami Maharaj at Pramukh Swami Maharaj Nagar, said, "I have never met Pramukh Swami Maharaj, but seeing his eyes, I can see how he had compassion for everyone he met."
"This millennium is about developing a spiritual quotient (SQ). We have the capacity to develop intellectual quotient (IQ) and emotional quotient (EQ). We can see the application of spiritual quotient from the life of Pramukh Swami Maharaj. When Bill Clinton, Former President of the United States, met Pramukh Swami Maharaj, he observed, 'I have not seen such expressive eyes full of integrity.' Along with developing our professional skills, we should also strive to make ourselves more spiritually proficient."
The final session was concluded by Yogi Trivedi of Columbia University, New York, and author of In Love, At Ease: Everyday Spirituality with Pramukh Swami, a new book recently published by Penguin Random House India. In his remarks, he said, "Pramukh Swami Maharaj was a master Human Resource Manager. He knew the right thing to say at the right time. It was his accessible spirituality which made everyone feel connected with him. Pramukh Swami Maharaj selflessly loved and served everyone. Pramukh Swami Maharaj saw divinity in his surroundings and saw God in everyone. He loved and served everyone beyond the existing conventions of caste, creed, race and ethnicity."
Today's event is the tenth in a series of 14 such conferences for professionals of various fields, including doctors, lawyers, industrialists, technocrats and entrepreneurs. It is a testament to the progressive mindset of Pramukh Swami Maharaj, whose work and teachings touched people from all walks of life, to ensure the holistic success and happiness of everyone in society.