Jayesh Patel Walks 260 Kilometres from Paris to London
28 Apr. - 2 May. 2022, Paris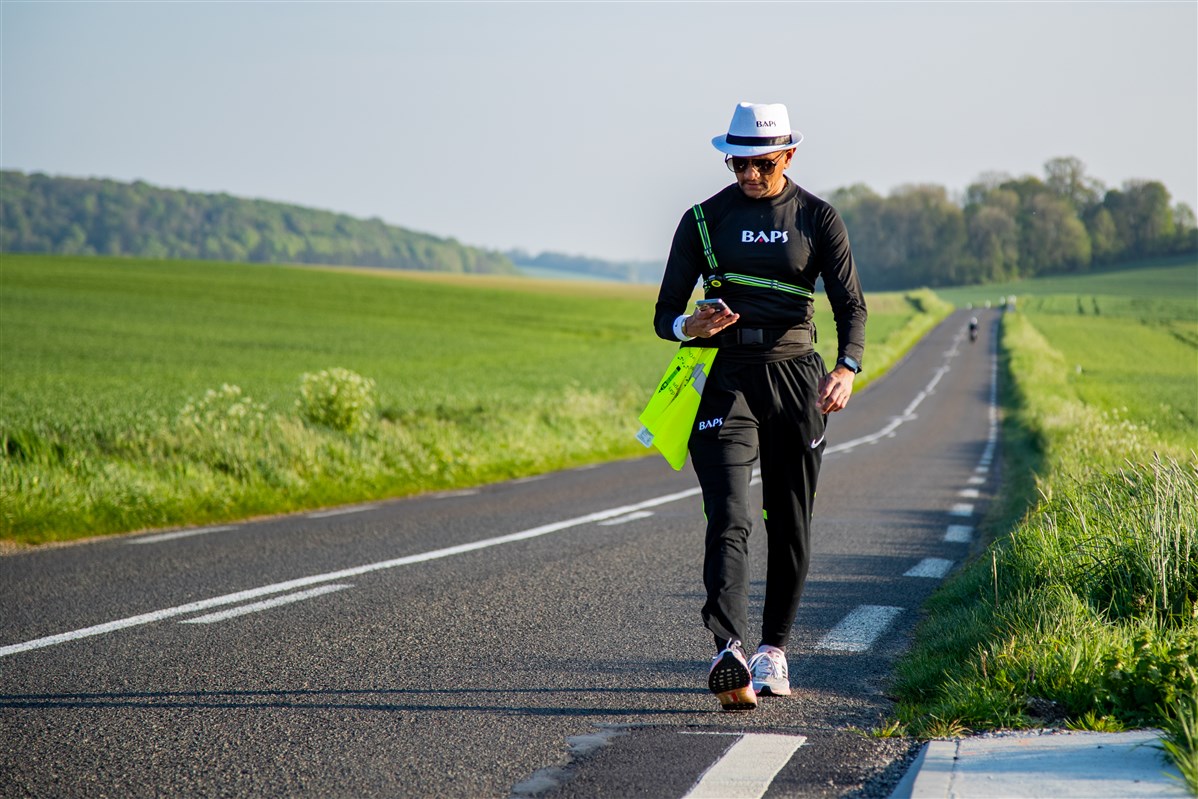 Jayesh Patel, a devotee from London, completed a staggering 260-kilometre sponsored walk from Paris to London within five days to raise funds and awareness for the upcoming 'BAPS Shri Swaminarayan Mandir & Cultural Complex' in Paris, France.
The Paris-to-London walk was also in commemoration of the centennial celebrations of His Holiness Pramukh Swami Maharaj, who had walked tirelessly during his vicharan around the world to selflessly serve society.
Jayeshbhai began the walk on the morning of Thursday 28 April from the Eiffel Tower in central Paris and walked up to 60 kilometres each day, until he concluded the marathon journey at BAPS Shri Swaminarayan Mandir, London, on the evening of Monday 2 May.
Swamis from London performed the traditional inauguration ceremonies and were joined by over 150 devotees from Paris to kick off the event.
The event was also honoured by the presence of Kuldeep Singh Negi, Second Secretary (Research, Tech Education & Community Affairs) from the Embassy of India in France.
Local devotees from Paris joined Jayeshbhai for the first 10 kilometres, accompanying him to the town of Argenteuil.
After walking 164 kilometres in France, from Paris to Dieppe, Jayeshbhai crossed the English Channel by ferry on Day 3 and arrived in Newhaven, in England. From here, he walked a further 98 kilometres over the final two days to the Mandir in London.
Jayeshbhai was also joined by swamis, devotees and well-wishers at various points during his journey in a show of support and solidarity for his astounding spiritual as well as physical service.
As he entered Croydon in South London, swamis and scores of local devotees welcomed Jayesh at the Beddington Conference Centre. Together they walked along the Thames, briefly stopping at Putney Bridge, which was sanctified by Yogiji Maharaj in 1970. Many continued all the way to the Mandir in north-west London, in Neasden, where Jayeshbhai was joyously greeted by swamis and hundreds of devotees.
One of the participants observed, "This walk was tremendously well organised. Every minute detail was planned in advance. This is achievable only if there is devotion and unity."
Jayeshbhai shared, "Pramukh Swami Maharaj walked thousands of miles for us. This was the least I could do as a personal devotional tribute to him." He added, "Pramukh Swami Maharaj's work continues today through Mahant Swami Maharaj, who is guiding and inspiring the mandir in Paris. Supporting this mandir is supporting Pramukh Swami Maharaj's legacy."