International Human Solidarity Day: Celebrating Inter-faith Harmony
20 Dec. 2022, Tuesday, Ahmedabad, India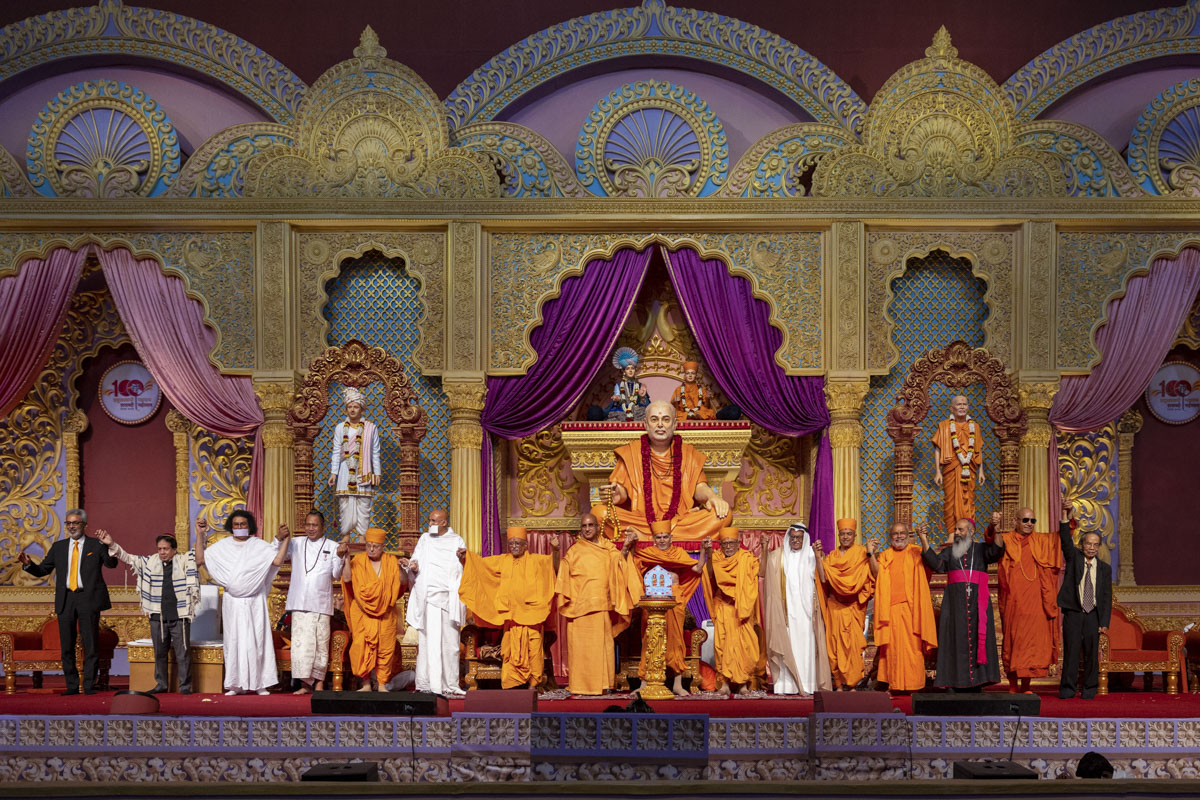 "Religion is that which fosters mutual love." This message of Pramukh Swami Maharaj encouraging interfaith harmony was the central theme of tonight's programme titled 'International Human Solidarity Day'
Religious leaders and representatives of various faiths solidified interfaith bonds at Pramukh Swami Maharaj Nagar
Leaders of various faiths gathered for interfaith dialogue honouring Pramukh Swami Maharaj's spiritually driven vision for human solidarity, world peace, and inter-faith harmony. The event was the held in the presence of tens of thousands at Pramukh Swami Maharaj Nagar in Ahmedabad in celebration of United Nations International Human Solidarity Day on Tuesday 20 December.
Pramukh Swami Maharaj worked tirelessly to engage with people and leaders of all faiths, championing peace over conflict, dialogue over discord, love over hatred. He respected people of all religions and faiths. His address at the Millennium World Peace Summit at The United Nations in 2000 is testament to this fact.
Continuing Pramukh Swami Maharaj's legacy, BAPS is an active participant in global inter-faith initiatives. Recently, BAPS participated in the G20 Religion Forum, also known as R20, hosted in Indonesia on 2-3 November 2022. Earlier this year, 1,000 representatives of different faiths gathered at a recent conference in the US, marking an important step in inter-faith dialogue within North America. In May 2022, 90 religious leaders from 35 countries, including representatives from BAPS, convened in Riyadh, Saudi Arabia.
Today's inter-faith program commemorates Pramukh Swami Maharaj's lifelong efforts to create a harmonious world in which all faiths can peacefully coexist.
At 5.15pm, the evening assembly began with the chanting of God's holy name, followed by the singing of prayers and devotional hymns. Youths performed a traditional dance to pay tribute to Pramukh Swami Maharaj. His global efforts to bring about world peace, exemplified in his life motto of 'In the joy of others lies our own', were depicted in a special video presentation.
On this special day, many religious leaders from different parts of the world came together to pay homage to Pramukh Swami Maharaj, who was to them the epitome of saintliness. They reflected on his tireless efforts for inter-faith harmony and world peace.
Elaborating on Pramukh Swami Maharaj's message of inter-faith harmony, BAPS swami Brahmaviharidas Swami said, "The most important need of the hour is harmony. As we celebrate this day of solidarity, the place of this gathering is apt since this place celebrating Pramukh Swami Maharaj, the greatest Saint of the century who bridged minds and hearts across the world, has been created by 80,000 volunteers working together.
"The idea of harmony is bigger than all of us. We believe that 'the whole world is one family' and 'the whole world is one nest.' Bhagwan Swaminarayan revealed the idea of universal harmony by creating a society that transcended caste, creed, and religion. Pramukh Swami Maharaj not only believed in harmony, he lived it and inspired others to live it.
"Mahant Swami speaks little but his energies touch everybody. God believes in harmony on this earth whether we do or not. Very often Mahant Swami says our choice is whether to flourish in harmony or perish in disarray. If you abuse religion it is the greatest problem. If you use religion it's the greatest solution. Everyone should use religion to increase peace on our planet."
Shri Bawa Jain, Secretary General, World Council of Religious Leaders, USA, said, "In the three days I have been at Pramukh Swami Maharaj Nagar, half a million people have visited, but I have not seen a single incident of disharmony. All the big CEOs of the world should bring their teams to learn about harmonious management. This Nagar is a work of architectural genius. In my opinion, Pramukh Swami Maharaj is the modern-day Vishwakarma."
Pujya Sri Satguru Uday Singh Ji Maharaj, Namdhari Sikh Head said, "Pramukh Swami Maharaj served everyone and showered his blessings on everyone, no matter their class, caste, gender, race, religion. His teachings should be taught to all children, so that they can grow into good humans, and can tolerate the pain and suffering of this world. Without compassion, there is no religion. Where there is arrogance, there God is not. So, we should not insult anyone, but respect everyone."
Saadiqual-eidiz-zahabi Bhaisaheb Jamaluddin, Dawoodi Bohra Community said, "My Daudi Bohra brothers and I went around the Nagar for 2 hours with awe and admiration,  celebrating Pramukh Swami Maharaj, who spent his life serving and motivating others to serve. Respected Mahant Swami Maharaj, you continue this legacy and guide thousands similarly.  As diverse as we may be in our customs, traditions, and faiths, we are united in the belief that to uplift yourself you must uplift others. This is in the essence of celebrating international human solidarity day."
Professor Chirapat Prapandvidya, Representative of Rajguru (Royal Court Priest) of Thailand, Founder of Sanskrit Studies Centre at Silpakorn University, Bangkok, said, "Pramukh Swami Maharaj's teachings kept together the heart and soul of the people of the world including those of the people of Thailand. The tremendous volunteer spirit has made this festival a success. The unity, peace, and harmony of the people of the world signify the great work of Pramukh Swami Maharaj."
Acharya Dr. Lokesh Muni Ji, Jain Muni, Founder President, Ahimsa Vishwa Bharati said, "Pramukh Swami Maharaj was a light of spirituality in the truest sense. Just as the Sun does not set in a literal sense, Pramukh Swami Maharaj has not left us but is present in spirit through his work. Rarely do luminaries like Pramukh Swami Maharaj take birth on this earth. Pramukh Swami Maharaj was a bridge to unite all different faiths together. He used to preach that we should accept others' opinions and beliefs. That is why in these times when we face an environment of religious intolerance, the BAPS Swaminarayan tradition has been a torchbearer for religious tolerance.
"I feel that toxicity of thoughts are much more dangerous than environmental pollution That mental toxicity can only be cured by Pramukh Swami Maharaj's values. Pramukh Swami Maharaj, has done what the Government has not been able to do. Even bestowing awards like Bharat Ratna or Nobel Peace Prize are not enough in front of the gigantic work of Pramukh Swami Maharaj which cannot be measured."
Venerable Bhikkhu Sanghasena, Ladakh, Founder President, Mahabodhi International Meditation Center, "This unique Pramukh Swami Maharaj Nagar is infused with so much love and compassion. Learning about Pramukh Swami Maharaj's life and service was not merely a heart-touching, but a life-transforming experience for me.
"I have experienced universal brotherhood (vasudhaiva kutumbakam) here today. The swamis and volunteers have so much love and compassion. After visiting this beautiful place, meeting the swamis and volunteers, and seeing tens of thousands of people from different religious backgrounds visiting this festival site with smiles on their faces and with a spirit of brotherhood, I experienced divine life on earth today.  I have experienced humility and simplicity here through the swamis. The whole world has a lot to learn from this organisation."
Rabbi Ezekiel Isaac Malekar, New Delhi Jewish community leader said, "Though I am a Rabbi of the Jewish faith, I am here today not as a Jew but to represent all of you because I consider myself an Indian first and Jew second. Israel is in my heart, but India is in my blood.
"Pramukh Swami Maharaj's contributions in education, health, environment, and uplifting adivasis are unparalleled. At the Pramukh Swami Maharaj Nagar, I feel a tremendous spiritual energy and boundless happiness in my heart. I feel as if I am in heaven. Pramukh Swami Maharaj is showering grace from above. This amazing environment cannot be found elsewhere."
Archbishop Thomas Ignatius Macwan of the Gandhinagar Archdiocese, "Pramukh Swami Maharaj was in constant touch with the divine and was purity incarnate. Purity itself attained completeness in Pramukh Swami Maharaj. Pramukh Swami Maharaj listened to the sufferings of everyone and gave them guidance. He lived to guide people to live better—spiritually and socially, living for the upliftment of mankind, seeing good in everyone. Pramukh Swami Maharaj lived the words he uttered. His life itself was his message and if we follow his teachings the world will truly be a better place.
"Pramukh Swami Maharaj always said, 'God should be at the center of your life.' All his words and works are truly inspirational. His millions of letters, thousands of home visits, counseling and meeting the poorest of the poor. Pramukh Swami Maharaj sustained relationships with everyone, even those who were considered lowly by society, including Dalits and Adivasis. He saw God in everyone."
Padma Shri Agus Indra Udayana, Gandhi Puri Ashram, Indonesia said, "When I see heaven being created in form of Pramukh Swami Maharaj Nagar by 80,000 volunteers, I realize that the motto of Pramukh Swami Maharaj, 'In the joy of others, lies our own' is not just words. When I see the swamis and devotees ever smiling, full of peace and joy, I realise that the values of Pramukh Swami Maharaj is not far from us."
Pujya Parmatmanandji, Founder Acharya of Arsha Vidya Mandir said, "If humanity is an orchestra with a variety of instruments, Pramukh Swami Maharaj was the greatest conductor who brought harmony to human society and taught the value of mutual love and respect. International Solidarity Day should be known as International Pramukh Swami Day, as he was the manifest form of solidarity. The way he united humans signifies he was the embodiment of love. All religions pay lip service to being messengers of peace, but Pramukh Swami Maharaj lived and practiced this."
HE Abdul Rahman Bu Ali, Thought Leader of Bahrain said, ""I have experienced Pramukh Swami Maharaj's impact on millions of lives across the world. He was an extraordinary spiritual leader of our time. A rare soul who lived dedicating all his life for the service of others. The only way we can celebrate this great soul is by fulfilling his teaching, 'In the joy of the others lies our own.'  Pramukh Swami Maharaj was a true spiritual leader, a mentor, a teacher, an educator, a true example of love, peace, and tolerance, who will continue to live in the minds and lives of his devotees.
"The historic BAPS Mandir in Abu Dhabi is more than inspirational, it is civilizational—bringing countries and religions together. There will also be a BAPS temple in Bahrain because you love all, and all love you. Leaders like Pramukh Swami Maharaj do not die but remain alive and continue to inspire, guide, and touch countless hearts across the world. Mahant Swami Maharaj is the best successor to the best predecessor. I thank Mahant Swami Maharaj and the swamis for creating this heavenly wonderland."
Param Gurudev Pujya Namramuni Maharaj Saheb Ji, Jain Muni, Founder, Parasdham said, "By looking at Pramukh Swami Maharaj, our hearts are warmed. How much creative power can a guru possess?  Pramukh Swami Maharaj never thought about himself, but he instilled virtues, service, love, and respect in all. His was a face that was God's face. Looking at him, one felt one was looking at God. I applaud all the swamis of BAPS for their unity, which is the driving force behind this magnificent project."
HH Dalai Lama addressed the assembly by letter, in which he said, "I send my greetings to all of you on the occasion of the centenary of Pramukh Swami Maharaj. I have some understanding of the work of your organization and its contribution to the Indian society. Pramukh Swami Maharaj was an integral part of your development. He truly practiced the ancient Indian wisdom of nonviolence and compassion. The leadership of individuals like him have made India a role model of religious harmony in the world today. One of my own commitments is to create greater awareness of the value of rich ancient Indian knowledge, especially an understanding of mind and emotions, reason and logic. I believe that these are of great relevance today. In today's world, which is facing an emotional crisis, such knowledge is not only relevant, but also very much needed. Scientists tell us that they have evidence that basic human nature is compassionate. This is borne out by our common experience of our mother's care and affection in our infancy, without which we would not survive. Scientists have also observed that constant anger, fear and suspicion undermine our immune system. Whereas a compassionate attitude sustains it. As you mark Pramukh Swami Maharaj's centenary, and during your month-long celebrations, I hope that all of you, as his followers, would commit to promoting fundamental human values of warmheartedness and compassion with recognition of the oneness of humanity. In India major religious traditions of the world such as Hinduism, Islam, Buddhism and Christianity and others coexist harmoniously. This is something I came to realize clearly when I came to India as a refugee over six decades ago. I urge you all to continue to strengthen this tradition."
Mahamandaleshwar Pujya Swami Avdheshanand Giri Ji Maharaj, Acharya Juna Peethadhishwar said, "Pramukh Swami Maharaj' divine life and works spread Indian culture across the world. When I learned about the large number of volunteers in centennial celebration who are all different in many ways I realize the strong unifying bond that Pramukh Swami Maharaj could establish. Pramukh Swami Maharaj personified religion as he constantly worked for humanity and for the good of others. He was so lively and always reflected spirituality. The way his life and work have been depicted in this Pramukh Swami Maharaj Nagar is exemplary. BAPS has not just created temples and volunteers but also nurtured Indian culture in various forms."
His Holiness Mahant Swami Maharaj said, "I bow at the feet of all the religious leaders who have come to the interfaith conference today. Everyone is doing tremendous work in their own respective fields. I again bow to everyone for coming here and gracing us with your divine speech. We were able to learn a lot through our dialogue, and everyone will leave with divine memories. In the United Nations World Peace Summit, Pramukh Swami Maharaj said that, "The greatest necessity of our age is for there to be harmony amongst all religions." This must happen not superficially, but there must be a joyous meeting of hearts. Pramukh Swami Maharaj taught that "True religion is that which inspires love for all." His teachings tell us that humanity is one. Although there may be countless branches, twigs and leaves, the tree is one. Everyone peacefully, beautifully worships and serves God in their own way and experiences peace.
"Pramukh Swami Maharaj did not see any distinctions in anyone. His personality was such that he saw God in all. Just as we may be many different faiths, because we are all children of God, we are one. We pray that message of unity that the religious leaders gave here is imbibed in the lives of everyone."
As part of the event Yogi Trivedi, a scholar of Religion and Journalism at Columbia University, USA inaugurated a new publication, on the life of Pramukh Swami Maharaj, In Love, At Ease, published by Penguin Books.
Religious representatives/leaders in attendance included:
Bawa Jain, Secretary General, World Council of Religious Leaders, USA
Pujya Sri Satguru Uday Singh Ji Maharaj, Namdhari Sikh Head
Saadiqual-eidiz-zahabi Bhaisaheb Jamaluddin, Dawoodi Bohra Community
Professor Chirapat Prapandvidya, Representative of Rajguru (Royal Court Priest) of Thailand, Founder of Sanskrit Studies Centre at Silpakorn University, Bangkok
Acharya Dr. Lokesh Muni Ji, Jain Muni, Founder President, Ahimsa Vishwa Bharati
Venerable Bhikkhu Sanghasena, Ladakh, Founder President, Mahabodhi International Meditation Center
Rabbi Ezekiel Isaac Malekar, Head, Jewish Community
Archbishop Thomas Ignatius Macwan, of the Gandhinagar Archdiocese
Padma Shri Agus Indra Udayana, Gandhi Puri Ashram, Indonesia
Pujya Parmatmanandji, Founder Acharya, Arsha Vidya Mandir
HE Abdul Rahman Bu Ali, Thought Leader of Bahrain
Param Gurudev Pujya Namramuni Maharaj Saheb Ji, Jain Muni, Founder, Parasdham
Mahamandaleshwar Pujya Swami Avdheshanand Giri Ji Maharaj, Acharya Juna Peethadhishwar