International Convention for Better Living – Inauguration
15 Dec. 2022, Thursday, Ahmedabad, India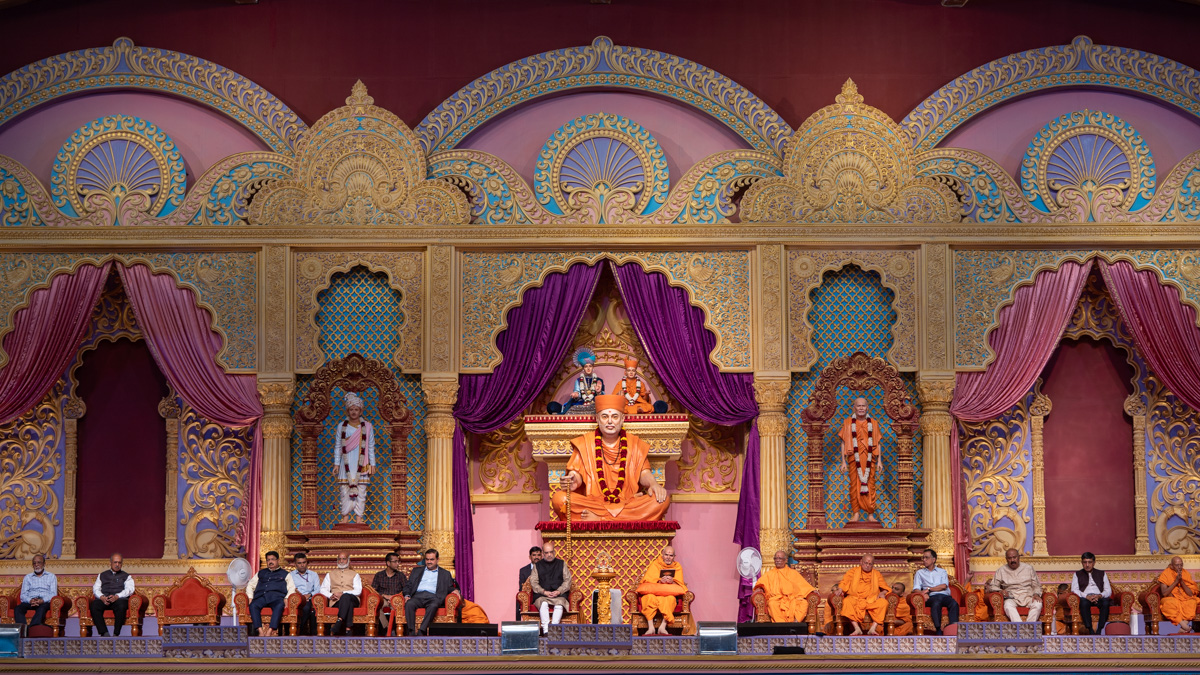 The Home Minister of India Amit Shah inaugurated the month-long 'International Convention for Better Living' on December 15th in the Pramukh Swami Maharaj Nagar in the presence of His Holiness Mahant Swami Maharaj and many leading industrialists of India.
As part of the convention, throughout each day, there will be
Themed assemblies focusing on the life, work and messages of His Holiness Pramukh Swami Maharaj
Women's programmes with various presentations and performances produced and planned by women volunteers
Academic conferences where national and international academics will gather to present their research on topics ranging from mandir architecture and Hindu literature to women's empowerment and scheduled caste upliftment
Professional conferences hosting various professional associations such as lawyers, doctors and entrepreneurs.
The evening assembly today started with a unique symphony of 150 performers from 19 countries and 33 Indian instruments. Today's convention was attended by many dignitaries including:
Chairman of the Adani Group, Gautam Adani
Director of Reliance Industries and Member of Parliament, Parimal Nathwani
Chairman of GMR Group, G. M. Rao
Chairman and Director of Kalyan Jewellers, T. S. Kalyanraman
Karsan Patel of Nirma Industries
Chairman of Zydus Cadila, Pankaj Patel
Sudhir Mehta of Torrent Group
Managing Director of Sun Pharmaceuticals, Dilip Sanghvi
Chairman of Hero Electric and Hero Exports, Vijay Munjal
Chairman of Torrent Group Sudhir Mehta said, "Pramukh Swami Maharaj was truly a people's guru. Through his innate humility, universal wisdom and striking simplicity, he transformed the lives of spiritual seekers, community leaders and global personalities. BAPS's humanitarian services and grassroots efforts play a significant role in the upliftment of society."
Chairman of Zydus Cadila Pankaj Patel said, "Pramukh Swami Maharaj is the greatest university for all of us in which we must learn to imbibe the values of selfless sacrifice, love, and absolute faith in the guru. As a spiritual leader, he has enlightened millions of souls, yet throughout his personal life he remained forever simple and humble. As a spiritual leader, he propagated the message of equality regardless of caste, creed or religion. Inspired by Pramukh Swami Maharaj, BAPS has created an institution which is focused on the upliftment of all."
Director of Reliance Industries and Member of Parliament Parimal Nathwani said, "I consider this Pramukh Swami Maharaj Nagar to be a confluence of all the four holiest places of Hinduism. BAPS Swaminarayan Sanstha not only builds mandirs, but shapes the lives of countless people."
Chairman of the Adani Group Gautam Adani said "When I see what BAPS has created, I am astounded. As many of you know the Advani Group has built some of the largest infrastructure projects in the nation, yet it is humbling for me to see the power of volunteerism…This is unmatchable and there is so much here for even the best global corporations to learn."
Home Minister of India Amit Shah said, "This amazing festival site should be a case study for students of management. This festival site not only gives one the experience of peace and divinity, but it provides the esoteric wisdom of the Vedas, Upanishads and Hindu culture in a way that the simplest folk can understand."
His Holiness Mahant Swami Maharaj said, "Every second of his life, Pramukh Swami Maharaj worked for the upliftment of humanity. He did not just pay lip service to these values, but practised them and inspired others to practise them….Despite a person's flaws, Pramukh Swami has looked to that virtue and given love to everyone, inspiring them to become better…If we want to progress, then we must correct our own flaws, but forgive the flaws in others. If we do this, then the atmosphere in our home and in society will improve."
After the grand inauguration of the Pramukh Swami Maharaj Centenary Celebrations and Nagar in the presence of His Holiness Mahant Swami Maharaj, Honourable Prime Minister Narendra Modi, and other dignitaries, the Nagar is abuzz with various national and international events taking place.