In His Own Words: BAPS UK and Europe Day
8 Jan. 2023, Sunday, Ahmedabad, India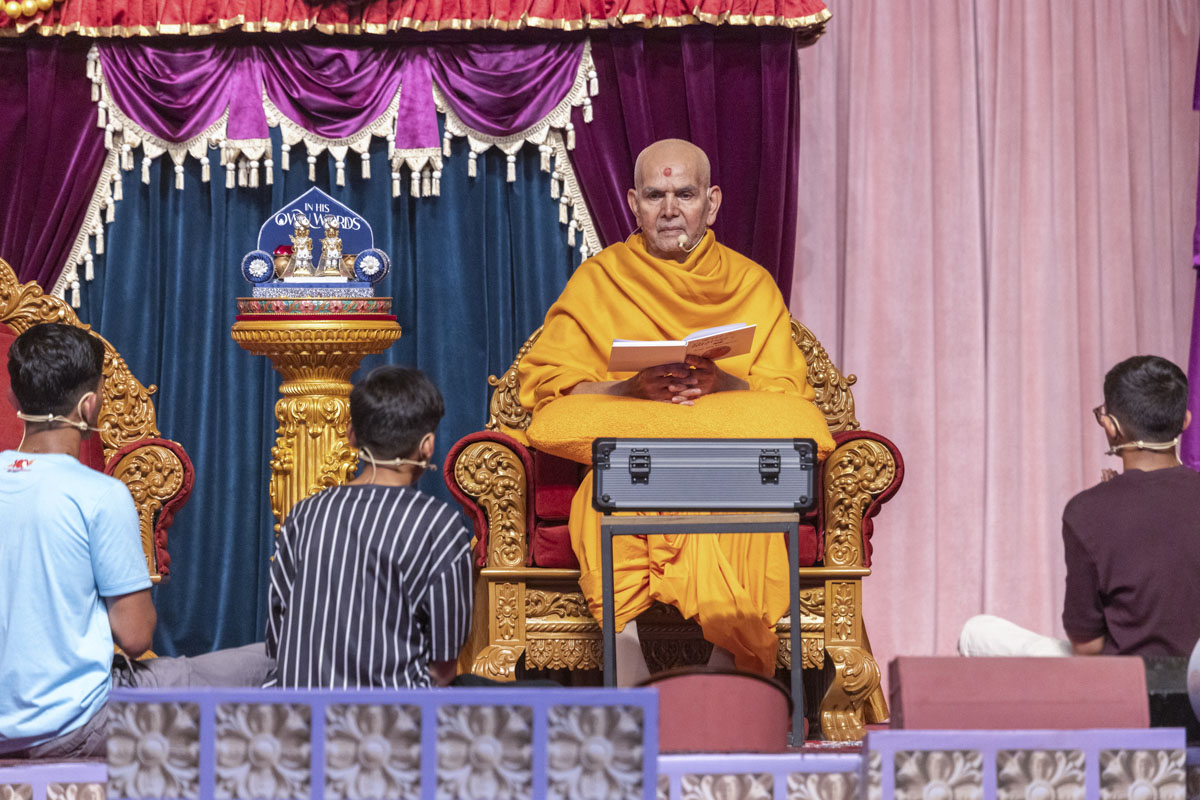 On 8 January 2023, BAPS devotees from the UK and Europe presented a creative programme titled, 'In His Own Words: BAPS UK and Europe Day' celebrating Pramukh Swami Maharaj's contributions to fostering the cultural and spiritual heritage of thousands in UK and Europe. Following the programme, His Holiness Mahant Swami Maharaj and dignitaries from around the world paid tribute to Pramukh Swami Maharaj's inspiration of personal spirituality, Hindu mandirs and humanitarian service in UK and Europe.
From 1970 to 2007, Pramukh Swami Maharaj visited the UK and Europe 19 times creating 16 mandirs and over 40 centres fostering morality and spirituality among thousands. In August 1995, he consecrated the iconic stone BAPS Swaminarayan Hindu Mandir in London. Additionally, the foundation-stone-laying ceremony for the BAPS Swaminarayan Hindu mandir in Paris was performed in 2022.
Evening Assembly
The programme commenced at 5.00 PM with over 100 participants of all ages singing dhun. Following this, a drama interspersed with various skits, videos and speeches, depicted Pramukh Swami Maharaj's tireless efforts for the devotees of UK and Europe. Through Mahant Swami Maharaj's analogies of a flute, pot and rain drops in his publication Divine Memories 4, the audience discovered how Pramukh Swami Maharaj wore out his body for the devotees of UK and Europe, how his universal love touched the hearts of all and how he granted all the bliss of God.
UK-based architect Nigel Lane, Managing Director of A. Lane Architects, who helped design the Haveli of the BAPS Shri Swaminarayan Mandir in London shared his impressions of Pramukh Swami Maharaj, "I worked closely with Pramukh Swami Maharaj between 1990 and 1995 on a project that was the first of its kind in the West. Today, I want to share what he was like as a person. We had no common language, but his presence came through. He was a man with deep love and affection, full of goodness and doing great things for humanity. Quiet and dignified, so lovely to work with, and without the usual noise of language. He worked hard, giving all his time and energy to others. That is a unique love.
"Swamiji truly cared for me quietly and deeply. He left a lasting influence on me, and I cherish those memories, which have been etched into my heart. When beside the sea, you don't see the tide coming in. It comes in imperceptibly. That is how I felt about his inspiration. It was quiet, subtle and rises up inside. Pramukh Swami Maharaj wasn't just a Swaminarayan, he wasn't just a guru, he was a universal man. It would be wrong for me to say I miss him because I truly feel that he is eternal. He has remained with me ever since."
His Holiness Mahant Swami Maharaj shared his experiences with Pramukh Swami Maharaj saying, "Contemplating Pramukh Swami Maharaj increases our understanding and love for him. He has continued to shower immense love and affection on us all. What I distinctly remember from my first meeting with Pramukh Swami Maharaj was his simple, unpretentious demeanour. He was absolutely natural and guileless. He made no effort whatsoever to impress, and yet he left a deep, indelible impression: 'Yes!' I remember saying to myself, 'This is what I call a sadhu!'
"That is the Pramukh Swami Maharaj I have experienced. I've said this much, but it still seems like I have not said enough. He was a mountain of virtues, difficult to fully grasp, but this will help us understand him better. Ultimately, we pray, Swami, please help us recognize you and grant us the eternal bliss of God."
Several esteemed dignitaries were also present to pay tribute to Pramukh Swami Maharaj's life of selfless service.
Stage Guests:
Gopichand Hinduja, Co-Chairperson of the Hinduja Group shared, "Pramukh Swami Maharaj was not a highly educated management professional, but a simple man who found it to be his divine mission to fulfil God's vision. He produced practical results because he firmly believed that he worked for God, not for himself. I witnessed Pramukh Swami Maharaj meticulously planning the Neasden Temple to its last detail. Pramukh Swami Maharaj overcame many challenges, whether it was permissions or financial struggles, but he was committed to completing the mandir. Life can be like a journey through a dense forest, dark and foreboding. But if you have noble and good souls like Pramukh Swami Maharaj with you, it enlightens you and shows the way how to move forward."
Hardeep Singh Puri, Minister of Petroleum and Natural Gas and Minister of Housing and Urban Affairs of the Government of India shared, "Pramukh Swami Maharaj personified saintliness and exuded divinity. As a guide and guru, he touched countless lives not only in India but across the world. He was respected and admired as one of the greatest spiritual leaders of our time. He was truly a 'people's guru'.
"I have worked closely with BAPS and the BAPS mandir in London for many decades. During the period of the Bhuj earthquake, I witnessed and participated in the exemplary relief efforts offered by the London mandir and the global BAPS organisation with their hundreds of thousands of volunteers. Recently, I also witnessed BAPS's efforts in setting up mobile field kitchens in southeastern Poland during the evacuation of 23,000 Indian students stuck in Ukraine during the military action there. BAPS fed over 1,000 hot vegetarian meals daily to refugees of all faiths and nationalities, touching the hearts of all who were associated with that effort.
"Right from the beginning of our 7000-year-old civilization, India has emphasised respect for spirituality, saintliness, good deeds, alleviating human suffering and helping people in distress, which finds expression today in Prime Minister Modi's philosophy of helping the most disadvantaged first. Such is the vastness and depth of our civilizational knowledge, cultural depth and tradition that today, as we celebrate 75 years of independence and leadership of the G20, there is much that India has to offer the world, and the work of BAPS as similarly inspired cultural, social, and spiritual initiatives providing comfort and care to millions.
"When our nation's development activities for the countries of the global South are showcased, we will also include the work of spiritual organisations like BAPS, which has a global outreach of 1,300 mandirs, 5,000 centres, and thousands of selfless volunteers. BAPS's humanitarian relief work has had a far-reaching impact on innumerable lives."
Gen. Dr. V.K. Singh, Minister of State for Road Transport and Highways and Civil Aviation of the Government of India said, "The work done by BAPS is incomparable. I have seen for many years that in every difficulty, BAPS has worked for the nation and humanity like no other. During the Ukraine crisis, at Prime Minister Modi's request to Mahant Swami Maharaj, in no time, volunteers from BAPS UK and Europe reached out to rescue our people."
"I feel that spirituality is like an ocean, while religions are like rivers that ultimately come to the ocean. The spirituality that inspires us to serve humanity is the highest spirituality. There are not many like Pramukh Swami Maharaj who touched everyone's heart and showed compassion for others by serving in this way."
His Excellency Alex Ellis, British High Commissioner to India said, "We saw how BAPS has given exceptional service in India, the UK and across the world, during the Ukraine crisis, the COVID pandemic and on many other occasions. You are what Prime Minister Modi refers to as the 'Living Bridge'—the foundation on which the relationship between the UK and India is built. We want that connection between our countries to be a strong bridge of openness, tolerance and diversity that supports all the good things between the great nation of India and the United Kingdom. I observed that bridge producing talent, ideas, and culture as well as, of course, the Prime Minister of the United Kingdom, Rishi Sunak, a practising Hindu.
"I would like to share a message that His Majesty King Charles III has sent to those assembled here today, 'As you commemorate the 100th anniversary of the birth of His Holiness Pramukh Swami Maharaj, I wish to send you all my warmest good wishes. It was the greatest pleasure to meet His Holiness at St. James's Palace in 1997, and to have been able to visit on several occasions over the years the BAPS Shri Swaminarayan Mandir in Neasden, which His Holiness helped to create. His Holiness's timeless message that 'In the joy of others lies our own, in the progress of others rests our own, in the good of others abides our own, know this to be the key to peace and happiness,' resonates as much now as it always has.'"
The Right Honourable Rishi Sunak MP Prime Minister of the United Kingdom shared a video message for the assembly in which he said, "Pramukh Swami Maharaj lived by the maxim that 'In the joy of others lies our own.' In the UK he was the inspiration of our magnificent Neasden temple, a familiar sight on our London skyline known as much for its service to the local community as it is for its beauty. That dedication to service is found in all 14 of the mandirs Pramukh Swami Maharaj inspired across the UK. And throughout the pandemic, they stepped up not only to help the Hindu community, but thousands who needed support during that difficult time. Over the past many years, these efforts have not gone unrecognised. Roads have been named after Pramukh Swami Maharaj, and our iconic Wembley Stadium arch has been lit up to pay tribute to his service and support for our country. So, as you gather to mark Pramukh Swami Maharaj's 100th birth anniversary, let me pay my respects to his enduring memory and the incredible legacy he has passed on. I wish you every success with these anniversary celebrations."
Padma Shri Bob Blackman, UK Member of Parliament (Harrow East), "As we celebrate the birth centenary of Pramukh Swami Maharaj, we remember his words, 'In the joy of others lies our own.' Those eight simple words sum up the man who gave such devotion and dedication to the whole world. Although his earthly time has come to an end, his spirit continues on eternally. He leaves a lasting legacy with 1,125 magnificent mandirs and millions of devotees, every one of which carries his spirit and his message. That lasting legacy will go on eternally, long after we've all left this earth.
"I offer my gratitude to all the volunteers of BAPS who have been such a force for good in the United Kingdom, whether it is in providing education, voluntary support or service. The greatest thing about every BAPS volunteer is that you can be the Chief Executive of the most important company in the country or a humble worker, but in the mandir, everyone is equal, and everyone takes on the tasks necessary to do the job."
Sir Keir Rodney Starmer MP Leader of the Opposition and Leader of the Labour Party, UK shared a video message in which he said, "I have been privileged to visit Neasden Temple in London created by His Holiness Pramukh Swami Maharaj. It truly is a landmark for Hindus and the whole of the United Kingdom. It is incredible to see first-hand how thousands of volunteers have been inspired to serve society. This was clearly visible during the pandemic, the Ukraine crisis, and now the cost-of-living crisis. Pramukh Swami Maharaj was a leader, building over 1,200 temples and his work has been recognized across the world."
Padma Shri Barry Gardiner, UK Member of Parliament (Brent North) said, "Pramukh Swami Maharaj never valued a person for what they owned. For him, every person had worth and was valuable because they were a human being – a life precious to God. All who have ever met Pramukh Swami Maharaj will know what I mean when I say, with his eyes he seemed to look right into your heart, into your soul. It did not feel uncomfortable because you never felt he was doing it to judge you. I am sure he could have seen all the wrongs, all the selfish things that we try to hide away, but he was not looking for those. He was looking for the good in us, for the human, for the worthy, because he knew and believed it was there—however small, however much we might have hidden it even from ourselves.
"Yesterday, I visited Akshardham in Gandhinagar where a wonderful gentleman told me that 30 years ago, Pramukh Swami Maharaj had given him a rule to live by that could be literally translated as, 'The things that are good, I make my own.' But what it really means is that whatsoever things are true, whatsoever things are just, whatsoever things are pure, whatsoever things are noble, whatsoever things are worthy, think on these things and build your life around them. A life that is focused not on possessions, but on the good, the beautiful, the worthy—that was the life of Pramukh Swami Maharaj. May he continue to inspire each one of us to make it our life as well."
Pujya Rakeshbhai Jhaveri, Founder and Spiritual Head of Shrimad Rajchandra Mission said, "Julius Caesar said, 'Veni, Vidi, Vici—I came. I saw. I conquered.' When I met Pramukh Swami for the first time in Gondal in 1991, I said, 'I came, I saw and he conquered my heart.' When you think of the many positive qualities, only one name comes to mind—Pramukh Swami Maharaj. He was a river of service and compassion. He was free of ego and totally pure. Formation and transformation were the hallmarks of Pramukh Swami. However, what touched me the most was his absolute purity—free of all ego, with his mind fixed only on God. People say the sky's the limit but I say that Pramukh Swami is the limit. In the same way that the Sun does not belong to any one country or person, Pramukh Swami does not belong to BAPS but to all of us."