Health and Spirituality Day: Celebrating Inner Well-being
23 Dec. 2022, Friday, Ahmedabad, India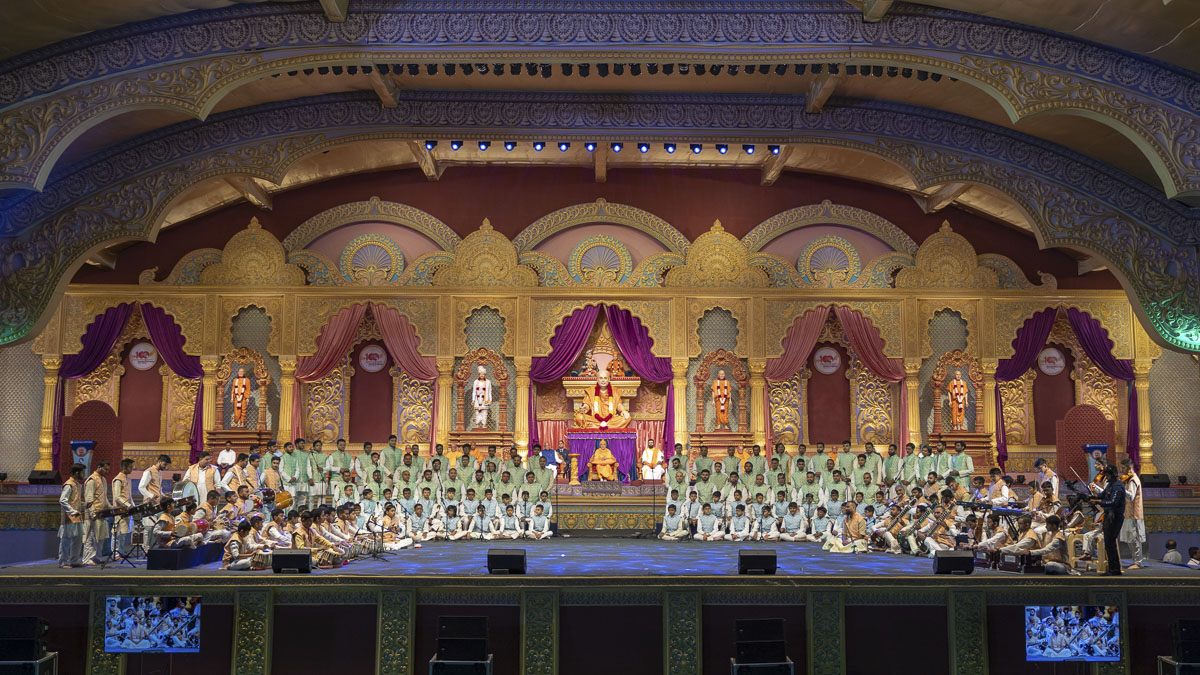 Thousands gathered at Pramukh Swami Maharaj Nagar to celebrate
Pramukh Swami Maharaj's work to harmonise spirituality and medicine
for society's internal and external health
Celebrated leaders from the health sector commended
Pramukh Swami Maharaj's work as the guardian of the spiritual health of countless.
Safety measures have been placed to protect the health of pilgrims in
Pramukh Swami Maharaj Nagar.
BAPS continues health protection initiatives through various centres and services
run by BAPS volunteers.
On the occasion of 'Health & Spirituality Day: Celebrating Inner Well-Being', illustrious dignitaries from the medical and spiritual fields joined His Holiness Mahant Swami Maharaj at Pramukh Swami Maharaj Nagar. Tens of thousands of devotees participated in the evening programme, which featured speeches and presentations from senior swamis and dignitaries who paid tribute to Pramukh Swami Maharaj's tireless efforts to provide adequate health services to all in need.
The programme began at 5.15 pm with prayers and devotional hymns. Adarshjivan Swami, the biographer of Pramukh Swami Maharaj, described Pramukh Swami Maharaj's unique work of combining physical health with inner spiritual wellness.
BAPS singers accompanied by traditional instruments then sang the kirtan 'Darad Mitaya Mera Dil Ka' ('God healed the pain of my heart'), reminding all of how Pramukh Swami Maharaj relieved the pain of millions.
An engaging video presentation provided an overview of BAPS's health services. Senior BAPS swamis, Anandswarupdas Swami and Swayamprakashdas Swami (Doctor Swami), remembered incidents from Pramukh Swami Maharaj's life that revealed his tireless efforts for the physical and spiritual well-being of millions.
Anandswarupdas Swami, head of Swaminarayan Akshardham in Gandhinagar, said, "For Pramukh Swami Maharaj's Centenary Celebrations, many doctors have pledged to offer 100 free operations, 100 free examinations, and other types of medical services to humanity as inspired by Pramukh Swami Maharaj. President APJ Abdul Kalam said that Pramukh Swami Maharaj's state of spiritual equilibrium allowed him to remove the 'I-ness' and 'my-ness' from President Kalam's own life. With the intention of making countless people spiritually sound, Pramukh Swami Maharaj has established satsang centres across the world."
Doctor Swami, senior BAPS swami,  said, "God has given us this human body with the ultimate aim of attaining spiritual liberation. But to attain this, maintaining good health is a top priority.  To maintain health, we should avoid addictions, keep our diet vegetarian and stay spiritually grounded."
Dr. M. Srinivas, Director of the All India Institute of Medical Sciences, shared, "Being in the company of great souls like Pramukh Swami Maharaj reminded us how to live healthily in every aspect – physically, mentally, emotionally and spiritually."
Padma Shri Dr. Ashwin Mehta, Director of Jaslok Hospital & Research Centre, remarked, "Pramukh Swami Maharaj's teachings to do Ghar Sabha (daily home assembly), had a profound impact not only on a family's spiritual and emotional health, but also on their physical health."
Padma Shri Dr. Tejas Patel, Chairman of Apex Heart Institute, shared his experiences, "From the first time I met Pramukh Swami Maharaj in 1978, I felt that despite being such a great saint, there was an instant deep connection with us which lasted until the end of his life. I was tremendously touched by his simplicity and his deep personal connection with people. This skill of connectivity with everyone despite differences in background and language barriers was something that astounded me."
He continued, "We can see of the 80,000 volunteers in this Nagar. There are some students, villagers, small-time shopkeepers, businessmen, American doctors and engineers, and everyone works seamlessly with tremendous unity. To see this profound positive influence of a single person on so many souls leaves me at a loss for words."
Shri Vallabh Kulbhushan Vaishnav Acharya Param Pujya Pad Goswami 108 Shri Vrajrajkumarji Maharajshri, Founder of Vallabh Youth Organization, said, "Purity, efforts and God's grace are all necessary for both health and spirituality. Pramukh Swami Maharaj's sacrifices for the world are inspiring for all. His efforts in shaping the lives of the thousands of swamis and devotees have culminated in the amazing festival we see today. During the festival's inauguration, Prime Minister Narendra Modi had said that everyone should study the training centre for swamis that Pramukh Swami Maharaj has created in Sarangpur since in the areas of leadership, service and unity, BAPS is a role model for all organizations."
Honourable Banwarilal Purohit, Governor of Punjab, said, "I am astounded by what I have seen here. Pramukh Swami Maharaj must surely be looking down at this festival from above and blessing everyone who comes. I have never seen such a spiritual festival in my life. We give speeches about 'Vasudhaiva Kutumbakam'. But Pramukh Swami Maharaj truly created a spirit of the whole world as one family."
The programme concluded with His Holiness Mahant Swami Maharaj's blessings. "Speaking on health and spirituality, Pramukh Swami Maharaj often said, 'Eat less and forgive more.' Along with healthy eating, every second of his life, Pramukh Swami Maharaj continually forgave. If we practise this principle, we will also benefit as will the world, as so many conflicts the world over are rooted in injudicious speech."
Medical Services of BAPS Inspired by Pramukh Swami Maharaj and Mahant Swami Maharaj
During his life, Pramukh Swami Maharaj established 7 multi-speciality hospitals where more than 10 million patients have been treated. BAPS also runs 11 mobile medical clinics that cover a distance of 2,800 kilometres every week, spanning 133 villages in underserved areas. Over 5.6 million people have benefitted from the free treatment provided by these clinics. Through BAPS blood donation efforts, more than 5.9 million cc of blood have been donated since 1981. So far, 980,200 cc of blood have already been donated in merely the first 8 days of the month-long blood donation campaign at Pramukh Swami Maharaj Nagar.
Under Pramukh Swami Maharaj's guidance, BAPS volunteers have led de-addiction campaigns across India and inspired 4 million people to become addiction-free. De-addiction prevents the wastage of tens of millions of rupees, and protects the physical, mental, socio-economic and spiritual health of individuals as well as their families.
In addition to physical health, Pramukh Swami Maharaj has protected society's moral and spiritual health. By building 1,231 temples, over 9,500 child and youth centres, and over 9,000 satsang centres, he has ensured that society receives regular moral and spiritual 'check-ups'.
Currently, BAPS oversees many health initiatives, from hosting COVID-19 vaccination centres to mobile hospital vans. These initiatives are undertaken in India and across the world under the guidance of His Holiness Mahant Swami Maharaj.
His Holiness Mahant Swami Maharaj has continued Pramukh Swami Maharaj's work in the healthcare sector during the COVID-19 pandemic. These initiatives have:
Distributed over 180,000 PPE (Personal Protective Equipment) kits for 'Corona Warriors' serving COVID-19 patients.
Treated more than 200,000 patients in rural areas through mobile clinics.
Supported more than 250 hospitals at various levels in the country and abroad.
Donated more than 1,000 hospital beds.
Donated more than 5,000 litres of sanitisers.
Broadcasted online satsang to more than 3,000,000 people for their spiritual health
Called more than 256,000 people through which they were given emotional support and guidance.
Led more than 11,000 volunteers to render service at various levels.
For the maintenance of visitors' health at the Pramukh Swami Maharaj Nagar, BAPS volunteers have:
Created a dust-free environment by paving over 1 crore blocks in 200 acres of land within the Nagar.
Set up reverse osmosis filtered water stations throughout the site.
Set up 24 free health clinics and 6 mobile clinics.
Set up health facilities staffed by over 450 volunteer physicians and medical personnel.
Ensured the provision of immediate medical services through three emergency numbers.
Screened, guided and treated an average of more than 1,500 patients per day.
Set up a continuous sanitation department with 10 swamis overseeing 2,150 volunteers.