Darshan-Shastra Day: Celebrating Timeless Wisdom
31 Dec. 2022, Saturday, Ahmedabad, India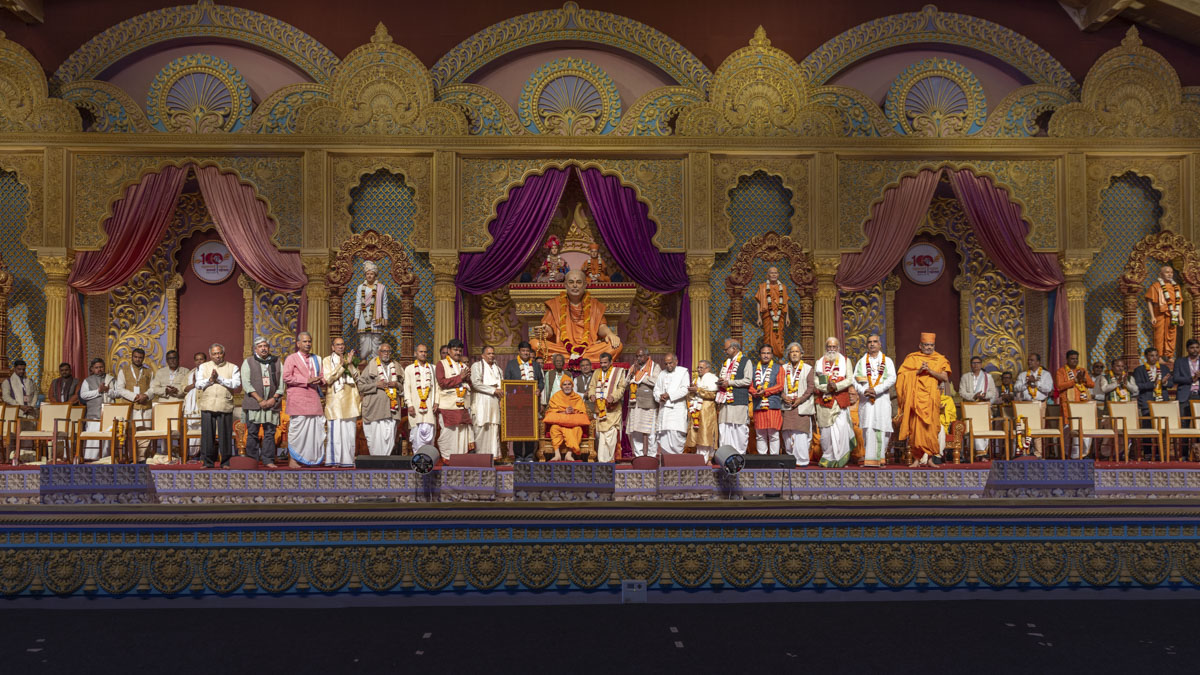 His Holiness Pramukh Swami Maharaj was conferred the honour of 'Sanatan Dharma Jyoti' for his countless contributions to protect, foster and nourish the timeless wisdom of Hinduism and his continuous encouragement to preserve and promote the Vedic scriptural tradition.
The award was presented to His Holiness Mahant Swami Maharaj by more than 30 eminent scholars who had gathered from all over India to pay tribute to Pramukh Swami Maharaj's unprecedented services to Indian philosophy.
The ceremony occurred in the presence of tens of thousands who had gathered to commemorate 'Darshan-Shastra Day: Celebrating Timeless Wisdom' at Pramukh Swami Maharaj Nagar on 31 December 2022.
When announcing the award, Professor Vijaykumar CG, Vice-Chancellor of Maharshi Panini Sanskrit and Vedic University, Ujjain, explained, "Pramukh Swami Maharaj's life was dedicated to the moral and spiritual uplift of society. He inspired Mahamahopadhyay Bhadreshdas Swami to create a historic set of commentaries on the Prasthanatrayi to explain Akshar-Purushottam Darshan. Earlier this month, all the vice-chancellors of India's various Sanskrit universities gathered to discuss how we could honour such a magnanimous personality like Pramukh Swami Maharaj on his centennial birth celebrations. We unanimously decided to confer upon Pramukh Swami Maharaj the title 'Sanatan Dharma Jyoti' along with a proclamation of honour on a copper plate signed by all the vice-chancellors of all the Sanskrit universities of India. We feel blessed by being able to offer our respects at the holy feet of Pramukh Swami Maharaj."
Also commemorating Pramukh Swami Maharaj's centenary, over the past year Mahant Swami Maharaj inspired the inauguration of seven new BAPS Swaminarayan Research Institutes around the world including in London, Robbinsville (New Jersey), Toronto, Sydney, Nairobi, and Johannesburg. Today, Mahant Swami Maharaj inaugurated 'Pramukh Sanskritam' an international online Sanskrit course of study with more than 20,000 registered students. He also launched an audio app of the Swaminarayan Siddhant Sudha karikas encapsulating the principles of Akshar-Purushottam Darshan.
Evening Assembly
The special evening assembly titled 'Darshan-Shastra Day: Celebrating Timeless Wisdom' at Pramukh Swami Nagar began at 4.45pm.
Adarshjivandas Swami, BAPS scholar and the biographer of Pramukh Swami Maharaj's life and work, delved deeper into Pramukh Swami Maharaj's exemplary life. Narrating some episodes from his life, he said: "As Pramukh Swami Maharaj was an environmentalist at heart, over 1 million flowers and shrubs of 200 species have been planted at Pramukh Swami Maharaj Nagar, making it a sustainable, environmentally friendly green zone. Just as the Amazon lily pads grown here remain unaffected by the water they float in, similarly, Pramukh Swami Maharaj was totally detached from the world despite living in society. Thus, despite the highest accolades from global world leaders, industrialists, and leading figures of all fields, his constant remained his complete attachment to God and his tireless efforts to improve society to spread divine joy to all."
The assembly continued with Mahamahopadhyay Bhadreshdas Swami, eminent BAPS scholar, who said, "I bow to all the honourable guests on the stage today who have gathered from all over India – Kashi, Tirupati, Nagpur, Assam, Somanth, etc. We are indeed blessed to see so many eminent experts together; seeing them is like seeing a physical manifestation of the rich treasures of India's glorious knowledge."
Bhadreshdas Swami then went on to say, "India is a land profusely blessed with majestic temples, illustrious spiritual luminaries and profound scriptures. The rich scriptural corpus of India – the Vedas, Upanishads, Shrimad Bhagavad Gita, Brahmasutras, Darshan shastras, etc. – have nourished every facet of our lives. In that sacred lineage, Bhagwan Swaminarayan revealed Akshar-Purushottam Darshan through his life, work and teachings, including in the Vachanamrut. He revealed that Purushottam is distinct from, superior to and the inspirer of Akshar, who also serves as the abode of Purushottam. One must realise one's true spiritual identity from the Aksharbrahma guru on earth and perfectly devote oneself to Purushottam."
He further added, "Bhagwan Swaminarayan's teachings in the Vachanamrut were so accessible yet so profound and so universal. When studying the Vachanamrut from the perspective of Yoga Darshan, it appears to be a Yoga Shastra. Similarly, when studying the Vachanamrut from the perspective of Samkhya Darshan, it appears to be a Samkhya Shastra. And equally a Nyaya Shastra, Bhakti Shastra, etc.
"Pramukh Swami Maharaj inspired and guided swamis as well as devotees to study this rich heritage of Hindu scriptures and research the various Darshan schools to bring forth their wealth of knowledge to benefit the whole world. We are truly indebted to Pramukh Swami Maharaj and also Mahant Swami Maharaj who is currently inspiring this great work of global spiritual welfare."
Dignitaries and eminent scholars present in the assembly also paid tribute to Pramukh Swami Maharaj's contribution to Vedic wisdom through their speeches.
Dr. P D Vaghela (IAS), Chairman of the Telecom Regulatory Authority of India, said, "My affinity for spirituality was nourished by Pramukh Swami Maharaj from 1993. He once spent 90 minutes in a small village late at night explaining to me spiritual truths from the Vachanamrut. Such was his compassion. Pramukh Swami Maharaj was spiritually elevated and full of compassion, while possessing a wonderful organising capacity. Through his grace, BAPS volunteers also developed amazing management skills. He taught, 'Be the best in whatever you do in life.' At the same time, he said, 'While excellence in external activities is good, one must also conquer the mind.'
"He taught me to be fearless in the service of the people, while maintaining absolute probity in public life. Pramukh Swami Maharaj graced me with peace and inspired me to serve the needy while working for the progress of our nation."
Shankarsinh Vaghela, former Chief Minister of Gujarat and Union Textiles Minister (Indian National Congress), shared, "People of all fields craved Pramukh Swami Maharaj's blessings. He loved all people of all backgrounds without distinction. Pramukh Swami Maharaj lived a life of absolute integrity, without an iota of artifice. His human touch was phenomenal. He would visit the huts of the poor, sit with them, eat with them and pray with them. It is rare to see people of such integrity in public life. He worked his entire life for the improvement of society. Additionally, I am convinced that Pramukh Swami Maharaj Nagar offers so many profound insights, researchers can earn doctoral degrees from studying every aspect of it."
Padmabhushan Vijay Bhatkar, architect of India's supercomputer and Chancellor of Nalanda University, said: "My experience at Pramukh Swami Maharaj Nagar has taught me that if one is determined, harbours pure thoughts and has the blessings of true sadhus, then one can achieve anything. My parents and I have achieved great academic heights from a humble background. I always wondered whether I would ever be able to view India's greatness as it was in ancient times. I am convinced after seeing Pramukh Swami Maharaj Nagar that due to the divine impact of Pramukh Swami Maharaj, our country will achieve that same greatness and become a world power in this century."
Professor Vijaykumar CG, Vice-Chancellor of Maharshi Panini Sanskrit and Vedic University, Ujjain, further added, "Amazed at the unexpected magnificence of Pramukh Swami Maharaj Nagar, I realise now that this festival is meant to inspire a spiritual consciousness throughout society. The exhibitions' depiction of Pramukh Swami Maharaj's compassion left me in tears. I was elated to hear the young children volunteers on this campus speaking so confidently in Sanskrit. Throughout the campus, there was an impressive confluence of spirituality and technology in the service of fostering a positive spiritual consciousness. The tremendous spirit of selfless volunteerism in the hearts of the 80,000 volunteers who have made this campus possible leaves me at a loss for words. I will remain forever astounded by the excellence of the management here, as I lost my glasses somewhere last night amongst the crowds of over 200,000, and before I left the campus two hours later, my glasses were handed back to me by a volunteer."
Dr. Lalitkumar Patel, Vice-Chancellor Shri Somnath Sanskrit University, Veraval, said, "Pramukh Swami Maharaj had won the hearts of people of all faiths around the world. His life was divine, and he served selflessly, constantly traveling for the upliftment of all humanity. Of the many significant scriptures in our tradition, the Upanishads show the truth of Akshar-Purushottam Darshan, which is reflected throughout this divine, incredible, unimaginable Pramukh Swami Maharaj Nagar. I am proud that Shri Somnath Sanskrit University was the first university to introduce Akshar-Purushottam Darshan into its academic curriculum."
Professor Ramnarayan Dwivedi, Mahamantri of Kashi Vidvat Parishad, Professor and Head of Department of Vyakarana at Banaras Hindu University, shared, "Bhadreshdas Swamiji has composed valid commentaries on the Prasthanatrayi. After holding a comprehensive discussion on the texts, every scholar present accepted and declared Akshar-Purushottam Darshan as an independent Vedic Darshan. Esteemed scholars of Kashi held an assembly to honour the commentaries. The Swaminarayan Bhashyam is unparalleled. Its creation is only possible through the blessings of the Divine and the guru. It is the result of Bhadresh Swami's austerity, spiritual endeavour, faith and immense effort. Countless scholars have bowed to this scripture. I urge all universities to include this scripture in their curriculum."
Professor Haridas Bhatt, renowned Madhva scholar, added, "People from across social strata have congregated here because of Pramukh Swami Maharaj. Each person present is a temple to the values taught by him.
"The principals of all Sanskrit universities are gathered here today to honour Pramukh Swami Maharaj with the 'Sanatan Dharma Jyoti' proclamation. He is a most fitting recipient of this honour because, just as the commentaries by Bhadreshdas Swami that he guided him to compose, he did not criticize any other faith or belief system. His inclusive vision that all those who serve God are of equal importance and can receive the same love from God as scholars is remarkable.
"The Swaminarayan Sampraday has been renowned as a devotional sect. But today, it has proven to be based on knowledge, in philosophical and theological principles grounded in the Upanishads. We look forward to this universal wisdom spreading across society in everyone's hearts and minds."
Mahamahopadhyay Harikrishna Satapathy also shared his thoughts on this occasion. He said, "This Nagar is an incredible, magnificent and unbelievable experience. As people around the country discuss and endeavour to make India a world leader, in my opinion, if we organize such a festival at ten different cities around India, we will be a world leader already.
"Today, when scholars have convened from the east, west, north and south, with the blessings of all the sacred places across the nation, it is as if all four sacred places of Hindu pilgrimage in India have united here.
"When I met Pramukh Swami Maharaj during his relief work in Odisha after the super cyclone of 1999, I was overwhelmed by the love in his eyes. He did not just speak nice words but lived scriptural values and inspired others to do the same. In this Nagar, I can see 'Ishavasyam idam sarvam…' from the Isha Upanishad being practised by the volunteers; they are sincerely serving everyone equally without distinction and without craving anything."
In his blessings to the assembly, His Holiness Mahant Swami Maharaj said, "Bhagwan Swaminarayan has revealed the essence of all the scriptures by declaring one should identify with Akshar and worship Purushottam. The body is an obstacle in identifying with Akshar, and the scriptures help us realise the distinction between body and soul. Only by spiritually connecting with the Aksharbrahma guru can one identify with Akshar. This must be the primary spiritual endeavour of our life, as only after the atma is purified can it truly worship Purushottam. That is why Shastriji Maharaj installed the murtis of Akshar and Purushottam in the central shrine of the mandirs. Shastriji Maharaj explained that Brahma and Parabrahma are the quintessence of all the scriptures, and Yogiji Maharaj and Pramukh Swami Maharaj instilled this in the lives of hundreds of thousands of devotees."
Acharya Shrivatsa Goswami, an eminent scholar, head of the Radha Raman Temple in Vrindavan and Gaudiya Vaishnava leader, concluded the assembly by saying, "Spiritual luminaries like Bhagwan Swaminarayan and Pramukh Swami Maharaj are not limited to a single tradition, but they incarnate for the benefit of the entire world. Visiting the eighth wonder of the world that is Pramukh Swami Maharaj Nagar dissolves all of one's worries about the future generations. Such is the power of this holy place. From Bhadresh Swami's commentaries and the 1,100 mandirs created by Pramukh Swami Maharaj, one gains the conviction that Bhagwan Swaminarayan is the highest supreme reality."