Code of Conduct for Men and Women
27 Dec. 2022, Tuesday, Ahmedabad, India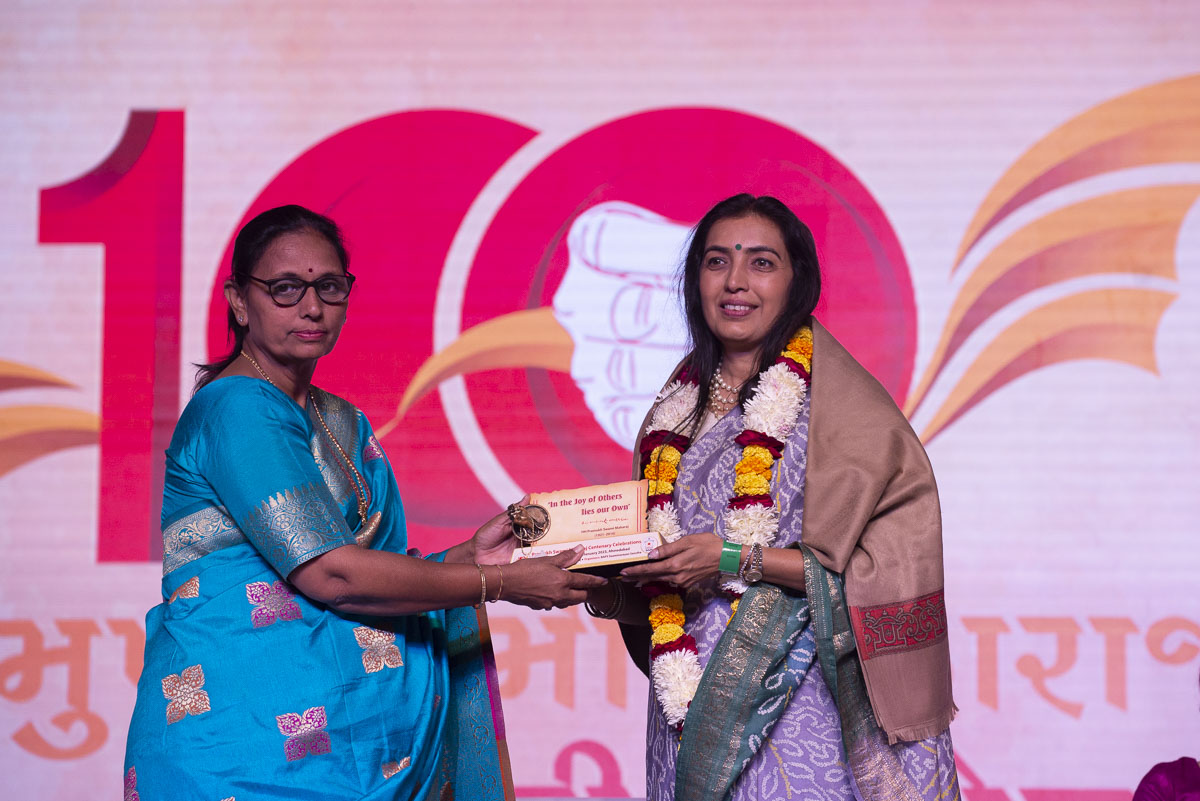 On 27 December 2022, Gujarat High Court judge Honourable Ms. Justice Vaibhavi D Nanavati delivered a seminar as part of the daily Women's Empowerment Programme at Pramukh Swami Maharaj Nagar during which she enlightened the audience on ideal gender relations for a harmonious society. Prior to serving as a Gujarat High Court judge, Honourable Justice Nanavati has been on the panels of various statutory organisations, including the Medical Council of India, the Central Board of Excise and Customs, and the Ahmedabad Municipal Corporation.
Honourable Justice Nanavati paid tribute to Pramukh Swami Maharaj and called the ongoing centenary celebration a "festival of inspiration that motivates millions to lead a pure, virtuous and addiction-free life." She applauded the dedicated and sincere efforts of swamis and volunteers of all ages who are serving tirelessly to pay homage to Pramukh Swami Maharaj.
Deeply touched by the life and work of Pramukh Swami Maharaj, Justice Nanavati remarked, "He was an ideal saint who practiced celibacy and was detached from worldly pleasures but at the same time he lived for others. He never differentiated based on background or gender. Bhagwan Swaminarayan initiated the work of women upliftment and Pramukh Swami Maharaj has, over the years, continued to uplift and empower women through various activities such as setting up dedicated wings for children, youths and women around the world and inspiring Yuvati Talim Kendras (training centres for young women) to name a few. He uplifted women from all walks of life, irrespective of whether they came from a small village or a cosmopolitan city. Women always felt his presence, and whenever they have prayed to him, he has heard them and fulfilled their prayers. I, too, have experienced this feeling."
She expressed that her father, who is an eminent lawyer, always taught her that rules and regulations, whether societal or religious, are not hurdles but guidelines that help us succeed in life. Pramukh Swami Maharaj is a prime example of this as he himself has followed the norms set forth by Bhagwan Swaminarayan and his gurus. She remembered a statement that Pramukh Swami Maharaj often said, "The rules of religion are not set up to bind us, but rather are a means to liberation."
She concluded by expressing her gratitude to Pramukh Swami Maharaj for his vision of women's empowerment that helped them reach great heights and succeed in all spheres of life.
Mrs. Rutuja Patel, Founder & Managing Director of Sonya Foods & Chairperson of the Business Women Committee for the Gujarat Chamber of Commerce and Industry, also spoke at the event about how she draws inspiration from Ghar Sabha (family home assemblies), a concept that Pramukh Swami Maharaj propagated for a harmonious family life.  She remarked, "Pray to God and discuss any problem together during Ghar Sabha. It will help resolve problems and bring people closer to each other."