Children's Day: Celebrating the Future
2 Jan. 2023, Monday, Ahmedabad, India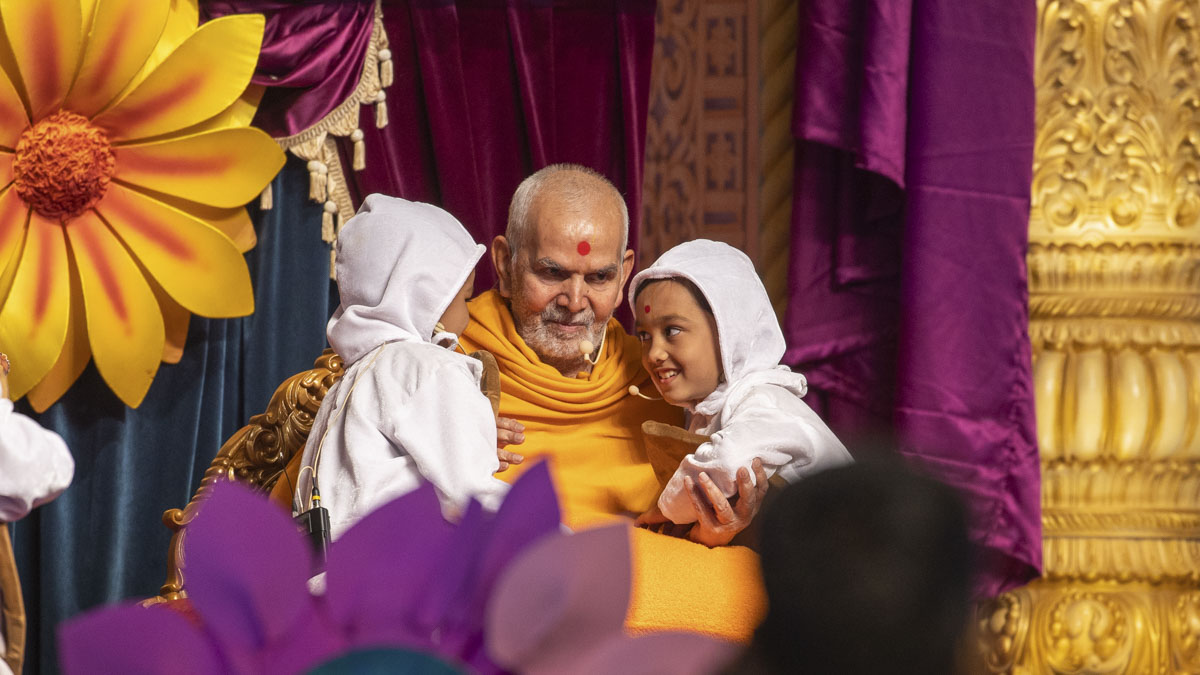 Hundreds of children from BAPS children's centres around the world presented an exhilarating programme titled, "Thank you Pramukh Swami!"
Before an audience of tens of thousands gathered to commemorate 'Children's Day: Celebrating the Future' at Pramukh Swami Maharaj Nagar on 2 January 2023, this programme of creative and inspirational dramas, dances, devotional songs, videos, testimonials and speeches expressed children's gratitude for the tremendous positive impact Pramukh Swami Maharaj had on their lives.
BAPS Children's Activities were formally established in 1954 by Yogiji Maharaj. Thereafter, Pramukh Swami Maharaj and Mahant Swami Maharaj expanded and nurtured the children's activities around the world. Today, BAPS has established 9,000 children's activities centres that guide and support 150,000 children annually to lead moral lives and serve society in more than 40 countries across 5 continents. More than 20,000 volunteers support the management of these children's activities.
Evening Assembly
The evening programme began at 4.30pm with 65 children engrossing the audience in devotional hymns. Thereafter, the various activities of the BAPS Children's Forum were presented through engaging skits and dances.
A video portraying further glimpses of BAPS's children's activities then followed.
A number of successful men and women who had gained inspiration and life skills through their participation in BAPS Children's Activities were honoured in the assembly. They included Gujarat Assistant Commissioner of Labour Nehaba Parmar, founder of Paper N Parcels and India's youngest entrepreneur Tilak Mehta, Deputy Director of Gujarat Information Ministry Nitya Trivedi, FlyDubai airline Pilot Vinay Gajra, US Army Blackhawk Helicopter Crew Chief Sapna Patel, Harley Street (UK) Periodontist Dr. Reena Wadia, Senior Vice President of Engineering at LinkedIn Mohak Shroff, and American COVID vaccine campaigner Dr. Mayank Amin.
The evening's programme concluded with children expressing their heartfelt gratitude through a special presentation "Thank you Pramukh Swami!" before joining Mahant Swami Maharaj on stage to play some games with him.
Following the programme by children, His Holiness Mahant Swami Maharaj and dignitaries paid tribute to Pramukh Swami Maharaj's visionary leadership in the holistic development of hundreds of thousands of children worldwide through the BAPS Children's Activities
William Selvamurthy, President of Amity Science, Technology & Innovation Foundation and former Chief Controller of Research & Development (Life Sciences & International Cooperation) at the Defence Research and Development Organisation, said, "I am blessed to begin this new year in this heavenly, blissful and divine place. I met Pramukh Swami Maharaj over 20 years ago, and I used to often go with Dr. Abdul Kalam to visit him at Akshardham in New Delhi. President Abdul Kalam would visit Pramukh Swami Maharaj whenever he felt troubled, and he would return with peace and a resolution to his problems.
"Pramukh Swami Maharaj has been able to construct a thousand temples over four decades. This is not humanly possible. Pramukh Swami Maharaj was an avatar who had come to this world to uplift and transform humanity. He was an embodiment of unconditional love and compassion for everyone. He used to say, 'In the joy of others lies our own.' He expressed compassion not only in words but in deeds. This philosophy motivated his disaster relief, educational and healthcare activities.
"I am convinced that by Pramukh Swami Maharaj's inspiration his disciples around the world will create a new world order of global peace, harmony, good health and happiness for everyone. He wanted to transform this whole world, and now it is upon us to take that further. Pramukh Swami Maharaj used to say, 'Our life is only worthwhile if we do good deeds and walk the path towards God.' I am sure all of us will emulate, practise, radiate and create a new world order of good health, peace, and prosperity for everyone. The young children performing this programme are gaining invaluable lessons in character to enable them to eventually create this new global order of peace. India is emerging as a world leader not due to economic, military, or knowledge power, but by its spiritual power."
Dr. Vishwanath Karad, Founder of MIT World Peace University in Pune, said, "Swami Vivekanand at the World Religious Conference held in Chicago in 1893 had rightly prophesized that the union of science and spirituality alone will bring harmony and peace to humanity. I feel that Pramukh Swami Maharaj Nagar is not man-made but a creation of the Divine. I can witness a new face of Indian culture in this place. Pramukh Swami Maharaj was a pure soul who created more than 1,000 mandirs and built several educational institutions, which is not humanly possible.  Pramukh Swami Maharaj was a God-realized soul. His eyes radiated divine light. After returning to my hometown in Maharashtra, I will promote the message of Pramukh Swami Maharaj and apprise people of his monumental works."
Ratnakar Ji, State General Secretary of BJP Gujarat, said, "Seeing children performing on stage felt incredible. The feelings that it gave are absolutely divine and everyone has experienced this. I did have an idea of Pramukh Swami Maharaj's love for children, but the way it has been depicted here today is divine and exemplary. This love is the means to uplift all with spirituality and is India's true culture. Pramukh Swami Maharaj and BAPS have thought about how to benefit children and individuals at every stage of life."
Padma Vibhushan Prathap C. Reddy, Founder & Chairman of the Apollo Hospitals Group, said, "I applaud Mahant Swami Maharaj and all the volunteers for this absolutely marvellous, wonderful creation for the Pramukh Swami Maharaj centenary celebrations. It is marvellous because Pramukh Swami Maharaj was a marvellous person and a divine blessing to the nation and the world. I am very grateful to all the swamis and thrilled with the volunteers for what you have created in just a few months. I feel it is a very fitting tribute to a great soul like Pramukh Swami Maharaj.
"Pramukh Swami Maharaj not only created over a thousand mandirs, but he personally uplifted and transformed the lives of people of all ages. We are all here because of the great services and blessings of BAPS Swaminarayan Sanstha, which has done phenomenal work not just in propagating spirituality, but also teaching how to live as a good human being.
"One day, Pramukh Swami Maharaj called to bless me, my family, the entire Apollo family, and all the patients. He told me, 'You are here to serve people. You must serve them as your children.' The experience I felt at hearing his words was indescribable and miraculous. Though words cannot express how I felt, I think all of you know whenever you walk into a Swaminarayan mandir, you have that feeling that you are here for a purpose that you must fulfil. Whatever services I have been able to offer to society, I attribute to the blessings of Pramukh Swami Maharaj who touched my heart and significantly impacted my life."
Madhav Singh Diwan, Diwan of Bilada, shared, "As my mother was a staunch BAPS follower, she insisted that my father, the Diwan of Bilada State, invite Shastriji Maharaj to our home in Rajasthan. My father was not a believer, so when Shastriji Maharaj came, he refused to meet him. On the last night of Shastriji Maharaj's visit, my father experienced a trance in which he saw the image of Bhagwan Swaminarayan and Gunatitanand Swami, which transformed into Shastriji Maharaj. He woke my mother and told her what had happened. In the morning, he went to see Shastriji Maharaj and performed the arti. They had gone to Gondal one day. Pramukh Swami Maharaj was a young sadhu then. My father passed away soon after, but Shastriji Maharaj would look after me. Yogiji Maharaj and Pramukh Swami Maharaj showered their compassion upon me, always looking after my comfort. My relationship with Pramukh Swami Maharaj was both a father-son and a guru-disciple relationship, and  I pray the same relationship continues with Mahant Swami Maharaj."
Mahant Balaknath Yogi, Member of Parliament from Alwar Lok Sabha in Rajasthan, Chancellor of the Baba Mast Nath University and 8th spiritual head of the Nath Sampraday, shared, "Through the blessings of Pramukh Swami Maharaj and Mahant Swami Maharaj, I am fortunate to see this fifth Kumbh Mela at Pramukh Swami Maharaj Nagar. We have all heard about the four Kumbhs, but this is the fifth. I have experienced a miracle here. Today's programme was conducted by children. My name is also Balaknath. I always tell my gurus that I am a child; I am always open to learning.
"What Pramukh Swami Maharaj has achieved in independent India and abroad, no one in India's history has been able to do. He is the pillar of Indian and Hindu society. It is no easy task to build a temple. There is no discrimination at temples. Temples preach love and service to society. Today, the whole world needs the messages of Hindu culture. It was Pramukh Swami Maharaj who tirelessly spread these messages. This is why I believe the world looks at India as a leader."
Bandhu Triputi Pujya Shri Jinchandraji Maharaj, Founder of Shantidham Aradhana Kendra, said, "When the history of 20th and 21st-century India is written, Pramukh Swami Maharaj will stand as the greatest sant of modern India. His greatness is not because of the number of temples he built, how many homes he visited, or how many letters he wrote. His greatness was due to his spirituality, saintliness and the light of his divinity. This awakened spiritual energy in anyone who came into contact with him.
"It is rare to find such a divine person like Pramukh Swami Maharaj. I have always been attracted to his divinity. I have seen him up close. Whenever I met Pramukh Swami Maharaj, I used to be reminded of Bhagwan Mahavir's words, 'Only one who is soft-hearted, accommodating, humble and generous is pure enough to uphold Dharma.' Pramukh Swami Maharaj was such a pure sant.
"Pramukh Swami Maharaj never discriminated. He believed everyone to be his. He ignited the light of morality and spirituality in everyone. Whenever we see Mahant Swami Maharaj, we also find true saintliness.
"Thousands of volunteers and swamis have worked tirelessly day and night to create this magnificent Nagar. It is difficult to build even one home, and so to build an entire Nagar is extraordinary. I have been going around the Nagar since 3 PM and can truly say that there is nothing lacking. I must tell others that to understand cleanliness, devotion to the guru and service, you must go to Pramukh Swami Maharaj Nagar.
"Today's 'Children's Day' is being celebrated because Pramukh Swami Maharaj inspired value-based learning in children. He also empowered women and inspired de-addiction campaigns. His blessings have showered upon everyone, and because of his blessings, BAPS has intellectual swamis who can spread the sampradaya's message across the world.
"I fondly recall the image consecration ceremony of the new temple in Tithal, the town where I live. Can you imagine that Pramukh Swami Maharaj asked me, a Jain muni, into the inner sanctum to bless the images?! I was touched! He even visited one of our Bandhu Triputi gurus when he was ill. Even we did not even know how he found out that the Jain muni was ill. This shows that his unparalleled love and compassion was without distinction of religion. He is a true sant who wished the good of everyone."
Pujya Vishwa Prasanna Tirth Swamiji, President of Pejawar Math, shared, "People have come from around the world to this Nagar because Pramukh Swami Maharaj worked to instil values in people everywhere. A society's future is reflected in the future of its children. Pramukh Swami Maharaj gave children the values that will make tomorrow's society prosperous and peaceful. This work is continuing today, showing us that Pramukh Swami Maharaj is still with us in the form of Mahant Swami Maharaj."
Ashwini Vaishnav, Minister of Railways, Communications & Electronics & Information Technology, Govt. of India, shared, "It is my honour to have received the blessings of Pramukh Swami Maharaj and Mahant Swami Maharaj. Mahant Swami Maharaj told me, 'In whatever work you do, you should keep the spirit of service at the forefront.' I can see the thousands of volunteers at Pramukh Swami Maharaj Nagar have created such a breath-taking campus by imbibing this teaching.
"Inspired by the selfless service of all the BAPS Swaminarayan Sanstha's followers around the world, I offer a small token of service to the community by renaming the 'Gujarat Sampark Kranti Express' train as 'Akshardham Express' in honour of Pramukh Swami Maharaj as it will connect his two divine creations – Akshardham Gandhinagar and Akshardham New Delhi."
In his blessings to the assembly, His Holiness Mahant Swami Maharaj said, "I offer my congratulations to the children for their exceptional performance today on the occasion of Children's Day. Small children are often ignored, but they are doing good work now and will do great things in the future. Pramukh Swami Maharaj always showered his spiritual love on children. Children felt that Pramukh Swami Maharaj is ours and elders also felt that Pramukh Swami Maharaj is ours. In this way, Pramukh Swami Maharaj had won everyone's hearts.
"Pramukh Swami Maharaj told children 'You should regularly attend the mandir, bow down to your parents daily, study hard, and pray daily. This is your service to us.' Pramukh Swami Maharaj also used to tell parents, 'If you do not instil values in your children, you will lose both your children and your wealth.' In this way, Pramukh Swami Maharaj cared for the cultivation of character in the young generation."