Beyond Boundaries: BAPS North America Day
7 Jan. 2023, Saturday, Ahmedabad, India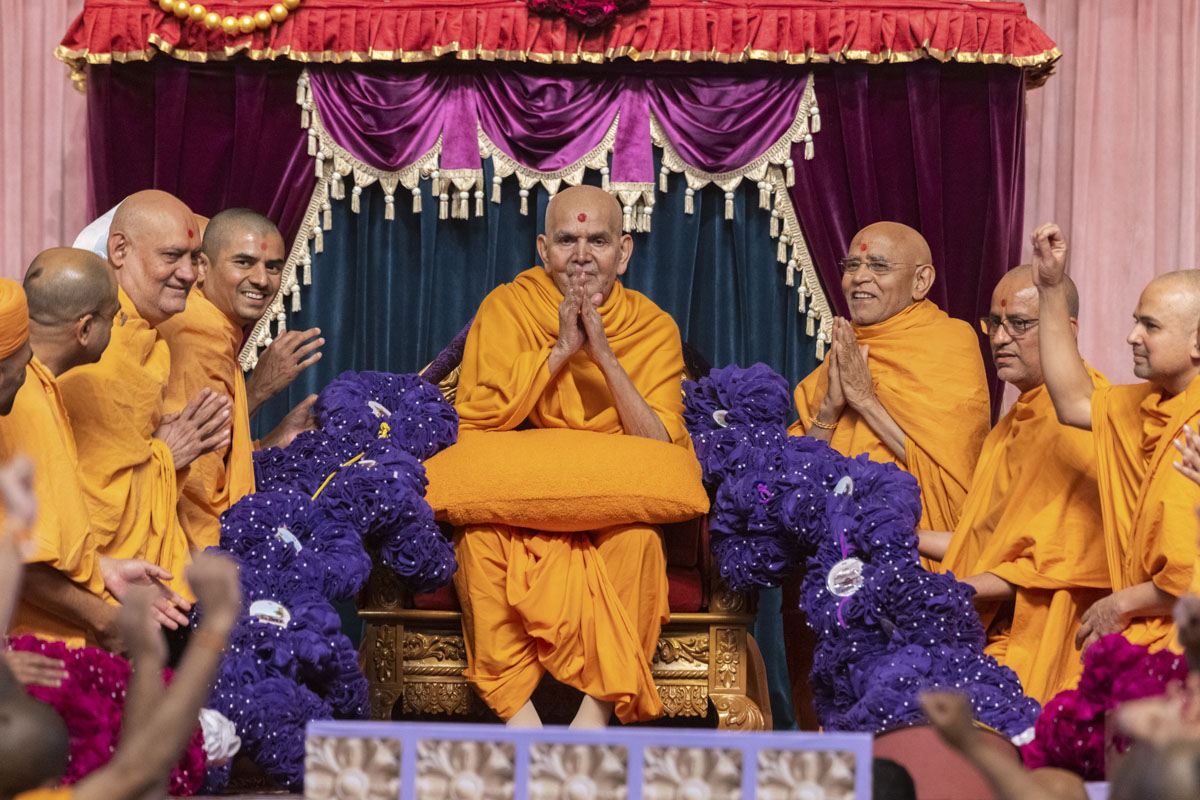 Mahant Swami Maharaj and dignitaries from around the world pay tribute to Pramukh Swami Maharaj's work of fostering Hindu spirituality and culture in North America
Over 500 children and youth from more than 75 centres across North America performed a touching cultural programme titled 'Beyond Boundaries: North America Day' paying tribute to Pramukh Swami Maharaj's tireless spiritual travels around North America that led to unimaginable transformations in hundreds of thousands who were inspired to preserve their timeless cultural and spiritual heritage. Following the programme, His Holiness Mahant Swami Maharaj and dignitaries from around the world paid tribute to Pramukh Swami Maharaj's inspiration of personal spirituality, Hindu mandirs, humanitarian service and interfaith harmony in North America.
Pramukh Swami Maharaj consecrated the first BAPS Swaminarayan mandir in North America in New York City in 1974. Since then, Pramukh Swami Maharaj's inspiration and tireless efforts have led to the creation of 6 traditional stone Hindu mandirs and 108 hari mandirs in the United States and Canada. With the inspiration of Pramukh Swami Maharaj and the guidance of Mahant Swami Maharaj, the grand Swaminarayan Akshardham Mahamandir is taking shape in Robbinsville, New Jersey.
Evening Assembly
Pramukh Swami Maharaj's tireless spiritual travels resulted in the spread of faith and goodwill across North America. Today's evening assembly, dedicated as 'Beyond Boundaries: BAPS North America Day', began at 4.30 pm.
The programme started with video messages from many American dignitaries who expressed how Pramukh Swami Maharaj's life and works had touched them over the years. Among the dignitaries were US Congressman Marc Veasey of Texas, who said, "Pramukh Swami Maharaj has brought joy to so many people in India and around the world, and he has inspired so many to do great things within our community." US Congressman Brian Fitzpatrick of Pennsylvania said, "With a spirit of total selfless service, Pramukh Swami Maharaj has devoted his life to educational, health care, humanitarian, and environmental services while spearheading BAPS's growth by creating 1,100 temples worldwide. I have visited many of these temples and seen with absolute joy how Indian culture has been so integrally interwoven with American culture such that these temples serve as beacons of friendship between India and America."
This was followed by a unique presentation of videos from Pramukh Swami Maharaj's 14 visits to North America from 1974 to 2014 accompanied by devotional hymns sung by over 100 children and youth from North America.
Then a drama interspersed with videos, dances, and testimonials of North American devotees highlighted Pramukh Swami Maharaj's impact on North America's Hindu community. The presentation first described how the wave of Indians migrating to North America in the 1970s faced immense social and financial struggles but were particularly concerned with upholding their children's cultural and spiritual values in a land devoid of Hindu mandirs. Then, through videos and testimonials, they recounted Pramukh Swami Maharaj's tireless travels and personal outreach throughout North America at the expense of his health to nurture their cultural and spiritual values over the generations. Pramukh Swami Maharaj's visionary leadership in inspiring the month-long Cultural Festival of India in 1991 as well as the creation of 114 BAPS Swaminarayan mandirs around North America were highlighted as his timeless contribution to North America's Hindu community. Then, various devotees recalled Pramukh Swami Maharaj's constant efforts and care for the holistic development of children and youth through his decades of guidance and inspiration for weekly children and youth sabhas, Indian language classes, campus sabhas, and national conventions. The drama concluded with a video presentation of Pramukh Swami Maharaj's inspiration for the creation of Swaminarayan Akshardham North America in Robbinsville, New Jersey which is being constructed through the voluntary efforts of thousands.
Then, Mahant Swami Maharaj addressed the assembly, "Today the swamis and devotees from America and Canada have come together and shared a beautiful presentation. Pramukh Swami Maharaj has gone to every corner of America and Canada and pleased everyone. His efforts have led to more than 100 mandirs and thousands of devotees in North America. We will see the culmination of his inspiration with the inauguration of Swaminarayan Akshardham in Robbinsville, New Jersey. Swaminarayan Akshardham will draw people from everywhere and inspire them with the universal values of Hinduism. Pramukh Swami Maharaj has said that we are not creating this Akshardham for public acclaim, but our sole purpose is that God may be pleased and we may attain liberation. The immense efforts of all the male and female volunteers, young and old, who have contributed to Akshardham are commendable. Due to their unity and enthusiasm, the work will soon be completed. All those who have volunteered in this effort will receive Pramukh Swami Maharaj's whole-hearted grace, and everyone's hearts will become golden."
Several esteemed dignitaries were also present to pay tribute to Pramukh Swami Maharaj's life of selfless service.
Prahlad Singh Patel, Minister of State for Food Processing Industries and Jal Shakti, Government of India, said, "Today, we face a challenge to instill moral and spiritual values in our future generations. I bow to Pramukh Swami Maharaj who spread the message of Indian cultural heritage across the world. I bow to the feet of all the swamis who are instilling moral and spiritual values among the young generation. Just like we receive light from the Sun, we receive good values by associating ourselves with God-realized Saints."
Rajeev Chandrasekhar, Minister of State for Skill Development and Entrepreneurship and Minister of State for Electronics and Information Technology, Government of India, said, "Pramukh Swami Maharaj's teachings, life, values and message have resonated in millions of lives across the world, and it is an energizing, landmark moment and privilege for me to learn more about Pramukh Swami Maharaj here. BAPS is not just a community committed to Pramukh Swami Maharaj's values, but a living, breathing symbol of volunteerism at its best. I have been given the responsibility of developing the skills and innovation of our nation's young generation, but this event reminds us that culture, heritage, values and ideals are just as important a part becoming a young, productive, contributing Indian and world citizen. These messages, ideals and values ring true as India assumes the presidency of the G-20 and works with other countries in shaping a better future for all of us and our families. May we live in a world where peace and prosperity are the directive principles of our life and future rather than conflict or discord."
Harsh Vardhan Shringla, G-20 Chief Coordinator said, "We have come together to celebrate Pramukh Swami Maharaj, the unique spiritual individual who guided millions across the world who derive comfort and benefit from his teachings. Everyone has gone to the Akshardham mandirs in New Delhi and Gandhinagar, but the Akshardham mandir being built in New Jersey will be a major spiritual and cultural landmark for the whole world. Just at countless people today go to the Eiffel Tower, the Tower of London, or the Taj Mahal, soon they will go to Swaminarayan Akshardham in New Jersey. I commend the volunteers who are contributing to this exceptional cultural representation of India abroad, which is a matter of pride and joy to all of us."
Mr. Cameron Mackay, The High Commissioner of Canada in India said, "Pramukh Swami Maharaj's message 'In the joy of others lies our own,' is widely respected in Canada and around the world. His humanitarian services express important Canadian values. The 1,100 temples that he established around the world act as refuges in difficult times and provide a space to mediate and experience peace. Steadfast in his work for the community in times of natural disaster and crises, he has led devotees to provide relief for the well-being of everyone. His tireless work reached more than 50 countries including Canada. Pramukh Swami Maharaj made his first trip to Canada in 1974 and subsequently visited 13 times over 35 years. The BAPS Swaminarayan temple in Toronto is well-respected and appreciated by many Canadians and it symbolizes the rich heritage and cultural diversity of India and Canada. Hinduism is the third-largest religion in Canada followed by more than 800,000 Canadians. This is reflective of the strong cultural, spiritual and people-to-people ties between our two countries."
The Prime Minister of Canada, the Honourable Justin Trudeau said in a video message to the assembly, "Today we are celebrating the rich life of His Holiness Pramukh Swami Maharaj and everything he did to build and grow BAPS. Throughout his life, Pramukh Swami Maharaj left a mark on Canada. Around the world, he spread his lifelong message, 'In the joy of others lies our own.' Many of you have given life to the values he promoted, whether it is participating in BAPS Charities, volunteering in your mandir, or strengthening the communities you live in, Canadians have appreciated the ways that you are stepping up. Our country is stronger because of it, and I am inspired by everything you have built. Thank you."
Honourable Michael D. Ford, Minister of Citizenship and Multiculturalism for the Province of Ontario in Canada said, "Ontario and India have a strong and vibrant relationship built on a shared tradition of democracy, commitment to pluralism, expanding trade, cultural exchanges and most importantly our people-to-people ties. As the Minister of Citizenship and Multiculturalism, I'm proud that Ontario is home to over 900,000 people from India. They help enrich our culture and contribute to our province's economic growth and diversity.
"Pramukh Swami Maharaj was a rare soul who was completely devoted to God. He also had a selfless desire to help others and promote peace and harmony across the globe. His words were thoughtful, meaningful and consoling, coming from a depth of profound experience and deep compassion. He gave enlightenment, guidance, and wisdom to the many entrusted to his care. He also went out of his way to care for the spiritual and physical needs of all who sought it. I thank the volunteers and leaders of BAPS for sharing your dedication, talent and light with the world. As a good friend of the BAPS mandir in Toronto, I have seen first-hand how his teachings and his legacy continue to live on through the spirit and work of his followers and in the impact of the work that you all do to help all people come closer to God, help them grow in all aspects of life and provide support to your communities in India, in Ontario, Canada and around the world."
As part of the Pramukh Swami Maharaj Centenary Celebrations, Mahant Swami Maharaj inaugurated a new Cardiac Cath Lab for angiographies, angioplasties and pacemaker implantation in the Pramukh Swami Maharaj Hospital in Surat, which over the last 18 years has treated over 3 million patients.
Mr. Kenny Desai, President of the Federation of Indian Associations (FIA), said, "Pramukh Swami Maharaj led many to path of spirituality and motivation through temples. His simplicity and magnificence has inspired many and his work helped preserve our culture. He was forever the driving force for BAPS who spread the message of Vasudhaiv Kutambakam."
Mr. Neal Patel, Chairman – Asian American Hotel Owners Association (AAHOA) said, "After seeing Pramukh Swami Maharaj Nagar, all I can say is it is beyond boundaries. Pramukh Swami Maharaj is felt throughout the community and his legacy is carried with us every day."
Mr. Sunil Nayak, CEO of InnZen Hospitality, said,  "Pramukh Swami Maharaj has been a life changer of the century. I congratulate everyone as Pramukh Swami Maharaj through his legacy is alive among all his devotees."
Mr. Sampathkumar Nadadur, President of the Malibu Hindu Temple said, "Pramukh Swami's life is a message to us all. I will take back Pramukh Swami Maharaj's teachings to my community. I will also take back Pramukh Swami Maharaj's message of de-addiction. The children's show taught me to conquer fear and that each of us should become karmayogis and overcome challenges."