BAPS UK and Europe Women's Wing Programme 'Vahetu Jivan Tamaru'
8 Jan. 2023, Sunday, Ahmedabad, India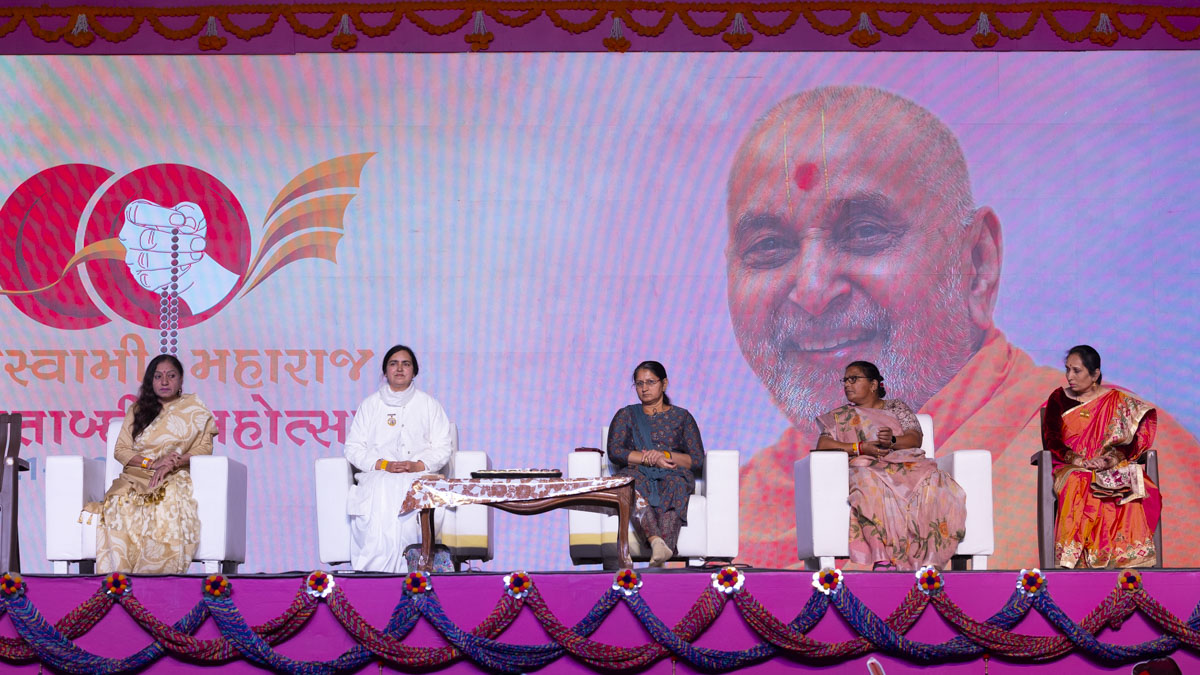 On 8 January 2023, a special program was organised by the BAPS UK and Europe Women's Wing in the Women's Empowerment Hall at Pramukh Swami Maharaj Nagar to celebrate Pramukh Swami Maharaj's centennial birth anniversary. The deeply thought-provoking and emotive programme titled 'Vahetu Jivan Tamaru' celebrated Pramukh Swami Maharaj's presence on this earth through the unique medium of water as being purifying, spiritually energising, and constantly flowing in selfless service to unite all with God.
The programme was interspersed with videos, prayers, devotional singing and dancing. Women of all ages also shared moving testimonies of their personal life-transforming experiences, revealing Pramukh Swami Maharaj's divine personality and borderless compassion.
Ms. Rashmi Patel of Paris said, "In the year 2000, my husband was diagnosed with depression and had addictions that made life very difficult for us. However, in 2006, a letter from Pramukh Swami Maharaj, transformed my life. It gave me strength to face this tough situation. In 2013, as a result of my intense prayers and Pramukh Swami Maharaj's compassion, my husband got the chance to have his darshan. His lifestyle changed drastically after that. He was able to overcome depression as well as give up his addictions. He is now sincerely involved in various spiritual activities. Because of Pramukh Swami Maharaj's care, my family life has become blissful."
Ms. Priyaben Amlani of London said, "I had a spiritual upbringing in my Hindu family. However, I went to a different country for my higher education and lost the connection with spirituality as well as temples. Since none of my friends at that time were involved in any spiritual activities, I too was living a life devoid of it. However, once I happened to visit Neasden temple and I felt immense peace. It reminded me of my home. I was very curious to know who created this temple that had such a powerful impact on me. I started researching about Pramukh Swami Maharaj and learned that he was going to visit the BAPS temple in Toronto. Hence, I went alone to Toronto and the moment I did his darshan, I felt that I had found my parents, my true connection and peace. His respect for every religion touched me. I decided to make him my Guru and follow in his footsteps. I feel that my life has been transformed by coming to the Neasden temple. He is holding my hand in all the challenges of life. I cannot even imagine what I would have become if it were not for his presence and the temple that he built in London. There are innumerable people whose lives he has transformed through the BAPS Neasden temple."
On this occasion, dignitaries Rajyogini Dr. Binny Sareen, Ms. Bhargavi Dave, Ms. Nivedita Chaudhari, Ms. Harsha Parmar and Ms. Ektaba Sodha were also felicitated in the Women Empowerment Exhibition Hall.
Rajyogini Dr. Binny Sareen, Founder & President, Awakening Spirituality, Global Initiative for Peace & Wellbeing, Brahma Kumari HQ, Global Hospital, Mount Abu, describing her experience at Pramukh Swami Maharaj Nagar said, "It is an absolute delight and honour to visit Pramukh Swami Maharaj Nagar. Pramukh Swami Maharaj Centenary Celebration is a marvellous miracle of spirituality. Words fall short in describing this Nagar. From this place, the purity, the spiritual messages of love, brotherhood, kindness, blessings, and divine virtues are spreading all over the world. The 7 wonders of the world are nothing compared to what has been created here. In my opinion, this in itself is the number one wonder of spirituality. The message of moral virtues, goodness, love and brotherhood is spreading far and wide across the world from here."
Offering tribute to Pramukh Swami Maharaj, she said "Pramukh Swami Maharaj's inspirational life, his work and divine virtues reflect his message of peace and service to society. These messages are absolutely necessary in these present times. He bestowed happiness, love and smiles on everyone. Pramukh Swami Maharaj is a complete 'Yug Purush' who has guided us onto a beautiful path of service, happiness, love and peace.
Expressing her appreciation for the efforts of the volunteers, she said, "I especially want to felicitate those volunteering here. The time that you devote here is a great service. From the moment I entered this place, I have been greeted and served with vibrant smiles. Irrespective of financial status, everyone here is able to contribute something, whether it is by smiling at everyone, uttering kind words, expressing compassion through one's eyes and helping others."
She concluded her speech by encouraging women to believe in themselves, stating, "Women's empowerment is very necessary as women can create a lot of wonders. Women should realise that 'W' in women stands for 'wonderful creation of God'; 'O' stands for 'outstanding qualities such as tolerance, compassion etc.'; 'M' stands for 'meditating mind' while 'E' and 'N' stand for 'energetic' and 'nurturing' qualities, respectively."
Ms. Bhargavi Dave, Director of the District Rural Development Agency, Gandhinagar, said, "I have seen magnificence in many places and I have felt divinity in many places as well, but here I can feel purity and holiness all around me. This holy land is a culmination of magnificence, divinity and purity. There aren't enough words to describe a holy saint like Pramukh Swami Maharaj."
Pramukh Swami Maharaj is a 'Purna Purush'. His divine presence clearly exists here. I am currently overcome with emotions and am feeling overwhelmed after observing how beautifully, elegantly and seamlessly this Pramukh Swami Maharaj Centenary Celebration has been organised. I firmly believe that prestigious universities such as Harvard University, ought to conduct a case study of the Pramukh Swami Maharaj Nagar and use it to educate their students. This Nagar vividly demonstrates concepts like celebrations, microplanning, and management. Upon entering the Nagar, I noticed that every volunteer has a loving smile on their face."
"During my childhood, I had the pleasure of being a part of the past celebrations organised by BAPS in the years 1980 and 1985. Being a part of this current 'Festival of Inspirations' makes me feel blessed. Everyone is welcome at this Pramukh Swami Maharaj Nagar, regardless of age, religion, caste, or creed. Pramukh Swami Maharaj was the epitome of love, compassion and kindness. Even if we take something small away from this Nagar, our lives will become more meaningful. Although humans are materialistic, salvation is what we strive for in the end. Satsang and following in the footsteps of a 'Purna Purush' like Pramukh Swami Maharaj are the only ways of attaining salvation. It is miraculous that volunteers from all walks of life are serving harmoniously together. This Nagar is a blend of the five fundamental values which include devotion, positive emotions, dedication, faith and service. This Nagar, like the forest of Panch Vati exudes saintliness. Visitors from all over the world are being attracted to the Nagar."
She spoke passionately about women's empowerment. Emphasising the importance of women in our society, she said, "Women are excellent beings in their own right and shouldn't try to be more like men. Women are the embodiments of strength, faith, wealth, intelligence, kindness, forgiveness and peace. A mother binds a family together. Pramukh Swami Maharaj often said that a cultured mother is equivalent to 100 excellent teachers. We are indebted to our mothers."
Ms. Nivedita Chaudhari, Commissioner of Madadnish Niyamak School, expressed, "This entire festival is an ethereal conscious experience. It has been a priceless experience. In this Nagar, I can feel divinity all around me."
Ms. Ektaba Sodha, CEO Satya Sai School, Educationalist and Environmentalist, said, "The Women's Empowerment Hall is a wonderful concept and is beautifully executed. I am ever so blessed to be here surrounded by the grace of Shri Pramukh Swami Maharaj."