BAPS North America Women's Wing Program "You made my life blissful"
7 Jan. 2023, Saturday, Ahmedabad, India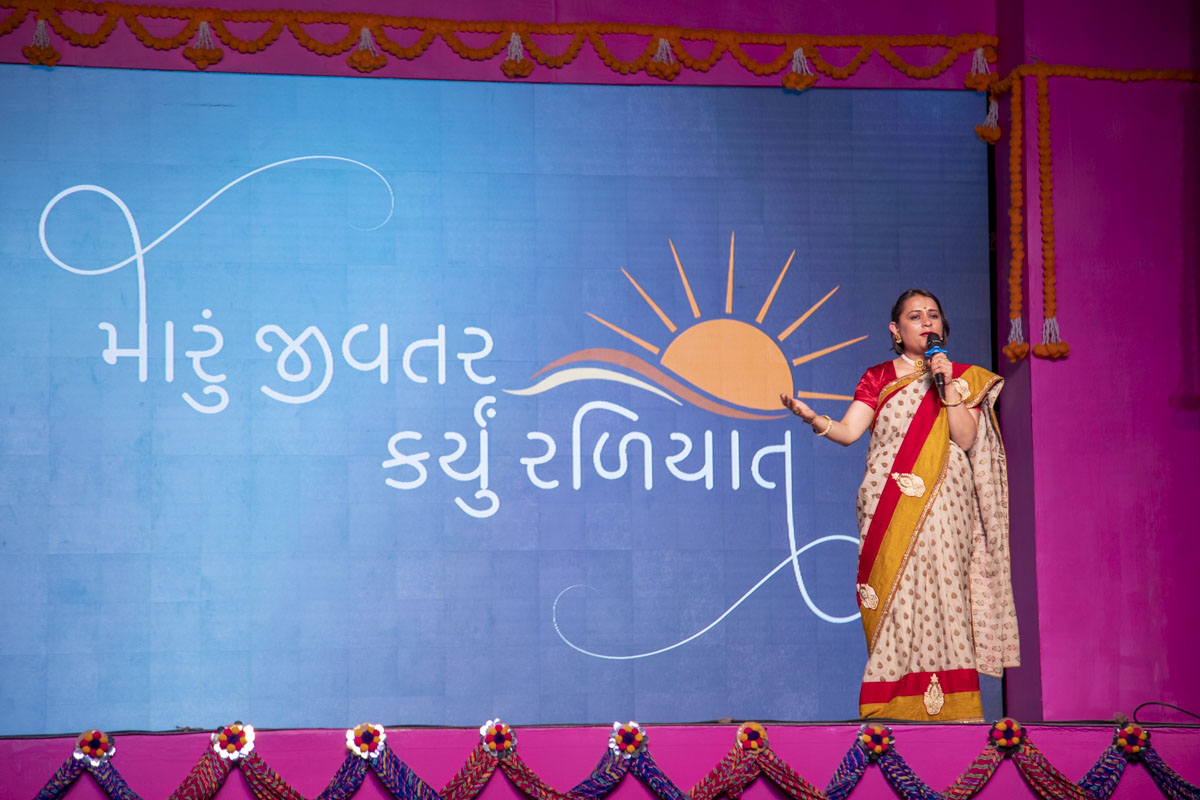 On 7 January 2023, a special programme was organized by BAPS North America Women's Wing at the Women's Empowerment Hall in Pramukh Swami Maharaj Nagar where women from around the United States and Canada paid tribute to Pramukh Swami Maharaj with a dazzling cultural programme on the theme, "You made my life blissful."
These programs consisted of presentations of gratitude and devotion towards Pramukh Swami Maharaj through dances, dramas, musical and theatrical performances, the singing of prayers, and video testimonials of the devotees. A gripping documentary highlighted the role of women in creating Akshardham in Robbinsville, New Jersey and how that opportunity enhanced their personality.
Ms. Meera Patel, Former US Marine from Los Angeles said, "I had served as a US Marine in Afghanistan. Today, I am serving as an Ayurvedic physician. My faith in Pramukh Swami Maharaj gives me confidence in myself. While volunteering in Robbinsville Akshardham I have learned the importance of serving society. Taking inspiration from my Guru, I too am driven by the spirit of service. My life goal is to serve people and I am constantly trying to find new ways to empower them, physically, mentally and spiritually."
Ms. Drasti Patel of New Jersey, recounting how Pramukh Swami Maharaj guided her said, "I am volunteering as a Core Lead at the Robbinsville Akshardham site. I was an introvert by nature, and I had never held a leadership position before. But I have always believed that Pramukh Swami Maharaj is with me, continuously giving me the strength I need to accomplish any task. This conviction provided me with the confidence, clarity and commitment I required to lead others. I am amazed at the person I have become today. People around me have also observed how much I have evolved and matured into a more self-assured person."
Bhumika Joshi, Defence Attorney from New York said, "I am so grateful for the opportunity to volunteer at Akshardham North America during its construction because it has given me the confidence to overcome all the challenges that I have to face in my life."
Shatabdi Patel, Neurologist from Miami expressed, "Pramukh Swami Maharaj gave me strength to look after my entire family singlehandedly while my husband is volunteering in construction of Akshardham in Robbinsville."
BAPS North America Women's Wing volunteers expressed their gratitude towards Pramukh Swami Maharaj for his role in their lives as a loving mother, a caring father, an enlightening teacher and an encouraging friend.
Usha Sutariya of Long Island, New York, shared her story of personal crisis when her husband abandoned her while she was 7 months pregnant. She said, "When my education, my job, my money were of no use, I turned to God. I was fortunate enough to find a guru like Pramukh Swami Maharaj."
She wrote a letter to Pramukh Swami Maharaj. She narrated how the letter from him changed her life "He uplifted my life, gave me strength and hope when I was unconsciously contemplating committing suicide. I was completely shattered, but Pramukh Swami Maharaj understood me and informed me to not act against the codes of conduct given in Shikshapatri, thus steering me away from the path of committing suicide. He transformed my life. When I needed him the most, he was there for me. He saved me and my child."
On this occasion Ms. Beena Handa, Founder and Director-Poiesis Achievement Foundation, Ms. Anar Patel, Social worker & Entrepreneur, and Ms. Geeta Goradiya, Managing Director at Jewel, Consumer Care, Vadodara were felicitated in the Women's Empowerment Exhibition Hall.
Beenaben Handa, Founder and Director of Poiesis Achievement Foundation, reflected upon the effectiveness of Pramukh Swami Maharaj's concept of Ghar Sabha (family home assembly). She said, "Ghar Sabha is where the entire family meets every evening and discusses spiritual and family issues. In this way, every family member gets to express their thoughts, encouraging family unity. It is a beautiful concept, which if practiced by all, will drastically improve women's lives and provide them opportunities to progress."
Remarking on women's role in creating and managing Pramukh Swami Maharaj Nagar, she said, "We must take an example from Pramukh Swami Maharaj Nagar, where women are involved in so many aspects of its management. These volunteer opportunities have increased participants' self-confidence and their determination to contribute. Moreover, everyone who sees this is similarly inspired. Pramukh Swami Maharaj has taught love that transcends all materialistic attributes."
Ms. Anar Patel, Social worker and entrepreneur, paid tribute to Pramukh Swami Maharaj, saying, "As a social worker, I have closely observed Pramukh Swami Maharaj's life and have learned many values from him. Works that are devoid of values cannot last. I work with handicrafts, and the beautiful hand gestures of Pramukh Swami Maharaj displayed throughout the Nagar reflect his deep devotion towards God."
She further expressed her appreciation for the volunteers in the Nagar, saying, "I have observed that all BAPS volunteers serve everyone with sheer love. These are our true values and this is our religion. If people take even this one value with them from this celebration, their life will become blissful. Pramukh Swami Maharaj's simplicity and ease are heart-touching and I find the same in the swamis of BAPS. Just as nature blossoms in the spring, values blossom in the presence of a true sant."